Grok My Enthusiasm (45)
By: Joe Alterio
November 16, 2016
One in a weekly series of enthusiastic posts contributed by HILOBROW friends and regulars.
*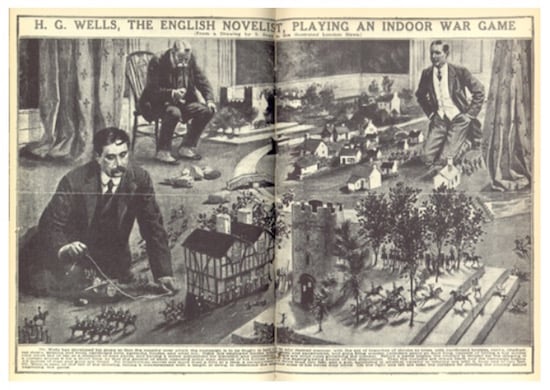 Pictured above is novelist HG Wells, regarded by some as the father of miniature wargaming. It's not accidental that he spent his professional life world-building, and his leisure life playing in invented worlds.
I don't bet. On anything. I don't play the lottery or Powerball. I won't bet you on whether you can get it in the trash bin. I find no joy in friendly 25-cent poker nights. I view the very act of gambling dimly, a fetishized ritual I am too bright for. I have a preening and self-regarding sense of superiority around this.
But I will lose hours, nights, weeks, months of productive work to the movement of imaginary men around a gameboard in pursuit to a non-existent goal.
Tabletop gaming is surely as symbolic a product as any of the industrialized 20th century, an era most famous for streamlining the destruction of other human beings.
Unlike other board-games, tabletop gaming eschews anything approaching symbolism. These games often cloak themselves in arcane language and striated rules sets within sub-rules sets, different dice for each roll, modifiers and penalties, classes and subclasses, all worthy of inclusion in Philosophiae Naturalis Principia Mathematica. It is knowledge and detail and project-planning and worry, a crash-course in late-stage modern life.
The game of chess still carries the whiff of the ancients, and derives its elegance not only from the simplicity of rules but the archetypal symbols of the pieces – the castle, the horse, the ruler. Checkers and Go have even more simplistic representations of game pieces, and skew further towards abstraction as the ultimate distillation of simplistic beauty and tactical focus.
But if Go is an unadorned tuna nigiri, then tabletop wargaming surely must be two chilidogs wrapped in bacon and a fried egg. Where more traditional strategy games value universalist truth of rationality and humility, tabletop wargaming is the ultimate overwhelming fantasy-fulfillment of every disenfranchised human — the ability to be God, to pick up a tree, to fire a cannon.
These games can carry involved levels of combat and rules for engagement, most often mirrored in popular culture as stand-ins for a real-life battle plan. But not every game's main purpose is battle, nor is it ever really the most satisfying part.
These is a heady rush that each of these games carry that is recognized only tangentially in practice, but is unavoidable upon even casual examination – these are games about being able to land hands on a tiny world, and to control it totally.
In this regard, if strategy games of old are about complex tactics from a simple era, then tabletop gaming is surely the opposite – complexity and complication as complement, a refuge to control on a planet gone mad. As the world became more abstracted to average humans, we began to find solace in a world we could wrap our hands around. This is the goal at the end of this long wish-fulfillment. Mastery of the world, control in a tiny window, shielded from the tremendous mess that hovers, everywhere, just six inches away from each board edge.
***
MORE POSTS by JOE ALTERIO: QUALITY JOE: sketches vs. finished drawings | ROBOTS & MONSTERS series | Q&A with Gary Panter and Charles Burns | CABLEGATE COMIX | KIRB YOUR ENTHUSIASM: Black Panther | KIRK YOUR ENTHUSIASM: Kirk vs. Gorn | KERN YOUR ENTHUSIASM: Akzidenz-Grotesk | GROK MY ENTHUSIASM: Million Year Picnic | and HILO HERO items on Winsor McCay, Django Reinhardt, Wendy Pini, and many others.
MORE ON H.G. WELLS & TABELTOP GAMING: Josh Glenn's WAR & PEACE GAMES
GROK MY ENTHUSIASM: Rob Wringham on THE THEORY AND PRACTICE OF LUNCH | Gordon Dahlquist on WEEKEND | Joe Alterio on MILLION YEAR PICNIC | Adrienne Crew on LA BARONNE EMILE D'ERLANGER | Josh Glenn on THE SURVIVAL SAMPLER | Alix Lambert on THE SKIES BELONG TO US | Adam McGovern on PENELOPE and CHAVEZ RAVINE | Rob Wringham on THE LYKE WAKE WALK | Mark Kingwell on NORTH STAR SNEAKERS & GWG JEANS | Gordon Dahlquist on FELLINI SATYRICON | Erik Davis on AH! | Devin McKinney on WHISPERING AFRAID | Mimi Lipson on 1973 SEARS ROEBUCK CATALOG | Jessamyn West on MOSS | Josh Glenn on THE SCOUT HOW BOOK | Brian Berger on SLACKER | Alix Lambert on ABSOLUTE BEGINNERS | Chelsey Johnson on MONOTREMES | Devin McKinney on THE BUTCHER COVER | Flourish Klink on ONE DIRECTION | Gordon Dahlquist on FULL METAL JACKET | Allegra Huston on CLOTHESLINE | Jenny Davidson on POWERLIFTING | Evan Narcisse on REZ | Deborah Wassertzug on VEGETARIAN MEATBALLS | Chris Spurgeon on WALLACE AND GROMIT | Mandy Keifetz on BENEFICIAL MICROBES | Annie Nocenti on MARKS ON WALLS | Molly Sauter on THE GREAT BRITISH BAKE OFF | William Nericcio on LAND OF THE LOST | Dan Fox on "VOICE OF GOD" RADIO DJS | Brandi Brown on WIKIPEDIA TALK | Claire Lehmann on THE APPARATUS REVEAL | Alice Boone on COSTUME JEWELRY | Colin Dickey on WIDESPREAD PANIC | Anshuman Iddamsetty on THE FULL BODY PROJECT | John Hilgart on MAKING GRATEFUL DEAD ALBUMS | Rob Wringham on STEVEN UNIVERSE | John Overholt on DECKLE EDGES | James Hannaham on HABIT PATTERNS | Jessamyn West on THE PUBLIC LIBRARY SYSTEM | Adam McGovern on THE SPACE GIANTS | Brian Berger on MEDIUM COOL | Chris Spurgeon on THE DUNNING-KRUGER EFFECT | Joe Alterio on TABLETOP WARGAMING | Mimi Lipson on TRASH PICKING | Jason Grote on CZECH CINEMA | Roxane Gay on AUTOMATED CAR WASH | Dan Fox on JULIA DAVIS | Amy Thielen on BINGO | Steph Burt on FEIJOA.
MORE ENTHUSIASM at HILOBROW
NERD YOUR ENTHUSIASM (4Q2021): NERDING | ARDUIN | KLINGON CONFIDENTIAL | MAP INSERTS | TIME | & 20 other nerdy passions. SWERVE YOUR ENTHUSIASM (3Q2021): WARHOL'S WALT WHITMAN | 70, GIRLS, 70 | TYRAEL'S MIGHT | SHIRATO SANPEI | THE LEON SUITES | & 20 other never-realized cultural productions. FIVE-O YOUR ENTHUSIASM (2Q2021): DARK SHADOWS | MANNIX | GET SMART | THE ADDAMS FAMILY | I DREAM OF JEANNIE | & 20 other Sixties (1964–1973) TV shows. FERB YOUR ENTHUSIASM (1Q2021): STEVEN UNIVERSE | TOP CAT | REN & STIMPY | SHE-RA AND THE PRINCESSES OF POWER | DRAGON BALL Z | & 20 other animated series. CARBONA YOUR ENTHUSIASM (2020): "Sex Bomb" | "Going Underground" | "Soft South Africans" | "Typical Girls" | "Human Fly" | & 20 other Seventies (1974–1983) punk singles. KLAATU YOU (2020 weekly): ZARDOZ | METROPOLIS | DARK STAR | SINS OF THE FLESHAPOIDS | SOLARIS | & dozens of other pre-STAR WARS sci-fi movies. CONVOY YOUR ENTHUSIASM (2019): THE TAKING OF PELHAM ONE TWO THREE | ROLLERBALL | BLACK SUNDAY | SORCERER | STRAIGHT TIME | & 20 other Seventies (1974–1983) action movies. SERIOCOMIC (2019 weekly): LITTLE LULU | VIZ | MARSUPILAMI | ERNIE POOK'S COMEEK | HELLBOY | & dozens of other comics. TUBE YOUR ENTHUSIASM (2018): LOONEY TUNES | THREE STOOGES | THE AVENGERS | ROCKY & BULLWINKLE | THE TWILIGHT ZONE | & 20 other Fifties (1954–1963) TV shows. WOWEE ZOWEE (2018 weekly): UNISEX | UNDER THE PINK | DUMMY | AMOR PROHIBIDO | HIPS AND MAKERS | & dozens of other Nineties (1994–2003) albums. KLUTE YOUR ENTHUSIASM (2017): THE KILLERS | BANDE À PART (BAND OF OUTSIDERS) | ALPHAVILLE | HARPER | BLOW-UP | & 20 other Sixties (1964–1973) neo-noir movies. #SQUADGOALS (2017 weekly): THE WILD BUNCH | BOWIE'S BAND | THE BLOOMSBURY GROUP | THE HONG KONG CAVALIERS | VI ÄR BÄST! & dozens of other squads. GROK MY ENTHUSIASM (2016 weekly): THE THEORY AND PRACTICE OF LUNCH | WEEKEND | MILLION YEAR PICNIC | LA BARONNE EMILE D'ERLANGER | THE SURVIVAL SAMPLER | & dozens more one-off enthusiasms. QUIRK YOUR ENTHUSIASM (2016): "Tainted Love" | "Metal" | "Frankie Teardrop" | "Savoir Faire" | "Broken English" | & 20 other Seventies (1974–1983) new wave singles. CROM YOUR ENTHUSIASM (2015): DARKER THAN YOU THINK | THE SWORD IN THE STONE | OUT OF THE SILENT PLANET | THIEVES' HOUSE | QUEEN OF THE BLACK COAST | & 20 other Thirties (1934–1943) fantasy novels. KERN YOUR ENTHUSIASM (2014): ALDINE ITALIC | DATA 70 | TORONTO SUBWAY | JOHNSTON'S "HAMLET" | TODD KLONE | & 20 other typefaces. HERC YOUR ENTHUSIASM (2013): "Spoonin' Rap" | "Rapper's Delight" | "Rappin' Blow" | "The Incredible Fulk" | "The Adventures of Super Rhyme" | & 20 other Seventies (1974–1983) hip-hop songs. KIRK YOUR ENTHUSIASM (2012): Justice or vengeance? | Kirk teaches his drill thrall to kiss | "KHAAAAAN!" | "No kill I" | Kirk browbeats NOMAD | & 20 other Captain Kirk scenes. KIRB YOUR ENTHUSIASM (2011): THE ETERNALS | BLACK MAGIC | DEMON | OMAC | CAPTAIN AMERICA | & 20 other Jack Kirby panels.