CONVOY YOUR ENTHUSIASM (25)
By: Brian Berger
August 25, 2019
One of 25 installments in a series of enthusiastic posts analyzing and celebrating some of our favorite action movies from the Seventies (1974–1983).
*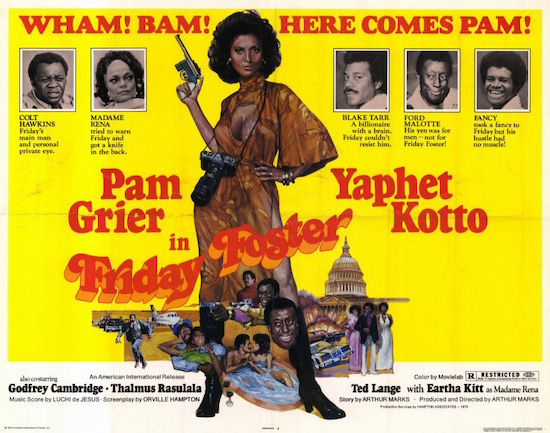 FRIDAY FOSTER | d. ARTHUR MARKS | 1975
The first thing to understand about Friday Foster is that "CP time" doesn't stand for Communist Party. What it does mean is — well, let's wait on that. If possible, I suggest watching this hugely enjoyable and frequently impressive movie without preconceptions, for while it wouldn't have existed without many "blaxploitation" movies preceding it, Friday Foster is in many ways something else: a black political conspiracy satire? But with a little sex in it?
How this happened is an intriguing mystery. The film's name and broad concept — black woman model turned fashion photographer — comes from an eponymous syndicated American comic strip created and written by (white) cartoonist Jim Lawrence, and illustrated by a Spanish artist, Jorge Longarón. Whether the film's (white) screenwriter, Orville Hampton, took anything more specific from the comic is unknown but he probably didn't have to. He'd been a prolific writer of B-movie and television scripts since the 1950s, with flashes of more ambitious fare, like the remarkable — and still underknown — interracial drama One Potato, Two Potato (1964), for which he earned an Oscar nomination. If this movie's script is nothing special — it's no Three Days of the Condor (also 1975), for example — it doesn't interfere with the many wonderful performances.
Credit for the film's vivacity must go to the film's (white) producer and director Arthur Marks, formerly of Perry Mason fame and more recently a B-movie director — including two pretty good, and themselves somewhat offbeat, blaxploitation pictures, Detroit 9000 (1973) and Bucktown (1975), the latter including numerous actors also in Friday Foster. Some people will prefer Bucktown Pam Grier but not me, not least because her Friday Foster co-star, Yaphet Kotto, is a much better actor than action-icon Fred Williamson — and funnier too. Not that Friday Foster lacks for violence or vivacity: assassination, a funktastic fashion show, google-eyed death scenes and a climactic shoot-out all have their parts, but the screams don't drown out the laughs either.
Scene after scene, this incredible cast delivers: Ted Lange, then of black sitcom That's My Mama fame; awesomely sweating Carl Weathers before Rocky; Scatman Crothers just after opening Ralph Bakshi's Blaxploitation busting Coonskin; scene-stealing Godfrey Cambridge in his last film appearance before his untimely death the following year. Blacklisted Eartha Kitt, appearing in her first movie since 1958, didn't like Friday Foster — she did it to just get back onscreen — but you'd never know it: she's scintillating. The cinematography, editing, music, unfussy Los Angeles-area location shooting — even the actor's wardrobes — are all of interest. Sure, it's not Shampoo — to name that year's and every year's untoppable L.A.-set sex-and-politics picture. But it makes you wonder what a black version could have been like.
***
CONVOY YOUR ENTHUSIASM: INTRODUCTION | Madeline Ashby on BLADE RUNNER | Erik Davis on BRING ME THE HEAD OF ALFREDO GARCIA | Mimi Lipson on CONVOY | Luc Sante on BLACK SUNDAY | Josh Glenn on THREE DAYS OF THE CONDOR | Lisa Jane Persky on SORCERER | Devin McKinney on THE TAKING OF PELHAM ONE TWO THREE | Adam McGovern on QUINTET | Mandy Keifetz on DEATH RACE 2000 | Peter Doyle on SOUTHERN COMFORT | Jonathan Lethem on STRAIGHT TIME | Heather Kapplow on THE KILLER ELITE | Tom Nealon on EVERY WHICH WAY BUT LOOSE | Mark Kingwell on THE EIGER SANCTION | Sherri Wasserman on ESCAPE FROM NEW YORK | Gordon Dahlquist on MARATHON MAN | David Levine on PARALLAX VIEW | Matthew Sharpe on ROLLERBALL | Ramona Lyons on ALIEN | Dan Piepenbring on WHITE LINE FEVER | Marc Weidenbaum on THIEF | Carolyn Kellogg on MAD MAX | Carlo Rotella on KUNG FU | Peggy Nelson on SMOKEY & THE BANDIT | Brian Berger on FRIDAY FOSTER.
MORE ENTHUSIASM at HILOBROW
NERD YOUR ENTHUSIASM (4Q2021): NERDING | ARDUIN | KLINGON CONFIDENTIAL | MAP INSERTS | TIME | & 20 other nerdy passions. SWERVE YOUR ENTHUSIASM (3Q2021): WARHOL'S WALT WHITMAN | 70, GIRLS, 70 | TYRAEL'S MIGHT | SHIRATO SANPEI | THE LEON SUITES | & 20 other never-realized cultural productions. FIVE-O YOUR ENTHUSIASM (2Q2021): DARK SHADOWS | MANNIX | GET SMART | THE ADDAMS FAMILY | I DREAM OF JEANNIE | & 20 other Sixties (1964–1973) TV shows. FERB YOUR ENTHUSIASM (1Q2021): STEVEN UNIVERSE | TOP CAT | REN & STIMPY | SHE-RA AND THE PRINCESSES OF POWER | DRAGON BALL Z | & 20 other animated series. CARBONA YOUR ENTHUSIASM (2020): "Sex Bomb" | "Going Underground" | "Soft South Africans" | "Typical Girls" | "Human Fly" | & 20 other Seventies (1974–1983) punk singles. KLAATU YOU (2020 weekly): ZARDOZ | METROPOLIS | DARK STAR | SINS OF THE FLESHAPOIDS | SOLARIS | & dozens of other pre-STAR WARS sci-fi movies. CONVOY YOUR ENTHUSIASM (2019): THE TAKING OF PELHAM ONE TWO THREE | ROLLERBALL | BLACK SUNDAY | SORCERER | STRAIGHT TIME | & 20 other Seventies (1974–1983) action movies. SERIOCOMIC (2019 weekly): LITTLE LULU | VIZ | MARSUPILAMI | ERNIE POOK'S COMEEK | HELLBOY | & dozens of other comics. TUBE YOUR ENTHUSIASM (2018): LOONEY TUNES | THREE STOOGES | THE AVENGERS | ROCKY & BULLWINKLE | THE TWILIGHT ZONE | & 20 other Fifties (1954–1963) TV shows. WOWEE ZOWEE (2018 weekly): UNISEX | UNDER THE PINK | DUMMY | AMOR PROHIBIDO | HIPS AND MAKERS | & dozens of other Nineties (1994–2003) albums. KLUTE YOUR ENTHUSIASM (2017): THE KILLERS | BANDE À PART (BAND OF OUTSIDERS) | ALPHAVILLE | HARPER | BLOW-UP | & 20 other Sixties (1964–1973) neo-noir movies. #SQUADGOALS (2017 weekly): THE WILD BUNCH | BOWIE'S BAND | THE BLOOMSBURY GROUP | THE HONG KONG CAVALIERS | VI ÄR BÄST! & dozens of other squads. GROK MY ENTHUSIASM (2016 weekly): THE THEORY AND PRACTICE OF LUNCH | WEEKEND | MILLION YEAR PICNIC | LA BARONNE EMILE D'ERLANGER | THE SURVIVAL SAMPLER | & dozens more one-off enthusiasms. QUIRK YOUR ENTHUSIASM (2016): "Tainted Love" | "Metal" | "Frankie Teardrop" | "Savoir Faire" | "Broken English" | & 20 other Seventies (1974–1983) new wave singles. CROM YOUR ENTHUSIASM (2015): DARKER THAN YOU THINK | THE SWORD IN THE STONE | OUT OF THE SILENT PLANET | THIEVES' HOUSE | QUEEN OF THE BLACK COAST | & 20 other Thirties (1934–1943) fantasy novels. KERN YOUR ENTHUSIASM (2014): ALDINE ITALIC | DATA 70 | TORONTO SUBWAY | JOHNSTON'S "HAMLET" | TODD KLONE | & 20 other typefaces. HERC YOUR ENTHUSIASM (2013): "Spoonin' Rap" | "Rapper's Delight" | "Rappin' Blow" | "The Incredible Fulk" | "The Adventures of Super Rhyme" | & 20 other Seventies (1974–1983) hip-hop songs. KIRK YOUR ENTHUSIASM (2012): Justice or vengeance? | Kirk teaches his drill thrall to kiss | "KHAAAAAN!" | "No kill I" | Kirk browbeats NOMAD | & 20 other Captain Kirk scenes. KIRB YOUR ENTHUSIASM (2011): THE ETERNALS | BLACK MAGIC | DEMON | OMAC | CAPTAIN AMERICA | & 20 other Jack Kirby panels.