Monk 100
By: Brian Berger
October 10, 2017
Happy 100th birthday to Thelonious Monk! Indefatigable researcher and HILOBROW friend Brian Berger has turned up a lost bit of Monk lore.
*
America has not and will not ever produce a greater artistic genius then pianist and composer Thelonious Sphere Monk (1917–1982). Born a century ago today in Rocky Mount, North Carolina, his music is as startlingly fresh and compelling this very moment as when his records first began appearing on the Blue Note label in early 1948: 10″, 78 RPM, one tune per side, including the canonical "'Round Midnight," "Well, You Needn't"; "Evonce," "Off Minor"; "In Walked Bud"; "Epistrophy," "Well You Needn't"; "Evidence"; more. Much singular brilliance would follow, with travails accompanying: inane criticism, patronizing compliments, omnipresent racism. Even a symbolic triumph, like making the cover of Time magazine in February 1964 was no bulwark against changing fashions or the creeping illness that, after the mid-1970s, would remove him from public view. A revered worldwide icon by then, having always been evasive or oblique even to sympathetic writers, Monk remained, paradoxically, an enigma, of whom many basic biographical questions remained unknown.
"Monk… is as New York as his native San Juan Hill," wrote Dan Burley of the Amsterdam News in February 1948, "The man is a genius." Monk's first New York Times notice, by comparison, appeared in October 1952, when John S. Wilson called him "the quondam mysterious genius of bop"; then — still trailing the black and music press — nothing until August 1957, when Wilson praised Monk's new album, Brilliant Corners, singling out "Pannonica" as "revealing Mr. Monk's backdoor relationship to Duke Ellington." This wasn't untrue but it would take decades for substantial new facts to emerge. Would-be Monk biographer Peter Keepnews had interviewed the musician's two siblings, Thomas — two years younger — and Marion — two years older — and wrote about it for the Village Voice in August 1989. Monk's father, Thelonious Sr., Keepnews learned, was himself quite musical and played "honky-tonk" piano, harmonica, and Jew's harp, the last of which he taught both his sons to play. Marion took private piano lessons, as young Thelonious would also, and far more avidly, learning to read and write music and play Bach, Chopin and Rachmaninov, among others. So much for the genius's once supposed primitivism. But Keepnews' Monk book never appeared.
Thankfully, in 2009, Thelonious Monk: The Life and Times of an American Original by the brilliant historian Robin D.G. Kelley did. Written with unprecedented access to Monk's family and associates, it's the book that rewrote nearly everything. Foremost, Kelley crucially — and empathetically — contextualizes Monk's life within both the larger black American experience and Monk's intimate personal life. While certain questions remain — not least the identity of the black woman evangelist whose band Monk toured with in the mid-1930s (no writer asked and Monk didn't offer) — at this late date, it's probable they always will.
Nonetheless, while recently engaged in some period-related research, I decided to look around for young Monk. I was shocked by what I found: the 12-year-old boy Thelonious, harmonica player, in his first known public performance. For its social meaning, please read Robin Kelley, he knows. For the music, we can only listen to Monk himself, as ever, in wonder.
From an un-bylined notice in the Amsterdam News of March 5, 1930:
Columbus Hill Neighborhood Center, 224 West Sixty-Third street, was represented last evening at the Kips Bay Boys' Club, 240 East Fifty-fourth street, by Edward Parker and Thelonious Monk in a harmonica contest given by the Associated Houses of the Children's Aid Society.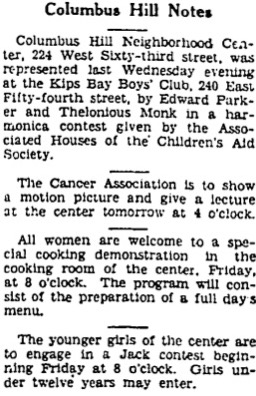 *
Thelonious Monk Trio "Little Rootie Tootie," rec Oct 1952, w/ Gary Mapp, bass; Art Blakey, drums