Grok My Enthusiasm (31)
By: Dan Fox
August 10, 2016
One in a weekly series of enthusiastic posts contributed by HILOBROW friends and regulars.
*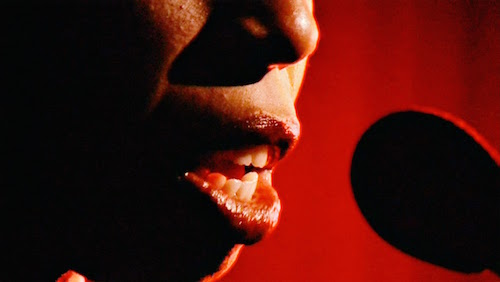 "This is God. I'll be with you for the next few days." This is what Joe Smith tells his wife Mary (played by the future Nancy Reagan) he's just picked up on the radio in the 1950 film The Next Voice You Hear…. We never hear God's voice in this wholesome and understated story, we only see the spiritual consequences of his broadcasts on the all-American Smith family as radios across the world are taken over at 8:30pm every night by God. In The Next Voice You Hear…, God is a silent guide, an invisible hand leading the characters to their destiny, and the world's most omniscient radio DJ.
Radio, for decades, provided the movies with a useful narrative mechanism: a way of providing expository information in a scene, say, or a diegetic soundtrack to the action. But it's also smuggled into cinema a secret strand of polytheism in the form of the 'voice of God' radio DJ. These are characters often confined to their studio, yet they provide an intimately voiced or manically screamed commentary for all the trials and tribulations the principle protagonists are experiencing. They are medium-wave choruses who enable the audience to take a step back from the action. In some cases they even guide the movie's heroes: your friendly FM Virgils.
My list of favourite radio deities would begin with Cleavon Little in Vanishing Point (1971). Little plays Super Soul, a blind DJ who helps speed freak car deliveryman Kowalski (Barry Newman) keep his 1970 Dodge Challenger ahead of the cops. ("This radio station was named Kowalski, in honour of the last American hero to whom speed means freedom of the soul. The question is not when's he gonna stop, but who is gonna stop him. ") The real life Wolfman Jack broadcasts electric insanity to the teenagers's car radios in American Graffiti (1973), and doles out kind advice in person to the young Curt (Richard Dreyfuss) when he comes knocking at his studio. Lynne Thigpen's unnamed DJ in The Warriors (1979) is altogether more menacing — all we see is a mouth at the mic, putting out word to New York's street toughs that the Warriors gang need to be stopped from getting home to Coney Island. She spins records with pointedly sarcastic relevance to the plot ("Nowhere to Run," for instance), and describes the Warriors' treacherous journey home through Manhattan as it unfolds. ("All right now, for all you boppers out there in the big city, all you street people with an ear for the action, I've been asked to relay a request from the Grammercy Riffs. It's a special for the Warriors, that real live bunch from Coney, and I do mean the Warriors. Here's a hit with them in mind.") In Do The Right Thing (1989), Mr Señor Love Daddy, played by Samuel L. Jackson, spins the platters-that-matter and implores his listeners to stay calm as racial tensions flare across New York's Bed-Stuy neighbourhood. ("You got to cool that shit off. And that's the double-truth, Ruth!") A neat twist on the DJ-as-chorus can be found in the 2008 horror movie Pontypool. A zombie apocalypse, caused by a virus embedded into the English language, traps announcer Grant Mazzy (Stephen McHattie) inside his studio. Mazzy and his companions can only escape the murderous undead by speaking French. Here the DJ's power is turned against him.
As our radio listening habits slowly change from picking up whatever comes through the ether to streaming specific shows for on-demand listening, the figure of the omniscient radio DJ may go the way of the old gods. Super Soul and Wolfman Jack are today mere analogue deities from a bygone technological era. Yet the idea that we might find answers in the airwaves is perhaps not so different to the ancient belief that prayers to a supernatural being in the sky might show us the right course of action, or bring us what we wish for. As David Bowie sang, "I am a DJ, I am what I play, I've got believers, Believing me." This is God. I'll be with you through the night, providing you with the latest traffic and weather updates, and taking requests…
***
GROK MY ENTHUSIASM: Rob Wringham on THE THEORY AND PRACTICE OF LUNCH | Gordon Dahlquist on WEEKEND | Joe Alterio on MILLION YEAR PICNIC | Adrienne Crew on LA BARONNE EMILE D'ERLANGER | Josh Glenn on THE SURVIVAL SAMPLER | Alix Lambert on THE SKIES BELONG TO US | Adam McGovern on PENELOPE and CHAVEZ RAVINE | Rob Wringham on THE LYKE WAKE WALK | Mark Kingwell on NORTH STAR SNEAKERS & GWG JEANS | Gordon Dahlquist on FELLINI SATYRICON | Erik Davis on AH! | Devin McKinney on WHISPERING AFRAID | Mimi Lipson on 1973 SEARS ROEBUCK CATALOG | Jessamyn West on MOSS | Josh Glenn on THE SCOUT HOW BOOK | Brian Berger on SLACKER | Alix Lambert on ABSOLUTE BEGINNERS | Chelsey Johnson on MONOTREMES | Devin McKinney on THE BUTCHER COVER | Flourish Klink on ONE DIRECTION | Gordon Dahlquist on FULL METAL JACKET | Allegra Huston on CLOTHESLINE | Jenny Davidson on POWERLIFTING | Evan Narcisse on REZ | Deborah Wassertzug on VEGETARIAN MEATBALLS | Chris Spurgeon on WALLACE AND GROMIT | Mandy Keifetz on BENEFICIAL MICROBES | Annie Nocenti on MARKS ON WALLS | Molly Sauter on THE GREAT BRITISH BAKE OFF | William Nericcio on LAND OF THE LOST | Dan Fox on "VOICE OF GOD" RADIO DJS | Brandi Brown on WIKIPEDIA TALK | Claire Lehmann on THE APPARATUS REVEAL | Alice Boone on COSTUME JEWELRY | Colin Dickey on WIDESPREAD PANIC | Anshuman Iddamsetty on THE FULL BODY PROJECT | John Hilgart on MAKING GRATEFUL DEAD ALBUMS | Rob Wringham on STEVEN UNIVERSE | John Overholt on DECKLE EDGES | James Hannaham on HABIT PATTERNS | Jessamyn West on THE PUBLIC LIBRARY SYSTEM | Adam McGovern on THE SPACE GIANTS | Brian Berger on MEDIUM COOL | Chris Spurgeon on THE DUNNING-KRUGER EFFECT | Joe Alterio on TABLETOP WARGAMING | Mimi Lipson on TRASH PICKING | Jason Grote on CZECH CINEMA | Roxane Gay on AUTOMATED CAR WASH | Dan Fox on JULIA DAVIS | Amy Thielen on BINGO | Steph Burt on FEIJOA.
MORE ENTHUSIASM at HILOBROW
NERD YOUR ENTHUSIASM (4Q2021): NERDING | ARDUIN | KLINGON CONFIDENTIAL | MAP INSERTS | TIME | & 20 other nerdy passions. SWERVE YOUR ENTHUSIASM (3Q2021): WARHOL'S WALT WHITMAN | 70, GIRLS, 70 | TYRAEL'S MIGHT | SHIRATO SANPEI | THE LEON SUITES | & 20 other never-realized cultural productions. FIVE-O YOUR ENTHUSIASM (2Q2021): DARK SHADOWS | MANNIX | GET SMART | THE ADDAMS FAMILY | I DREAM OF JEANNIE | & 20 other Sixties (1964–1973) TV shows. FERB YOUR ENTHUSIASM (1Q2021): STEVEN UNIVERSE | TOP CAT | REN & STIMPY | SHE-RA AND THE PRINCESSES OF POWER | DRAGON BALL Z | & 20 other animated series. CARBONA YOUR ENTHUSIASM (2020): "Sex Bomb" | "Going Underground" | "Soft South Africans" | "Typical Girls" | "Human Fly" | & 20 other Seventies (1974–1983) punk singles. KLAATU YOU (2020 weekly): ZARDOZ | METROPOLIS | DARK STAR | SINS OF THE FLESHAPOIDS | SOLARIS | & dozens of other pre-STAR WARS sci-fi movies. CONVOY YOUR ENTHUSIASM (2019): THE TAKING OF PELHAM ONE TWO THREE | ROLLERBALL | BLACK SUNDAY | SORCERER | STRAIGHT TIME | & 20 other Seventies (1974–1983) action movies. SERIOCOMIC (2019 weekly): LITTLE LULU | VIZ | MARSUPILAMI | ERNIE POOK'S COMEEK | HELLBOY | & dozens of other comics. TUBE YOUR ENTHUSIASM (2018): LOONEY TUNES | THREE STOOGES | THE AVENGERS | ROCKY & BULLWINKLE | THE TWILIGHT ZONE | & 20 other Fifties (1954–1963) TV shows. WOWEE ZOWEE (2018 weekly): UNISEX | UNDER THE PINK | DUMMY | AMOR PROHIBIDO | HIPS AND MAKERS | & dozens of other Nineties (1994–2003) albums. KLUTE YOUR ENTHUSIASM (2017): THE KILLERS | BANDE À PART (BAND OF OUTSIDERS) | ALPHAVILLE | HARPER | BLOW-UP | & 20 other Sixties (1964–1973) neo-noir movies. #SQUADGOALS (2017 weekly): THE WILD BUNCH | BOWIE'S BAND | THE BLOOMSBURY GROUP | THE HONG KONG CAVALIERS | VI ÄR BÄST! & dozens of other squads. GROK MY ENTHUSIASM (2016 weekly): THE THEORY AND PRACTICE OF LUNCH | WEEKEND | MILLION YEAR PICNIC | LA BARONNE EMILE D'ERLANGER | THE SURVIVAL SAMPLER | & dozens more one-off enthusiasms. QUIRK YOUR ENTHUSIASM (2016): "Tainted Love" | "Metal" | "Frankie Teardrop" | "Savoir Faire" | "Broken English" | & 20 other Seventies (1974–1983) new wave singles. CROM YOUR ENTHUSIASM (2015): DARKER THAN YOU THINK | THE SWORD IN THE STONE | OUT OF THE SILENT PLANET | THIEVES' HOUSE | QUEEN OF THE BLACK COAST | & 20 other Thirties (1934–1943) fantasy novels. KERN YOUR ENTHUSIASM (2014): ALDINE ITALIC | DATA 70 | TORONTO SUBWAY | JOHNSTON'S "HAMLET" | TODD KLONE | & 20 other typefaces. HERC YOUR ENTHUSIASM (2013): "Spoonin' Rap" | "Rapper's Delight" | "Rappin' Blow" | "The Incredible Fulk" | "The Adventures of Super Rhyme" | & 20 other Seventies (1974–1983) hip-hop songs. KIRK YOUR ENTHUSIASM (2012): Justice or vengeance? | Kirk teaches his drill thrall to kiss | "KHAAAAAN!" | "No kill I" | Kirk browbeats NOMAD | & 20 other Captain Kirk scenes. KIRB YOUR ENTHUSIASM (2011): THE ETERNALS | BLACK MAGIC | DEMON | OMAC | CAPTAIN AMERICA | & 20 other Jack Kirby panels.