Grok My Enthusiasm (37)
By: John Hilgart
September 21, 2016
One in a weekly series of enthusiastic posts contributed by HILOBROW friends and regulars.
*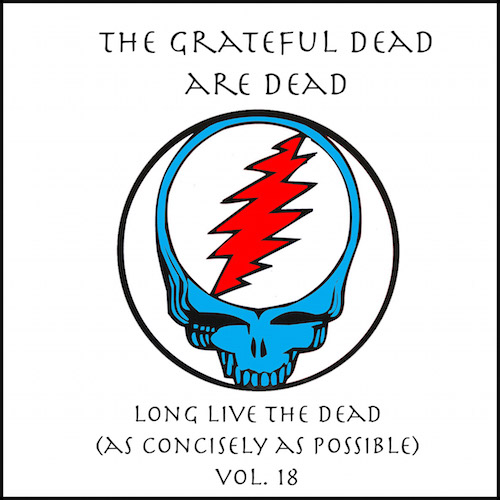 Jerry Garcia died 21 years ago, and The Grateful Dead's never ending tour transmigrated from a stage near you to a never ending series of releases from a tape vault in California. So well did the Grateful Dead document their live performances that you can now replay nearly the whole, long strange trip in real time. There are thousands of shows recorded end-to-end, or nearly so, in stereo, right off the concert mixing board.
In a nearby parallel universe, the last 21 years are full of official Grateful Dead live albums that cull, curate, concentrate, contextualize, decontextualize, and re-contextualize what was sitting in that tape vault when Jerry died.
In that universe there's the posthumous release that topped a lot of jazz polls, cementing the Dead's legacy as one of the greatest improvisational jazz-rock-fusion collectives.
There's the live album organized around Garcia's flood years as a songwriter, accompanied ably and subtly by the Dead of the same period, cementing that oeuvre as a monument in American songwriting.
There's the album that's nothing but a two-hour "Dark Star" montage, with no episodes you might view as bathroom break opportunities. You'd rather stand there and listen and pee your pants.
There would be single-show releases that winnow out all the screwed up or merely fine material to turn three- or four-hour shows into tight one- or two-hour live albums.
There would be cases in which The Dead decided to make some radical edits, in order to release the angels trapped in the blocks of marble. An instrumental "Eyes of the World?" Why not? Frank Zappa or Miles Davis wouldn't have thought twice.
In this parallel universe there would be no telling how the next release might be organized into another distinctive perspective on The Dead's accomplishment. But one thing is likely; that accomplishment would be more legible than it is in our universe.
In our universe, The Dead decided to release the tape vault almost exclusively in the form of complete concerts. Is it a crime or a blessing that these releases almost all go out of print immediately? Yes.
With each of them, you are once again put in the position of a Deadhead tasked with judging the contents of another three-to-four-hour historical document, unfolding in real time, which will be, in many respects, very similar to many other such documents that you have heard. They are archival, but they are not albums. They don't help you see through the forest to the most majestic trees. The songs are never going to be stacked into surprising sequences that form new neural pathways. They're not meant to be played for people outside the circle, who don't already know which allowances they're supposed to make. In somewhat lower fidelity, they are probably already available for streaming on archive.org.
So, for those of us who love The Dead, but who don't have enough patience or life-span left to listen to the less-than-excellent stuff for any longer that it takes to realize that it is less than excellent – but who hunger for fresh batches of material to get to know intimately through repeated, thrilled listens – it's a DIY world, in which you try to approximate albums that might have been released in a parallel universe.
It should be noted that there are some curated live albums that stay in print that are well worth your money:
"Skullfuck" (1971)
Ladies and Gentlemen, The Grateful Dead (April 1971)
Europe '72 volumes 1 and 2
Steppin' Out with The Grateful Dead (England 1972)
The Grateful Dead Movie Soundtrack (October 1974)
Reckoning (1980)
Without a Net (1990)
***
GROK MY ENTHUSIASM: Rob Wringham on THE THEORY AND PRACTICE OF LUNCH | Gordon Dahlquist on WEEKEND | Joe Alterio on MILLION YEAR PICNIC | Adrienne Crew on LA BARONNE EMILE D'ERLANGER | Josh Glenn on THE SURVIVAL SAMPLER | Alix Lambert on THE SKIES BELONG TO US | Adam McGovern on PENELOPE and CHAVEZ RAVINE | Rob Wringham on THE LYKE WAKE WALK | Mark Kingwell on NORTH STAR SNEAKERS & GWG JEANS | Gordon Dahlquist on FELLINI SATYRICON | Erik Davis on AH! | Devin McKinney on WHISPERING AFRAID | Mimi Lipson on 1973 SEARS ROEBUCK CATALOG | Jessamyn West on MOSS | Josh Glenn on THE SCOUT HOW BOOK | Brian Berger on SLACKER | Alix Lambert on ABSOLUTE BEGINNERS | Chelsey Johnson on MONOTREMES | Devin McKinney on THE BUTCHER COVER | Flourish Klink on ONE DIRECTION | Gordon Dahlquist on FULL METAL JACKET | Allegra Huston on CLOTHESLINE | Jenny Davidson on POWERLIFTING | Evan Narcisse on REZ | Deborah Wassertzug on VEGETARIAN MEATBALLS | Chris Spurgeon on WALLACE AND GROMIT | Mandy Keifetz on BENEFICIAL MICROBES | Annie Nocenti on MARKS ON WALLS | Molly Sauter on THE GREAT BRITISH BAKE OFF | William Nericcio on LAND OF THE LOST | Dan Fox on "VOICE OF GOD" RADIO DJS | Brandi Brown on WIKIPEDIA TALK | Claire Lehmann on THE APPARATUS REVEAL | Alice Boone on COSTUME JEWELRY | Colin Dickey on WIDESPREAD PANIC | Anshuman Iddamsetty on THE FULL BODY PROJECT | John Hilgart on MAKING GRATEFUL DEAD ALBUMS | Rob Wringham on STEVEN UNIVERSE | John Overholt on DECKLE EDGES | James Hannaham on HABIT PATTERNS | Jessamyn West on THE PUBLIC LIBRARY SYSTEM | Adam McGovern on THE SPACE GIANTS | Brian Berger on MEDIUM COOL | Chris Spurgeon on THE DUNNING-KRUGER EFFECT | Joe Alterio on TABLETOP WARGAMING | Mimi Lipson on TRASH PICKING | Jason Grote on CZECH CINEMA | Roxane Gay on AUTOMATED CAR WASH | Dan Fox on JULIA DAVIS | Amy Thielen on BINGO | Steph Burt on FEIJOA.
MORE ENTHUSIASM at HILOBROW
NERD YOUR ENTHUSIASM (4Q2021): NERDING | ARDUIN | KLINGON CONFIDENTIAL | MAP INSERTS | TIME | & 20 other nerdy passions. SWERVE YOUR ENTHUSIASM (3Q2021): WARHOL'S WALT WHITMAN | 70, GIRLS, 70 | TYRAEL'S MIGHT | SHIRATO SANPEI | THE LEON SUITES | & 20 other never-realized cultural productions. FIVE-O YOUR ENTHUSIASM (2Q2021): DARK SHADOWS | MANNIX | GET SMART | THE ADDAMS FAMILY | I DREAM OF JEANNIE | & 20 other Sixties (1964–1973) TV shows. FERB YOUR ENTHUSIASM (1Q2021): STEVEN UNIVERSE | TOP CAT | REN & STIMPY | SHE-RA AND THE PRINCESSES OF POWER | DRAGON BALL Z | & 20 other animated series. CARBONA YOUR ENTHUSIASM (2020): "Sex Bomb" | "Going Underground" | "Soft South Africans" | "Typical Girls" | "Human Fly" | & 20 other Seventies (1974–1983) punk singles. KLAATU YOU (2020 weekly): ZARDOZ | METROPOLIS | DARK STAR | SINS OF THE FLESHAPOIDS | SOLARIS | & dozens of other pre-STAR WARS sci-fi movies. CONVOY YOUR ENTHUSIASM (2019): THE TAKING OF PELHAM ONE TWO THREE | ROLLERBALL | BLACK SUNDAY | SORCERER | STRAIGHT TIME | & 20 other Seventies (1974–1983) action movies. SERIOCOMIC (2019 weekly): LITTLE LULU | VIZ | MARSUPILAMI | ERNIE POOK'S COMEEK | HELLBOY | & dozens of other comics. TUBE YOUR ENTHUSIASM (2018): LOONEY TUNES | THREE STOOGES | THE AVENGERS | ROCKY & BULLWINKLE | THE TWILIGHT ZONE | & 20 other Fifties (1954–1963) TV shows. WOWEE ZOWEE (2018 weekly): UNISEX | UNDER THE PINK | DUMMY | AMOR PROHIBIDO | HIPS AND MAKERS | & dozens of other Nineties (1994–2003) albums. KLUTE YOUR ENTHUSIASM (2017): THE KILLERS | BANDE À PART (BAND OF OUTSIDERS) | ALPHAVILLE | HARPER | BLOW-UP | & 20 other Sixties (1964–1973) neo-noir movies. #SQUADGOALS (2017 weekly): THE WILD BUNCH | BOWIE'S BAND | THE BLOOMSBURY GROUP | THE HONG KONG CAVALIERS | VI ÄR BÄST! & dozens of other squads. GROK MY ENTHUSIASM (2016 weekly): THE THEORY AND PRACTICE OF LUNCH | WEEKEND | MILLION YEAR PICNIC | LA BARONNE EMILE D'ERLANGER | THE SURVIVAL SAMPLER | & dozens more one-off enthusiasms. QUIRK YOUR ENTHUSIASM (2016): "Tainted Love" | "Metal" | "Frankie Teardrop" | "Savoir Faire" | "Broken English" | & 20 other Seventies (1974–1983) new wave singles. CROM YOUR ENTHUSIASM (2015): DARKER THAN YOU THINK | THE SWORD IN THE STONE | OUT OF THE SILENT PLANET | THIEVES' HOUSE | QUEEN OF THE BLACK COAST | & 20 other Thirties (1934–1943) fantasy novels. KERN YOUR ENTHUSIASM (2014): ALDINE ITALIC | DATA 70 | TORONTO SUBWAY | JOHNSTON'S "HAMLET" | TODD KLONE | & 20 other typefaces. HERC YOUR ENTHUSIASM (2013): "Spoonin' Rap" | "Rapper's Delight" | "Rappin' Blow" | "The Incredible Fulk" | "The Adventures of Super Rhyme" | & 20 other Seventies (1974–1983) hip-hop songs. KIRK YOUR ENTHUSIASM (2012): Justice or vengeance? | Kirk teaches his drill thrall to kiss | "KHAAAAAN!" | "No kill I" | Kirk browbeats NOMAD | & 20 other Captain Kirk scenes. KIRB YOUR ENTHUSIASM (2011): THE ETERNALS | BLACK MAGIC | DEMON | OMAC | CAPTAIN AMERICA | & 20 other Jack Kirby panels.