FERB YOUR ENTHUSIASM (5)
By: Mimi Lipson
January 14, 2021
One in a series of 25 enthusiastic posts, contributed by 25 HILOBROW friends and regulars, on the topic of our favorite animated TV series.
*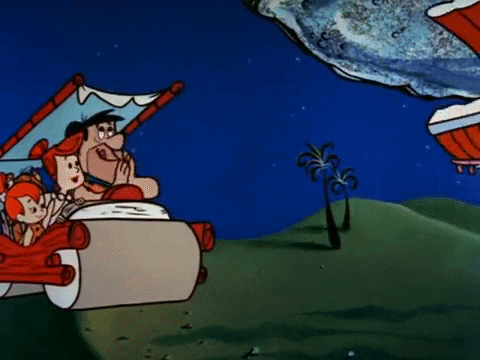 THE FLINTSTONES | HANNA & BARBERA | 1960–1966
SOCRATES: Next, compare our nature in respect to education and its lack to a story such as this. Picture children dwelling in an underground cavern, with a wide entrance that slopes upward to an opening. Conceive them as having their legs and necks fettered so that they remain in one spot, able to look forward only, constrained from moving their heads.
GLAUCON: This is monstrous! Where are their parents?
SOCRATES: Their parents are very busy. But, fine, put them on a sofa. Now picture the light from a fire burning higher up and at a distance behind them, and between the fire and the prisoners and above them a road along which a low wall has been built, as the exhibitors of puppet shows have walls before the men themselves above which they show the puppets.
GLAUCON: Wait. Is the sofa against the wall of the cave, or… but the fire is behind them…
SOCRATES: Picture also men carrying items of all kinds that rise above the wall, such as telephones and typewriters, strings of beads, overcoats and daily papers, wrought in materials such as Bakelite, carbon steel, horsehair, and newsprint. Do you think these children would have seen anything of these items except for the shadows that were cast on the wall from the fire in front of them?
GLAUCON: The puppet-show wall or the cave wall?
SOCRATES: And would these items not appear to be made of granite, like the wall of the cave?
GLAUCON: The cave wall, then.
SOCRATES: And would not some of them seem to be operated by the shadows of the birds and animals sitting on the wall? The low wall behind the sofa, I mean. Not the cave wall. And the men carrying the items, and the women, and babies, and even the dogs and cats walking in the cave above them—would not these too appear as shadows?
GLAUCON: Wouldn't they be concealed by the puppet-show wall?
SOCRATES: Scratch the puppet-show wall; we don't need it anyhow. No wall, just people in a small, sooty alcove near the fire. A big, fat, bellowing husband and a sarcastic, wasp-waisted wife: fighting, making up, kissing like ballroom dancers in love. The man comes home and slams the door, making the plaster walls shudder. He trades his bus driver's cap for the animal-skin hat of his fraternal order, and his twitchy little sidekick comes downstairs wearing the same hat. They all spend their days in the sooty alcove — the large man and the small man, the sarcastic wife, and sometimes the little sidekick's wife, who is sweet and pretty. Would not the children see shadows of these figures moving across the cave wall before them?
GLAUCON: Surely.
SOCRATES: Consider this: The figures on the wall are rendered crudely, with large heads. And the glow from the fire casts colors onto the shadows. And though they live in a world of granite objects, their lives are more modern and comfortable than those of the real figures behind the children. They have cars and driveways, dishwashers and televisions.
GLAUCON: Impossible! How?
SOCRATES: A trick of refracting light. While the people in the alcove put pails of garbage in the hall, read the classified section, and dream of bigger lives, their shadows smoke Winston cigarettes and eat enormous racks of ribs, enacting simpler versions of the ambitions and disappointments and misunderstandings of the originals.
GLAUCON: I thought this was a story about our nature in respect to education and its lack.
SOCRATES: I'm not done. Consider what would be the manner of the release and healing from these bonds and this folly if in the course of nature one child was freed from her fetters and stood up and looked behind her and was confronted with the specific, irreducible personalities of the people in the alcove, which the glow from the fire cannot transmit?
GLAUCON: Necessarily, she would leave the sofa and watch those people instead.
SOCRATES: She does not. She turns back to the cave wall.
GLAUCON: How can it be?
SOCRATES: Remember that she is a child, and children love the shadows because they are colorful and simple. The children beg their busy parents for Pez dispensers and lunchboxes and even vitamins with their likenesses. This girl is no different. Not yet.
***
FERB YOUR ENTHUSIASM: SERIES INTRODUCTION by Josh Glenn | Miranda Mellis on STEVEN UNIVERSE | Luc Sante on TOP CAT | Peggy Nelson on PINK PANTHER | Charlie Mitchell on COWBOY BEBOP | Mimi Lipson on THE FLINTSTONES | Sam Glenn on BIG MOUTH | Mandy Keifetz on ROAD RUNNER | Ramona Lyons on SHE-RA | Holly Interlandi on DRAGON BALL Z | Max Glenn on ADVENTURE TIME | Joe Alterio on REN & STIMPY | Josh Glenn on SPEED RACER | Adam McGovern on KIMBA THE WHITE LION | Jonathan Pinchera on SAMURAI JACK | Lynn Peril on JONNY QUEST | Stephanie Burt on X-MEN THE ANIMATED SERIES and X-MEN: EVOLUTION | Elizabeth Foy Larsen on THE JETSONS | Adam Netburn on NARUTO | Madeline Ashby on AVATAR: THE LAST AIRBENDER | Tom Nealon on TRANSFORMERS | Sara Ryan on BOJACK HORSEMAN | Michael Grasso on COSMIC CLOCK | Erin M. Routson on BEAVIS & BUTTHEAD | Deborah Wassertzug on DARIA | Lydia Millet on BOB'S BURGERS.
MORE ENTHUSIASM at HILOBROW
NERD YOUR ENTHUSIASM (4Q2021): NERDING | ARDUIN | KLINGON CONFIDENTIAL | MAP INSERTS | TIME | & 20 other nerdy passions. SWERVE YOUR ENTHUSIASM (3Q2021): WARHOL'S WALT WHITMAN | 70, GIRLS, 70 | TYRAEL'S MIGHT | SHIRATO SANPEI | THE LEON SUITES | & 20 other never-realized cultural productions. FIVE-O YOUR ENTHUSIASM (2Q2021): DARK SHADOWS | MANNIX | GET SMART | THE ADDAMS FAMILY | I DREAM OF JEANNIE | & 20 other Sixties (1964–1973) TV shows. FERB YOUR ENTHUSIASM (1Q2021): STEVEN UNIVERSE | TOP CAT | REN & STIMPY | SHE-RA AND THE PRINCESSES OF POWER | DRAGON BALL Z | & 20 other animated series. CARBONA YOUR ENTHUSIASM (2020): "Sex Bomb" | "Going Underground" | "Soft South Africans" | "Typical Girls" | "Human Fly" | & 20 other Seventies (1974–1983) punk singles. KLAATU YOU (2020 weekly): ZARDOZ | METROPOLIS | DARK STAR | SINS OF THE FLESHAPOIDS | SOLARIS | & dozens of other pre-STAR WARS sci-fi movies. CONVOY YOUR ENTHUSIASM (2019): THE TAKING OF PELHAM ONE TWO THREE | ROLLERBALL | BLACK SUNDAY | SORCERER | STRAIGHT TIME | & 20 other Seventies (1974–1983) action movies. SERIOCOMIC (2019 weekly): LITTLE LULU | VIZ | MARSUPILAMI | ERNIE POOK'S COMEEK | HELLBOY | & dozens of other comics. TUBE YOUR ENTHUSIASM (2018): LOONEY TUNES | THREE STOOGES | THE AVENGERS | ROCKY & BULLWINKLE | THE TWILIGHT ZONE | & 20 other Fifties (1954–1963) TV shows. WOWEE ZOWEE (2018 weekly): UNISEX | UNDER THE PINK | DUMMY | AMOR PROHIBIDO | HIPS AND MAKERS | & dozens of other Nineties (1994–2003) albums. KLUTE YOUR ENTHUSIASM (2017): THE KILLERS | BANDE À PART (BAND OF OUTSIDERS) | ALPHAVILLE | HARPER | BLOW-UP | & 20 other Sixties (1964–1973) neo-noir movies. #SQUADGOALS (2017 weekly): THE WILD BUNCH | BOWIE'S BAND | THE BLOOMSBURY GROUP | THE HONG KONG CAVALIERS | VI ÄR BÄST! & dozens of other squads. GROK MY ENTHUSIASM (2016 weekly): THE THEORY AND PRACTICE OF LUNCH | WEEKEND | MILLION YEAR PICNIC | LA BARONNE EMILE D'ERLANGER | THE SURVIVAL SAMPLER | & dozens more one-off enthusiasms. QUIRK YOUR ENTHUSIASM (2016): "Tainted Love" | "Metal" | "Frankie Teardrop" | "Savoir Faire" | "Broken English" | & 20 other Seventies (1974–1983) new wave singles. CROM YOUR ENTHUSIASM (2015): DARKER THAN YOU THINK | THE SWORD IN THE STONE | OUT OF THE SILENT PLANET | THIEVES' HOUSE | QUEEN OF THE BLACK COAST | & 20 other Thirties (1934–1943) fantasy novels. KERN YOUR ENTHUSIASM (2014): ALDINE ITALIC | DATA 70 | TORONTO SUBWAY | JOHNSTON'S "HAMLET" | TODD KLONE | & 20 other typefaces. HERC YOUR ENTHUSIASM (2013): "Spoonin' Rap" | "Rapper's Delight" | "Rappin' Blow" | "The Incredible Fulk" | "The Adventures of Super Rhyme" | & 20 other Seventies (1974–1983) hip-hop songs. KIRK YOUR ENTHUSIASM (2012): Justice or vengeance? | Kirk teaches his drill thrall to kiss | "KHAAAAAN!" | "No kill I" | Kirk browbeats NOMAD | & 20 other Captain Kirk scenes. KIRB YOUR ENTHUSIASM (2011): THE ETERNALS | BLACK MAGIC | DEMON | OMAC | CAPTAIN AMERICA | & 20 other Jack Kirby panels.