FETISHES (15)
By: Mimi Lipson
May 14, 2019
The seventh PROJECT:OBJECT volume is a 25-part series of true stories about fetishes. That is to say: objects with which we are obsessed, to which we are devoted, and from the influence of which we cannot escape.
*
What would you say about a person who has a clawfoot bathtub in her dining room? Don't look at the photograph yet. I'm soaking, surrounded by candles and palm fronds, right? Loose chignon, bubbles, champagne flute aloft. Or maybe it's a scene of punk decadence. I'm sprawled in the empty tub wearing only a man's boxers and a violent slash of red lipstick. Either way, a clawfoot tub in a room other than a bathroom (or, in New York City, a kitchen) is voluptuous. It has appetites, and it doesn't give a damn for your conventions.
OK, now look.
My other tub, the one in my bathroom, is full sized. Oriented lengthwise, it takes up half the available space; you have to squeeze into my bathroom, like a Clydesdale backing into a horse trailer. Some time ago, I got an idea of switching things around so that the tub is along back wall. The room is a hair over four feet wide — just wide enough to accommodate the shortest commercially available tub. But the options are limited and the prices high. Also, it would mean moving the toilet out of the way. A big, ambitious project.
I was discussing this with an ex-boyfriend. We talk all the time about rearranging spaces and salvaging building supplies. Our relationship unfolded in a series of crazy, exhausting construction projects, which failed to make us rich, because we were dreamers who lacked some essential elements of common sense. All of which is to say: The next time we spoke, he had gone ahead and bought an antique 48" cast-iron tub off Craigslist for $150. I could pay him back whenever. The tub would be waiting for me, outside, in Upper Chichester, Pennsylvania, which is twenty-five miles south of Philadelphia, where I no longer live.
Suddenly I was back on the rollercoaster with my ex — headed south on the New Jersey Turnpike on a Megabus; renting a U-Haul in South Philly; driving out past the airport, into the Chester County suburbs, to the backyard where my tub was filling up with leaves and rainwater. Then white-knuckling it up the turnpike, over the George Washington Bridge, and down Amsterdam Ave — racing to meet the movers I'd hired to help me get the tub up four flights of stairs. The only ones who had not quoted me a fuck-you price over the phone.
That was half a year ago. There is no plan to install the tub. Gone are my days of cowboy renovation, and the first professional I consulted pointed out that moving the toilet would involve cutting through floor joists. I had an offer on the tub last month — one that would make me whole for the $150, the bus ticket, the U-Haul, gas, tolls, and movers — but it's not for sale.
Because I am a person who has a clawfoot tub in her dining room.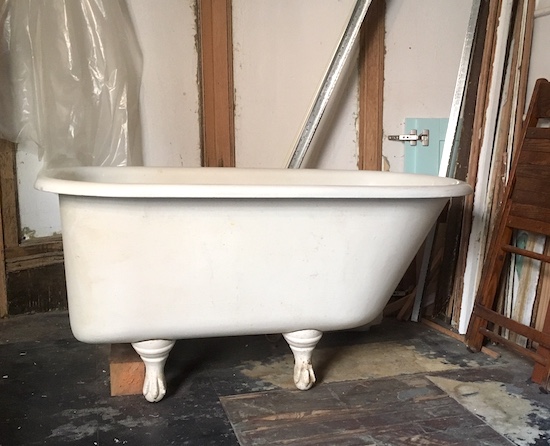 *
FETISHES: INTRODUCTION | Josh Foer on DEATH MASK | Beth Lisick on MURDERED-OUT KFC BUCKET | Ramona Lyons on RABBIT BOX | Friederike Paetzold on OLD HANDS | Katya Apekina on MISSISSIPPI WATER | Matthew Daniel on PIPE CLEANER FIGURE | Christina Couch on LEECH ACTION FIGURE | Kenneth Goldsmith on THEWLIS SOCK | Matthew Sharpe on GLASSES | Katrina Brown Hunt on DAY OF THE DEAD FIGURINE | Niela Orr on IVERSON SNEAKERS | Toni Schlesinger on CLOUD ERASE BOARD | Carlo Rotella on TONE BAR | Hilary Greenbaum on FAMILY PHOTO | Mimi Lipson on CLAWFOOT TUB | Wayne Chambliss on MATRYOSHKA CHEST | Chelsea Barabas on SWITCHBLADE | Ciara O'Rourke on MOLLY McINTIRE DOLL | Kelli Anderson on MIURA-ORI FOLD | Shawn Wolfe on BOX OF AYDS | Alyssa Giacobbe on LOVE NOTE | Marc Weidenbaum on DUMMY JACK | Abby Rapoport on MAGNATILES | Bryn Smith on DUCK UMBRELLA | Kerry Lauerman on WALL ORGANIZER.
FOSSILS: INTRODUCTION | Allegra Huston on SKATAWAY JACKET | Kevin Obsatz on HOMEMADE NUNCHUKS | Ian Bogost on DESKTOP TELEPHONE | Jeff Lewonczyk on CHA-CHA JACKET SCRAP | Kelly Horan on VOLVO KEY | & 20 MORE.
FLAIR: INTRODUCTION | Cliff Kuang on ROLEX DATEJUST | Ethan Zuckerman on LAPTOP STICKERS | Ann Shoket on LEATHER JACKET | Kembrew McLeod on KEMBREW MERCH | Paola Antonelli on MERMAID TEARS | & 20 MORE.
LOST OBJECTS (vol. 1): INTRODUCTION | Kate Bernheimer on MULLET WIG (ill. Amy Evans) | Dan Piepenbring on COLOGNE (ill. Josh Neufeld) | Doug Dorst on STRATOCASTER (ill. John Holbo) | Paul Lukas on VANILLA BEAN (ill. Allison Bamcat) | Mimi Lipson on DODGE DART (ill. Mister Reusch) | & 20 MORE.
ILLICIT OBJECTS: INTRODUCTION | Kio Stark on PEEPSHOW TOKEN | Sari Wilson on TOMBSTONE PARTS | Annalee Newitz on CAR-BOMB REMNANT | Tito Bottitta on MOONINITE DEVICE | Eric Bennett on DIRTY MAGAZINE | & 20 MORE.
TALISMANIC OBJECTS: INTRODUCTION | Veda Hille on CROCHET SHEEP | Gary Panter on DINOSAUR BONES | Jami Attenberg on SELENITE CRYSTAL | Annie Nocenti on MINIATURE DICE | Wayne Curtis on CLOCK WINDING KEY | & 20 MORE.
POLITICAL OBJECTS: INTRODUCTION | Luc Sante on CAMPAIGN PAMPHLETS | Lydia Millet on PVC POLAR BEAR | Ben Greenman on MATCHBOX CAR | Rob Baedeker on PRESIDENTS PLACEMAT | L.A. Kauffman on WHEATPASTE POSTER | & 20 MORE.
SIGNIFICANT OBJECTS at HILOBROW: PROJECT:OBJECT homepage | PROJECT:OBJECT newsletter | PROJECT:OBJECT objects (Threadless shop — all profits donated to the ACLU) | POLITICAL OBJECTS series (1Q2017) | TALISMANIC OBJECTS series (2Q2017) | ILLICIT OBJECTS series (3Q2017) | LOST OBJECTS vol. 1 series (4Q2017) | FLAIR series (2Q2018) | FOSSIL series (4Q2018) | FETISHES series (2Q2019) | LOST OBJECTS vol. 2 series (4Q2019) | MOVIE OBJECTS series (2Q2020). ALSO SEE: SIGNIFICANT OBJECTS website | SIGNIFICANT OBJECTS collection, ed. Rob Walker and Josh Glenn (Fantagraphics, 2012) | TAKING THINGS SERIOUSLY, ed. Josh Glenn (Princeton Architectural Press, 2007) | TAKING THINGS SERIOUSLY excerpts.