CONVOY YOUR ENTHUSIASM (3)
By: Mimi Lipson
August 3, 2019
One of 25 installments in a series of enthusiastic posts analyzing and celebrating some of our favorite action movies from the Seventies (1974–1983).
*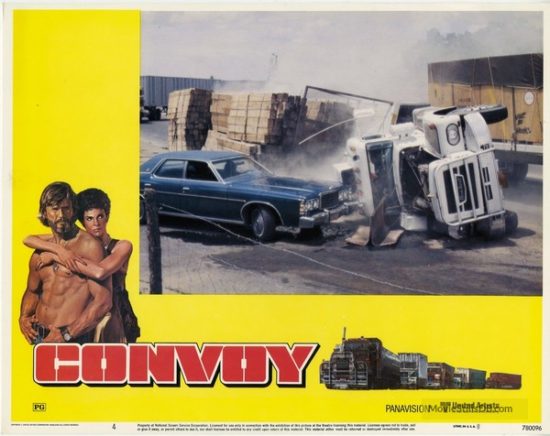 CONVOY | d. SAM PECKINPAH | 1978
I first saw Convoy in the way it was meant to be seen: at the Mustang Drive-in, surrounded by Ontario cornfields. I remember the shuddering immensity of the trucks coming right at me and roaring past. I remember "What's your forty" and "clean and green," "negatory," "copy," and "bear in a plain brown wrapper." CB culture had it all: the argot, the outlaws, the novelty songs. Convoy the movie was inspired by "Convoy" the song by C. W. McCall, which had been all over the radio a few years earlier. That was the summer of 1978, and I was twelve, and as far as I was concerned Convoy was celluloid zeitgeist.
I saw Convoy again recently, this time at Anthology Film Archive in the Lower East Side, and it turns out those vivid memories from the Mustang Drive-In had given me a false sense of familiarity. I'd remembered Steve McQueen as Rubber Duck instead of Kris Kristofferson. I'd forgotten Franklyn Ajaye, and the character-actor trifecta of Ernest Borgnine, Burt Young, and Seymour Cassel. Somehow the only cast member preserved accurately in memory was the forgettable Ali McGraw. There she was again, the Sally Fields to Kristofferson's Burt Reynolds, reminding us that you can be too thin and too rich and certainly too tan.
I had Convoy preceding Smokey and the Bandit, which lingers in memory as an almost-Eighties movie — probably because of Reynolds' ironic charm and cocksureness. Though Convoy actually came out a year later, it is solidly rooted in the Seventies. There's that palpable sense of exhaustion. "The purpose of the convoy is to keep moving," we're told — as though even forward motion is a struggle. No one knows the reason for the convoy, really. As it grows in numbers, so too do the reasons for it. From speed traps to gas prices to the fifty-five mph speed limit; from police harassment to Watergate to Vietnam. And the convoy has no leader. "I'm just in front," says Rubber Duck, reminding me of what a friend recently said about why he liked the Seventies: "It was the last time America had a sense of humility."
Kristofferson is too self-conscious to be a real movie star, and he lacks Reynolds's lascivious wit. But that's okay, because Convoy is not a Hollywood star vehicle. That's another thing I'd forgotten: it's a Peckinpah movie, a countercultural western. These truckers, as the governor (Seymour Cassel) says, are "the embodiment of the cowboy tradition." Trucks crash pointlessly into shacks, sending chickens flying through the dusty air in slow motion. Lines of double-exposed trucks weave trippy patterns to the accompaniment of oompah music. And how does Convoy end? Why, of course, with a mushroom cloud over the Rio Grande.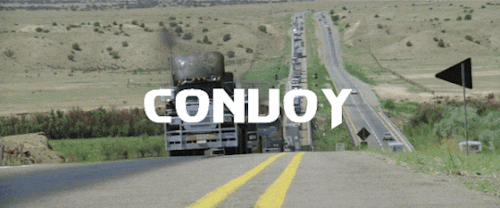 ***
CONVOY YOUR ENTHUSIASM: INTRODUCTION | Madeline Ashby on BLADE RUNNER | Erik Davis on BRING ME THE HEAD OF ALFREDO GARCIA | Mimi Lipson on CONVOY | Luc Sante on BLACK SUNDAY | Josh Glenn on THREE DAYS OF THE CONDOR | Lisa Jane Persky on SORCERER | Devin McKinney on THE TAKING OF PELHAM ONE TWO THREE | Adam McGovern on QUINTET | Mandy Keifetz on DEATH RACE 2000 | Peter Doyle on SOUTHERN COMFORT | Jonathan Lethem on STRAIGHT TIME | Heather Kapplow on THE KILLER ELITE | Tom Nealon on EVERY WHICH WAY BUT LOOSE | Mark Kingwell on THE EIGER SANCTION | Sherri Wasserman on ESCAPE FROM NEW YORK | Gordon Dahlquist on MARATHON MAN | David Levine on PARALLAX VIEW | Matthew Sharpe on ROLLERBALL | Ramona Lyons on ALIEN | Dan Piepenbring on WHITE LINE FEVER | Marc Weidenbaum on THIEF | Carolyn Kellogg on MAD MAX | Carlo Rotella on KUNG FU | Peggy Nelson on SMOKEY & THE BANDIT | Brian Berger on FRIDAY FOSTER.
MORE ENTHUSIASM at HILOBROW
NERD YOUR ENTHUSIASM (4Q2021): NERDING | ARDUIN | KLINGON CONFIDENTIAL | MAP INSERTS | TIME | & 20 other nerdy passions. SWERVE YOUR ENTHUSIASM (3Q2021): WARHOL'S WALT WHITMAN | 70, GIRLS, 70 | TYRAEL'S MIGHT | SHIRATO SANPEI | THE LEON SUITES | & 20 other never-realized cultural productions. FIVE-O YOUR ENTHUSIASM (2Q2021): DARK SHADOWS | MANNIX | GET SMART | THE ADDAMS FAMILY | I DREAM OF JEANNIE | & 20 other Sixties (1964–1973) TV shows. FERB YOUR ENTHUSIASM (1Q2021): STEVEN UNIVERSE | TOP CAT | REN & STIMPY | SHE-RA AND THE PRINCESSES OF POWER | DRAGON BALL Z | & 20 other animated series. CARBONA YOUR ENTHUSIASM (2020): "Sex Bomb" | "Going Underground" | "Soft South Africans" | "Typical Girls" | "Human Fly" | & 20 other Seventies (1974–1983) punk singles. KLAATU YOU (2020 weekly): ZARDOZ | METROPOLIS | DARK STAR | SINS OF THE FLESHAPOIDS | SOLARIS | & dozens of other pre-STAR WARS sci-fi movies. CONVOY YOUR ENTHUSIASM (2019): THE TAKING OF PELHAM ONE TWO THREE | ROLLERBALL | BLACK SUNDAY | SORCERER | STRAIGHT TIME | & 20 other Seventies (1974–1983) action movies. SERIOCOMIC (2019 weekly): LITTLE LULU | VIZ | MARSUPILAMI | ERNIE POOK'S COMEEK | HELLBOY | & dozens of other comics. TUBE YOUR ENTHUSIASM (2018): LOONEY TUNES | THREE STOOGES | THE AVENGERS | ROCKY & BULLWINKLE | THE TWILIGHT ZONE | & 20 other Fifties (1954–1963) TV shows. WOWEE ZOWEE (2018 weekly): UNISEX | UNDER THE PINK | DUMMY | AMOR PROHIBIDO | HIPS AND MAKERS | & dozens of other Nineties (1994–2003) albums. KLUTE YOUR ENTHUSIASM (2017): THE KILLERS | BANDE À PART (BAND OF OUTSIDERS) | ALPHAVILLE | HARPER | BLOW-UP | & 20 other Sixties (1964–1973) neo-noir movies. #SQUADGOALS (2017 weekly): THE WILD BUNCH | BOWIE'S BAND | THE BLOOMSBURY GROUP | THE HONG KONG CAVALIERS | VI ÄR BÄST! & dozens of other squads. GROK MY ENTHUSIASM (2016 weekly): THE THEORY AND PRACTICE OF LUNCH | WEEKEND | MILLION YEAR PICNIC | LA BARONNE EMILE D'ERLANGER | THE SURVIVAL SAMPLER | & dozens more one-off enthusiasms. QUIRK YOUR ENTHUSIASM (2016): "Tainted Love" | "Metal" | "Frankie Teardrop" | "Savoir Faire" | "Broken English" | & 20 other Seventies (1974–1983) new wave singles. CROM YOUR ENTHUSIASM (2015): DARKER THAN YOU THINK | THE SWORD IN THE STONE | OUT OF THE SILENT PLANET | THIEVES' HOUSE | QUEEN OF THE BLACK COAST | & 20 other Thirties (1934–1943) fantasy novels. KERN YOUR ENTHUSIASM (2014): ALDINE ITALIC | DATA 70 | TORONTO SUBWAY | JOHNSTON'S "HAMLET" | TODD KLONE | & 20 other typefaces. HERC YOUR ENTHUSIASM (2013): "Spoonin' Rap" | "Rapper's Delight" | "Rappin' Blow" | "The Incredible Fulk" | "The Adventures of Super Rhyme" | & 20 other Seventies (1974–1983) hip-hop songs. KIRK YOUR ENTHUSIASM (2012): Justice or vengeance? | Kirk teaches his drill thrall to kiss | "KHAAAAAN!" | "No kill I" | Kirk browbeats NOMAD | & 20 other Captain Kirk scenes. KIRB YOUR ENTHUSIASM (2011): THE ETERNALS | BLACK MAGIC | DEMON | OMAC | CAPTAIN AMERICA | & 20 other Jack Kirby panels.