TEEN YOUR ENTHUSIASM (21)
By: Lynn Peril
June 2, 2023
One in a series of 25 enthusiastic posts, contributed by 25 HILOBROW friends and regulars, on the topic of heartthrobs from our adolescences). Series edited by Heather Quinlan.
*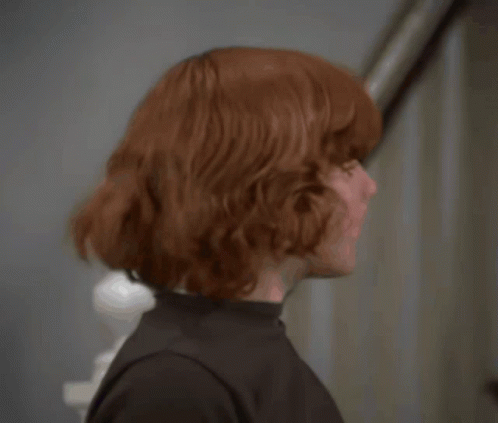 DANNY BONADUCE
The ad in Tiger Beat leapt out at me. It was the summer of 1971, and I was ten years old.
You've watched him on the 'Partridge Family' . . . Now Read All About Him in a SPECIAL NEW BOOK!

DARING DANNY BONADUCE
These tantalizing words arced over a photo of Danny, dressed in a wide collared shirt and vest, pointing at the camera in an "Uncle Sam Wants You" pose. The booklet promised to reveal "all the fax," including "what Danny thinks about… talks about… where he hides… how to you can meet him and make him your friend!"
I couldn't fill out the accompanying coupon fast enough! Danny, the raspy-voiced, bass-playing, preternaturally adult second son of TV's Partridge Family was my completely nonsexual crush. I probably hit up the same adult I talked into buying me the magazine for the dollar plus postage I needed to place my order.
Why Danny Bonaduce? At ten, I was incapable of separating the actor from his character, and, speaking for the grade-school set, Danny Partridge was hip. He was a snarky financial savant who frequently came out on top when he went toe-to-toe with the band's child-hating manager, Reuben Kincard. I wasn't the only kid fascinated by Danny. According to a syndicated news story, a "random sampling of children in West Los Angeles" showed that almost all of those "under the age of 12 – male and female" watched the show "not for David Cassidy but for Danny Bonaduce."
Alas, I can't share all the fax or where Danny liked to hide because my fandom evaporated so quickly and thoroughly that DARING DANNY BONADUCE became an embarrassing reminder of youthful indiscretion. It's long gone from my files, but I imagine it contained similar info to that peddled to fans via newspaper television columns. "He is a fifth grader at a San Fernando Valley, Calif., grammar school. He plays the guitar, but his great love is riding — minibikes and horses. He has a horse named Patience, and… a basset hound named Samantha," reported "TV Topics Mailbox."
This was Hollywood stardust. The real Danny was infinitely more complicated. According to screen mom Shirley Jones's 2013 memoir, he was a "wild child" from "an unhappy home" who could be "snotty at times."
He displayed this quality in more than one 1971 interview. "I've got an idea…," he told a reporter. "You tape all your questions leaving some blank spaces then I'll take the tape to the men's room and fill in some fabulous answers."
Asked about autograph hounds by another columnist, he said: "I hate 'em… I think they're stupid just to want your autograph just because you come out of a little box." Not necessarily untrue, but definitely impolitic for a rising star on a press junket.
In fact, Danny B. sounded a lot like Danny P., and maybe this is why we young fans liked him so much. He got away saying things to adults we only wished we could.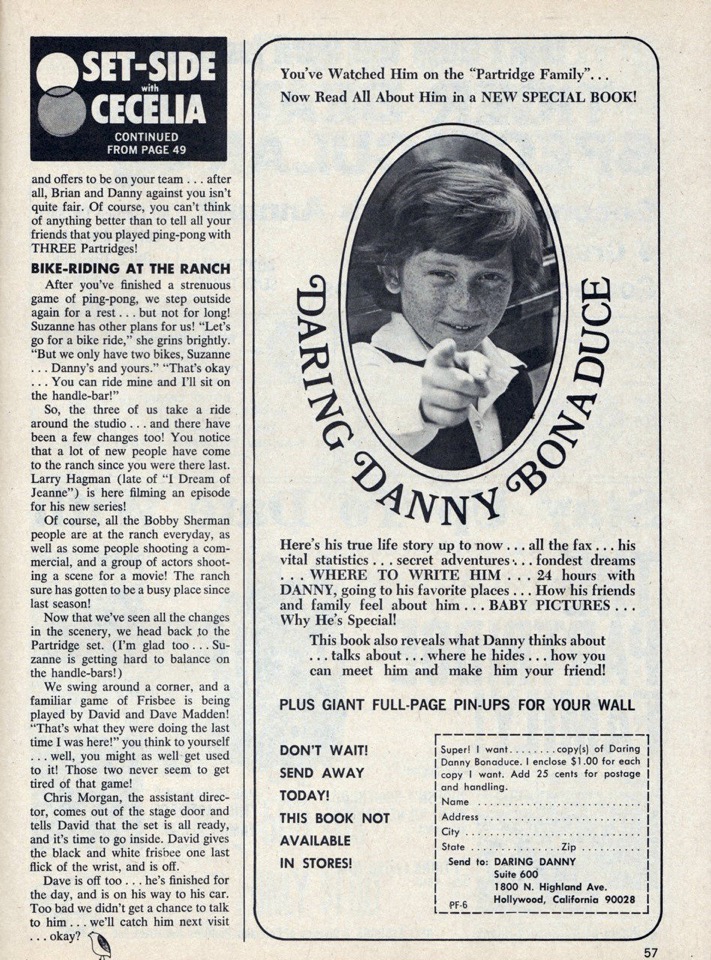 ***
TEEN YOUR ENTHUSIASM: INTRODUCTION by Heather Quinlan | Adam McGovern on ANDY GIBB | Crockett Doob on DREW BARRYMORE | Kathy Biehl on THE MONKEES | Josh Glenn on SHAUN CASSIDY | Catherine Christman on ELI WALLACH | Carlo Rotella on VALERIE BERTINELLI | Miranda Mellis on EDDIE VAN HALEN | Paul Finnegan on KIM WILDE | Heather Quinlan on MIKE PATTON | Mariane Cara on NKOTB | Mimi Lipson on ARLO GUTHRIE | Gabriela Pedranti on GUSTAVO CERATI | Michele Carlo on MICHAEL JACKSON | Ingrid Schorr on PAUL McCARTNEY | Carolyn Campbell on ROBERT REDFORD | Erin M. Routson on JOHNNY KNOXVILLE | Amy Keyishian on JIM MORRISON | Fran Pado on TONY DEFRANCO | Krista Margies Kunkle on LUKE PERRY | Lucy Sante on FRANÇOISE HARDY | Lynn Peril on DANNY BONADUCE | Jack Silbert on CHERYL TIEGS | Kelly Jean Fitzsimmons on CHRISTIAN SLATER | Cynthia Scott on LEONARD WHITING | Elizabeth Foy Larsen on OLIVIA NEWTON-JOHN.
MORE ENTHUSIASM at HILOBROW
STOOGE YOUR ENTHUSIASM (4Q2023): MOVE ON FAST | 96 TEARS | SHE CRACKED | WHAT A WAY TO DIE | PSYCHOTIC REACTION | & 20 other Sixties (1964–1973) proto-punk songs. CURVE YOUR ENTHUSIASM (3Q2023): PIZZA PURISM | BOY BANDS | THE '86 METS | LOVE ISLAND UK | ELTON JOHN | & 20 other reconsidered enthusiasms. TEEN YOUR ENTHUSIASM (2Q2023): ANDY GIBB | VALERIE BERTINELLI | KIM WILDE | ARLO GUTHRIE | MIKE PATTON | & 20 other heartthrobs from our adolescences. DOLLY YOUR ENTHUSIASM (1Q2023): WE FOUND IT | TOGETHER AGAIN | SUNDAY MORNIN' COMIN' DOWN | BAD CASE OF THE BLUES | FANCY | & 20 other Sixties (1964–1973) Country records. KILL YOUR ENTHUSIASM (4Q2022): LT. TASHA YAR | JOYCE SUMMERS | COL. HENRY BLAKE | MRS. LANDINGHAM | ALEX KAMAL | & 20 other TV deaths. BLURB YOUR ENTHUSIASM (3Q2022): LEFT-CORNER BRICK | JOY IS RESISTANCE | THE FUTURE IS PASSÉ | EVERY MINUTE AN OCEAN | SHUT UP, HE EXPLAINED | & 20 other apothegms to live by. KOJAK YOUR ENTHUSIASM (2Q2022): ARK II | WKRP IN CINCINNATI | BUCK ROGERS | THE WHITE SHADOW | POLICE WOMAN | & 20 other Seventies (1974–1983) TV shows. KICK YOUR ENTHUSIASM (1Q2022): KUILL | CATO | COSMO | TRIXIE | VOLSTAGG | & 20 other sidekicks. NERD YOUR ENTHUSIASM (4Q2021): TIME | THE POST OFFICE | ARDUIN | DOUBT | SUMMATIONS | & 20 other nerdy passions. SWERVE YOUR ENTHUSIASM (3Q2021): WARHOL'S WALT WHITMAN | 70, GIRLS, 70 | TYRAEL'S MIGHT | SHIRATO SANPEI | THE LEON SUITES | & 20 other never-realized cultural productions. FIVE-O YOUR ENTHUSIASM (2Q2021): DARK SHADOWS | MANNIX | GET SMART | THE ADDAMS FAMILY | I DREAM OF JEANNIE | & 20 other Sixties (1964–1973) TV shows. FERB YOUR ENTHUSIASM (1Q2021): STEVEN UNIVERSE | TOP CAT | REN & STIMPY | SHE-RA AND THE PRINCESSES OF POWER | DRAGON BALL Z | & 20 other animated series. CARBONA YOUR ENTHUSIASM (2020): "Sex Bomb" | "Going Underground" | "Soft South Africans" | "Typical Girls" | "Human Fly" | & 20 other Seventies (1974–1983) punk singles. KLAATU YOU (2020 weekly): ZARDOZ | METROPOLIS | DARK STAR | SINS OF THE FLESHAPOIDS | SOLARIS | & dozens of other pre-STAR WARS sci-fi movies. CONVOY YOUR ENTHUSIASM (2019): THE TAKING OF PELHAM ONE TWO THREE | ROLLERBALL | BLACK SUNDAY | SORCERER | STRAIGHT TIME | & 20 other Seventies (1974–1983) action movies. SERIOCOMIC (2019 weekly): LITTLE LULU | VIZ | MARSUPILAMI | ERNIE POOK'S COMEEK | HELLBOY | & dozens of other comics. TUBE YOUR ENTHUSIASM (2018): LOONEY TUNES | THREE STOOGES | THE AVENGERS | ROCKY & BULLWINKLE | THE TWILIGHT ZONE | & 20 other Fifties (1954–1963) TV shows. WOWEE ZOWEE (2018 weekly): UNISEX | UNDER THE PINK | DUMMY | AMOR PROHIBIDO | HIPS AND MAKERS | & dozens of other Nineties (1994–2003) albums. KLUTE YOUR ENTHUSIASM (2017): THE KILLERS | BANDE À PART (BAND OF OUTSIDERS) | ALPHAVILLE | HARPER | BLOW-UP | & 20 other Sixties (1964–1973) neo-noir movies. #SQUADGOALS (2017 weekly): THE WILD BUNCH | BOWIE'S BAND | THE BLOOMSBURY GROUP | THE HONG KONG CAVALIERS | VI ÄR BÄST! & dozens of other squads. GROK MY ENTHUSIASM (2016 weekly): THE THEORY AND PRACTICE OF LUNCH | WEEKEND | MILLION YEAR PICNIC | LA BARONNE EMILE D'ERLANGER | THE SURVIVAL SAMPLER | & dozens more one-off enthusiasms. QUIRK YOUR ENTHUSIASM (2016): "Tainted Love" | "Metal" | "Frankie Teardrop" | "Savoir Faire" | "Broken English" | & 20 other Seventies (1974–1983) new wave singles. CROM YOUR ENTHUSIASM (2015): DARKER THAN YOU THINK | THE SWORD IN THE STONE | OUT OF THE SILENT PLANET | THIEVES' HOUSE | QUEEN OF THE BLACK COAST | & 20 other Thirties (1934–1943) fantasy novels. KERN YOUR ENTHUSIASM (2014): ALDINE ITALIC | DATA 70 | TORONTO SUBWAY | JOHNSTON'S "HAMLET" | TODD KLONE | & 20 other typefaces. HERC YOUR ENTHUSIASM (2013): "Spoonin' Rap" | "Rapper's Delight" | "Rappin' Blow" | "The Incredible Fulk" | "The Adventures of Super Rhyme" | & 20 other Seventies (1974–1983) hip-hop songs. KIRK YOUR ENTHUSIASM (2012): Justice or vengeance? | Kirk teaches his drill thrall to kiss | "KHAAAAAN!" | "No kill I" | Kirk browbeats NOMAD | & 20 other Captain Kirk scenes. KIRB YOUR ENTHUSIASM (2011): THE ETERNALS | BLACK MAGIC | DEMON | OMAC | CAPTAIN AMERICA | & 20 other Jack Kirby panels.