STOOGE YOUR ENTHUSIASM (5)
By: Lynn Peril
October 14, 2023
One in a series of 25 enthusiastic posts, contributed by 25 HILOBROW friends and regulars, on the topic of proto-punk records from the Sixties (1964–1973, in our periodization schema). Series edited by Josh Glenn. Also check out our proto-punk playlist (a work in progress) at Spotify.
*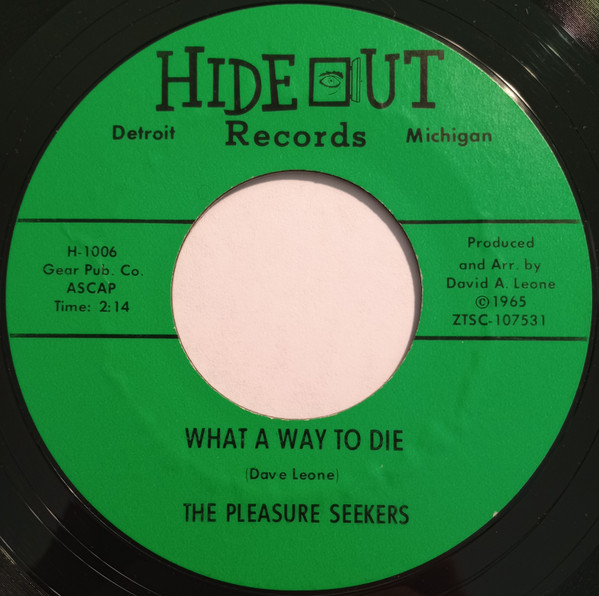 THE PLEASURE SEEKERS | "WHAT A WAY TO DIE" | 1966
Plink, plink, plink, plink, plink… the tinny opening walk along the guitar's neck isn't especially wild, but then, what's special about "What a Way to Die" isn't its lo-fi primitive garage chug, though that, too, is satisfying. Certainly, the fact that The Pleasure Seekers were all teenage girls stands out, as does the fact that leader Patti Quatro's bandmate, little sister Suzi, went on to bigger things.
But it's when Patti starts growling the lyrics and the girls let loose with banshee backing screams that the song veers into deeply uncharted territory:
Well, I love you, baby,
I'm telling you right here,
Please don't make me decide
Between you and a bottle of beer…

Well, I may not live past 21,
But, woooooooooooo, what a way to die!
You want nihilism? I got your blank generation right here: A 17-year-old girl singing about drinking herself to death with gleeful, semi-erotic abandon.
This was a shocking departure from what was then considered "proper" behavior for a teen girl. Heterosexuality was assumed, and, as outlined in both dating guidebooks and popular culture, a girl was supposed to police a boy's behavior, not letting him go "too far" when it came to either sex or alcohol. She was also supposed to maintain a feminine submissiveness when doing so. Consider one of the "25 ways to say no" to alcohol Seventeen magazine gave its readers in July 1960: "I want a clear head to appreciate you fully."
"What a Way to Die" threw all this out the window. Who cared about making out when there was booze to be had?
You got the kind of body
That makes me come alive.
But I'd rather have my hands around
A bottle of Colt 45.
For a prime example of how teen girls were supposed to behave, you have only to listen to "Never Thought You'd Leave Me," the A side to "What a Way to Die." Her boyfriend cheated and put the hurt on her, and yet she's still waiting by the phone. "Come on home, baby," she implores the lying SOB. Yuck.
While I want to believe that "What a Way to Die" sprang fully formed from the head of a teenage girl, Patti Quatro told Ugly Things magazine in 2011 that both sides of the 45 were a collaboration between the band and Dave Leone, who ran the club where The Pleasure Seekers got their start, as well as its eponymous Hideout record label. "Dave brought in some basic ideas on lyrics; then we worked together and put the songs together," she said. In a time-honored music-industry tradition, when interviewed for the 2001 compilation Friday at the Hideout: Boss Detroit Garage 1964-67, Leone took credit for both words and music. Only his name appears on the record's label.
Ultimately, what matters most is not who wrote the song but the fact that for a blistering two minutes and 15 seconds, The Pleasure Seekers proved, years before Joan Jett, that they didn't give a damn about a bad reputation.
***
STOOGE YOUR ENTHUSIASM: INTRODUCTION by Josh Glenn | Mandy Keifetz on The Trashmen's SURFIN' BIRD | Nicholas Rombes on Yoko Ono's MOVE ON FAST | David Cantwell on ? and the Mysterians' 96 TEARS | James Parker on The Modern Lovers' SHE CRACKED | Lynn Peril on The Pleasure Seekers' WHAT A WAY TO DIE | Lucy Sante on The Count Five's PSYCHOTIC REACTION | Jonathan Lethem on The Monkees' YOUR AUNTIE GRIZELDA | Adam McGovern on ELP's BRAIN SALAD SURGERY | Mimi Lipson on The Shaggs' MY PAL FOOT FOOT | Eric Weisbard on Frances Faye's FRANCES AND HER FRIENDS | Annie Zaleski on Suzi Quatro's CAN THE CAN | Carl Wilson on The Ugly Ducklings' NOTHIN' | Josh Glenn on Gillian Hill's TUT, TUT, TUT, TUT… | Mike Watt on The Stooges' SHAKE APPEAL | Peter Doyle on The Underdogs' SITTING IN THE RAIN | Stephanie Burt on Pauline Oliveros's III | Marc Weidenbaum on Ornette Coleman's WE NOW INTERRUPT FOR A COMMERCIAL | Anthony Miller on Eno's NEEDLES IN THE CAMEL'S EYE | Gordon Dahlquist on The Sonics' STRYCHNINE | David Smay on The New York Dolls' HUMAN BEING | Michael Grasso on the 13th Floor Elevators' YOU'RE GONNA MISS ME | Holly Interlandi on Death's ROCK'N'ROLL VICTIM | Elina Shatkin on Bobby Fuller's I FOUGHT THE LAW | Brian Berger on The Mothers of Invention's WHO ARE THE BRAIN POLICE? | Peggy Nelson on The Kingsmen's LOUIE LOUIE.
MORE ENTHUSIASM at HILOBROW
MÖSH YOUR ENTHUSIASM (1Q2024): ENTER SANDMAN | MILQUETOAST | CHRISTBAIT RISING | GOING BLIND | HERE COME THE COPS | & 20 other Eighties (1984–1993) Metal songs. STOOGE YOUR ENTHUSIASM (4Q2023): MOVE ON FAST | 96 TEARS | SHE CRACKED | WHAT A WAY TO DIE | PSYCHOTIC REACTION | & 20 other Sixties (1964–1973) proto-punk songs. CURVE YOUR ENTHUSIASM (3Q2023): PIZZA PURISM | BOY BANDS | THE '86 METS | LOVE ISLAND UK | ELTON JOHN | & 20 other reconsidered enthusiasms. TEEN YOUR ENTHUSIASM (2Q2023): ANDY GIBB | VALERIE BERTINELLI | KIM WILDE | ARLO GUTHRIE | MIKE PATTON | & 20 other heartthrobs from our adolescences. DOLLY YOUR ENTHUSIASM (1Q2023): WE FOUND IT | TOGETHER AGAIN | SUNDAY MORNIN' COMIN' DOWN | BAD CASE OF THE BLUES | FANCY | & 20 other Sixties (1964–1973) Country records. KILL YOUR ENTHUSIASM (4Q2022): LT. TASHA YAR | JOYCE SUMMERS | COL. HENRY BLAKE | MRS. LANDINGHAM | ALEX KAMAL | & 20 other TV deaths. BLURB YOUR ENTHUSIASM (3Q2022): LEFT-CORNER BRICK | JOY IS RESISTANCE | THE FUTURE IS PASSÉ | EVERY MINUTE AN OCEAN | SHUT UP, HE EXPLAINED | & 20 other apothegms to live by. KOJAK YOUR ENTHUSIASM (2Q2022): ARK II | WKRP IN CINCINNATI | BUCK ROGERS | THE WHITE SHADOW | POLICE WOMAN | & 20 other Seventies (1974–1983) TV shows. KICK YOUR ENTHUSIASM (1Q2022): KUILL | CATO | COSMO | TRIXIE | VOLSTAGG | & 20 other sidekicks. NERD YOUR ENTHUSIASM (4Q2021): TIME | THE POST OFFICE | ARDUIN | DOUBT | SUMMATIONS | & 20 other nerdy passions. SWERVE YOUR ENTHUSIASM (3Q2021): WARHOL'S WALT WHITMAN | 70, GIRLS, 70 | TYRAEL'S MIGHT | SHIRATO SANPEI | THE LEON SUITES | & 20 other never-realized cultural productions. FIVE-O YOUR ENTHUSIASM (2Q2021): DARK SHADOWS | MANNIX | GET SMART | THE ADDAMS FAMILY | I DREAM OF JEANNIE | & 20 other Sixties (1964–1973) TV shows. FERB YOUR ENTHUSIASM (1Q2021): STEVEN UNIVERSE | TOP CAT | REN & STIMPY | SHE-RA AND THE PRINCESSES OF POWER | DRAGON BALL Z | & 20 other animated series. CARBONA YOUR ENTHUSIASM (2020): "Sex Bomb" | "Going Underground" | "Soft South Africans" | "Typical Girls" | "Human Fly" | & 20 other Seventies (1974–1983) punk singles. KLAATU YOU (2020 weekly): ZARDOZ | METROPOLIS | DARK STAR | SINS OF THE FLESHAPOIDS | SOLARIS | & dozens of other pre-STAR WARS sci-fi movies. CONVOY YOUR ENTHUSIASM (2019): THE TAKING OF PELHAM ONE TWO THREE | ROLLERBALL | BLACK SUNDAY | SORCERER | STRAIGHT TIME | & 20 other Seventies (1974–1983) action movies. SERIOCOMIC (2019 weekly): LITTLE LULU | VIZ | MARSUPILAMI | ERNIE POOK'S COMEEK | HELLBOY | & dozens of other comics. TUBE YOUR ENTHUSIASM (2018): LOONEY TUNES | THREE STOOGES | THE AVENGERS | ROCKY & BULLWINKLE | THE TWILIGHT ZONE | & 20 other Fifties (1954–1963) TV shows. WOWEE ZOWEE (2018 weekly): UNISEX | UNDER THE PINK | DUMMY | AMOR PROHIBIDO | HIPS AND MAKERS | & dozens of other Nineties (1994–2003) albums. KLUTE YOUR ENTHUSIASM (2017): THE KILLERS | BANDE À PART (BAND OF OUTSIDERS) | ALPHAVILLE | HARPER | BLOW-UP | & 20 other Sixties (1964–1973) neo-noir movies. #SQUADGOALS (2017 weekly): THE WILD BUNCH | BOWIE'S BAND | THE BLOOMSBURY GROUP | THE HONG KONG CAVALIERS | VI ÄR BÄST! & dozens of other squads. GROK MY ENTHUSIASM (2016 weekly): THE THEORY AND PRACTICE OF LUNCH | WEEKEND | MILLION YEAR PICNIC | LA BARONNE EMILE D'ERLANGER | THE SURVIVAL SAMPLER | & dozens more one-off enthusiasms. QUIRK YOUR ENTHUSIASM (2016): "Tainted Love" | "Metal" | "Frankie Teardrop" | "Savoir Faire" | "Broken English" | & 20 other Seventies (1974–1983) new wave singles. CROM YOUR ENTHUSIASM (2015): DARKER THAN YOU THINK | THE SWORD IN THE STONE | OUT OF THE SILENT PLANET | THIEVES' HOUSE | QUEEN OF THE BLACK COAST | & 20 other Thirties (1934–1943) fantasy novels. KERN YOUR ENTHUSIASM (2014): ALDINE ITALIC | DATA 70 | TORONTO SUBWAY | JOHNSTON'S "HAMLET" | TODD KLONE | & 20 other typefaces. HERC YOUR ENTHUSIASM (2013): "Spoonin' Rap" | "Rapper's Delight" | "Rappin' Blow" | "The Incredible Fulk" | "The Adventures of Super Rhyme" | & 20 other Seventies (1974–1983) hip-hop songs. KIRK YOUR ENTHUSIASM (2012): Justice or vengeance? | Kirk teaches his drill thrall to kiss | "KHAAAAAN!" | "No kill I" | Kirk browbeats NOMAD | & 20 other Captain Kirk scenes. KIRB YOUR ENTHUSIASM (2011): THE ETERNALS | BLACK MAGIC | DEMON | OMAC | CAPTAIN AMERICA | & 20 other Jack Kirby panels.