CONSTANT CLOSET (9)
By: Lynn Peril
May 2, 2021
We are delighted to present CONSTANT CLOSET, a series in which HILOBROW friend Lynn Peril shares vintage items of clothing that she's continued to wear for decades.
---
AQUA LINEN JACKET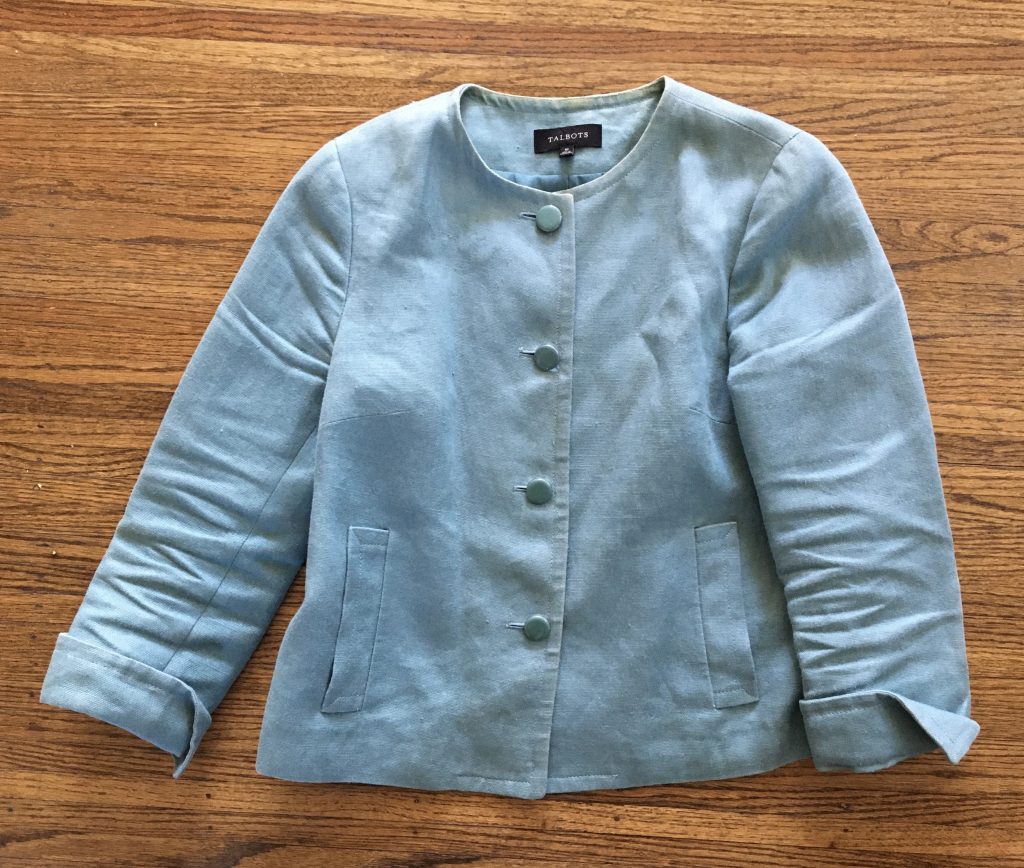 For a closer look, click on image.
Lest you get the idea that lamé and leather and bold prints from designers and high-end department stores are the only items in my closet, please take a look at this humble linen jacket. It's not designer, there's no union label, and it wasn't even made in the U.S.A. Heck, it's not even that old by my closet's standards, probably new in the mid-2010s or so, which is right around the time I got it (and around the time I'm wearing it in this 2016 photo). The politics of clothing are complex. Buying secondhand means I avoid one part of the corporate clothing cycle, but the big thrift stores are problematic in their own right. I don't profess to have all my ducks in a row. All of this to say that it is a rare day that I'm not wearing something secondhand, even if it's not "vintage."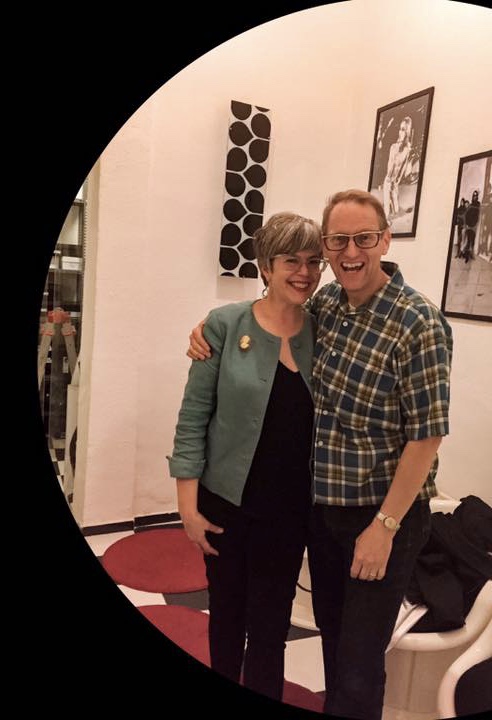 ***
MORE LYNN PERIL at HILOBROW: PLANET OF PERIL series | FIVE-O YOUR ENTHUSIASM: DARK SHADOWS | FERB YOUR ENTHUSIASM: JONNY QUEST | CARBONA YOUR ENTHUSIASM: "SMOTHER LOVE" | MOVIE OBJECTS: TRANSISTOR RADIO | KLAATU YOU: ATTACK OF THE 50-FT. WOMAN | TUBE YOUR ENTHUSIASM: THE DICK VAN DYKE SHOW | FLAIR: BASEBALL RING | #SQUADGOALS: The Daly Sisters | KLUTE YOUR ENTHUSIASM: BLOW-UP | MUSEUM OF FEMORIBILIA series | HERMENAUTIC TAROT: The Waiting Man | KIRB YOUR ENTHUSIASM: YOUNG ROMANCE | CROM YOUR ENTHUSIASM: CONJURE WIFE | HILO HERO ITEMS on: Tura Satana, Paul Simonon, Vivienne Westwood, Lucy Stone, Lydia Lunch, Gloria Steinem, Gene Vincent, among many others.