CONSTANT CLOSET (10)
By: Lynn Peril
May 5, 2021
We are delighted to present CONSTANT CLOSET, a series in which HILOBROW friend Lynn Peril shares vintage items of clothing that she's continued to wear for decades.
---
UNDERNEATH IT ALL
For a closer look, click on image.
I'd be remiss, as this series comes to a close, if I didn't mention that under all those vintage jackets, sweaters, and shirts, I'm almost always wearing black pants and a black teeshirt, preferably 100% cotton or as close thereto as I can find. These are rarely vintage or secondhand, but they are part of my constant closet all the same. Occasionally there's a variation — here, in 1993 or so, I'm wearing black leggings and a cotton sweater — but this combo has been the underpinning of my wardrobe for decades now. I tend to wear these staples until they are falling apart — sometimes a vintage jacket is covering up the holes in the teeshirt underneath. That manufacturers frequently change the cut and fabric content of these basics is an ongoing source of annoyance. Maybe it's time I start shopping for them at the thrift store, too.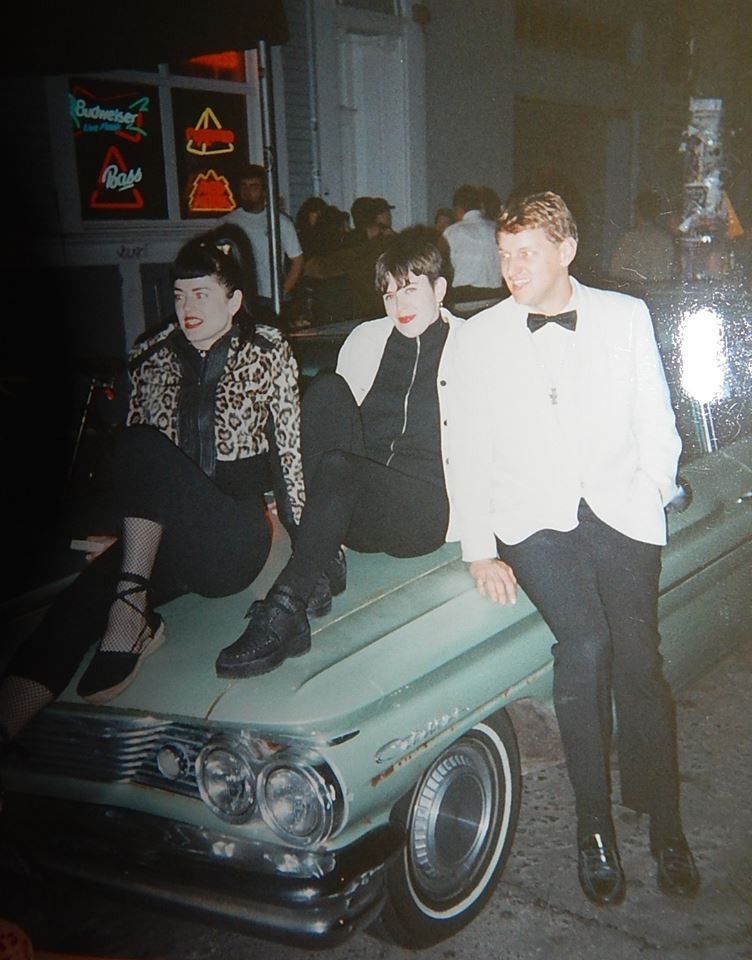 ***
MORE LYNN PERIL at HILOBROW: PLANET OF PERIL series | FIVE-O YOUR ENTHUSIASM: DARK SHADOWS | FERB YOUR ENTHUSIASM: JONNY QUEST | CARBONA YOUR ENTHUSIASM: "SMOTHER LOVE" | MOVIE OBJECTS: TRANSISTOR RADIO | KLAATU YOU: ATTACK OF THE 50-FT. WOMAN | TUBE YOUR ENTHUSIASM: THE DICK VAN DYKE SHOW | FLAIR: BASEBALL RING | #SQUADGOALS: The Daly Sisters | KLUTE YOUR ENTHUSIASM: BLOW-UP | MUSEUM OF FEMORIBILIA series | HERMENAUTIC TAROT: The Waiting Man | KIRB YOUR ENTHUSIASM: YOUNG ROMANCE | CROM YOUR ENTHUSIASM: CONJURE WIFE | HILO HERO ITEMS on: Tura Satana, Paul Simonon, Vivienne Westwood, Lucy Stone, Lydia Lunch, Gloria Steinem, Gene Vincent, among many others.