FERB YOUR ENTHUSIASM (7)
By: Mandy Keifetz
January 21, 2021
One in a series of 25 enthusiastic posts, contributed by 25 HILOBROW friends and regulars, on the topic of our favorite animated TV series.
*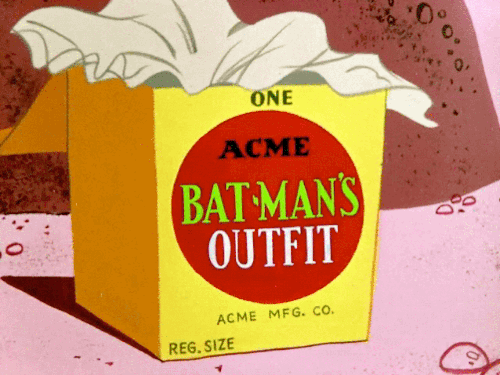 ROAD RUNNER | CHUCK JONES | 1949–ONGOING
In order to re-view all the classic Road Runners on the last evening of 2020 in this strange global moment, as was my plan, one must, it turns out, rent them from the Deranged Supplier of All Things — a matter I will return to presently.
According to director Chuck Jones, he and his team intended with their first Road Runner ("Fast and Furry-ous," Sept. 17, 1949) a satire of the chase cartoons of the era. Instead, and I think by accident, they created a satire of human nature: hungry, always scheming, easily obsessed, distractable, eternally seduced by technology, and always failing.
Wile E. Coyote pursues Road Runner across a sparse Sonoran landscape. In the opening frame, he usually has a knife and trident fork (which my daughter calls a "threek.") But if his initial impulse is to eat the Road Runner, by the second shot he wishes only to destroy it. With increasingly overdetermined schemes, he plots to pulverize, explode, and run off the tops of mesas, the Road Runner.
He presumably orders — but we only ever see the delivered boxes — from a company called Acme in Fairfield, N.J., a fantastic array of ludicrous things; and with these, devises increasingly maniacal Road Runner traps, all of which fail. Instead, he ensnares himself. From Acme, in any given short, he might employ Acme Bird Seed, Acme Burmese Tiger Trap, Acme Female Road Runner Costume, Acme Giant Kite Kit, or, say, Acme Leg Muscle Vitamins and of course Acme TNT. Even now, this is funny because it seems absurd, that a company might sell so many different things, and air drop them into the Sonoran desert mid-chase.
The Road Runner, for his part, simply blows by. Sometimes he sticks out his tongue, his feet a blurry cloud. He says only, and it is the only thing ever said, "meep-meep" — by which he means, unmistakably, eat my dust. Wile E. Coyote invariably ends up in his own trap, pulverized, flattened, singed, smoking; but mostly just humiliated. (Above all, though, he is undeterred.)
Owing to the perversities of my youth, I had, as a rule identified with the Road Runner during my initial viewings of these cartoons. I was a slavish devotee of outrunning my problems, and having no particular tools at hand, made use of whatever cliffs, gravity, and native weaknesses of my foes were convenient when forward momentum proved insufficient.
I remember this clearly, but can no longer feel it. In middle age, in a racist plague dystopia, trapped in my home, unable to make my habitual obeisance to forward momentum, I am Wile E. Coyote's bitch. Scheming maniacally, failing spectacularly, with no clear markers for the passage of space or time. He is, at least, never mopey about it, and this too I have tried to follow.
I think this a natural and healthy evolution for me, from road runner to coyote, and I've no plan to fight it. But having spent the last night of this strange year rewatching all the Road Runners, which I purchased from the Deranged Supplier of All Things, I have come up with a scheme for 2021:
Be of good cheer in the face of your disasters. And boycott Acme.
***
FERB YOUR ENTHUSIASM: SERIES INTRODUCTION by Josh Glenn | Miranda Mellis on STEVEN UNIVERSE | Luc Sante on TOP CAT | Peggy Nelson on PINK PANTHER | Charlie Mitchell on COWBOY BEBOP | Mimi Lipson on THE FLINTSTONES | Sam Glenn on BIG MOUTH | Mandy Keifetz on ROAD RUNNER | Ramona Lyons on SHE-RA | Holly Interlandi on DRAGON BALL Z | Max Glenn on ADVENTURE TIME | Joe Alterio on REN & STIMPY | Josh Glenn on SPEED RACER | Adam McGovern on KIMBA THE WHITE LION | Jonathan Pinchera on SAMURAI JACK | Lynn Peril on JONNY QUEST | Stephanie Burt on X-MEN THE ANIMATED SERIES and X-MEN: EVOLUTION | Elizabeth Foy Larsen on THE JETSONS | Adam Netburn on NARUTO | Madeline Ashby on AVATAR: THE LAST AIRBENDER | Tom Nealon on TRANSFORMERS | Sara Ryan on BOJACK HORSEMAN | Michael Grasso on COSMIC CLOCK | Erin M. Routson on BEAVIS & BUTTHEAD | Deborah Wassertzug on DARIA | Lydia Millet on BOB'S BURGERS.
MORE ENTHUSIASM at HILOBROW
NERD YOUR ENTHUSIASM (4Q2021): NERDING | ARDUIN | KLINGON CONFIDENTIAL | MAP INSERTS | TIME | & 20 other nerdy passions. SWERVE YOUR ENTHUSIASM (3Q2021): WARHOL'S WALT WHITMAN | 70, GIRLS, 70 | TYRAEL'S MIGHT | SHIRATO SANPEI | THE LEON SUITES | & 20 other never-realized cultural productions. FIVE-O YOUR ENTHUSIASM (2Q2021): DARK SHADOWS | MANNIX | GET SMART | THE ADDAMS FAMILY | I DREAM OF JEANNIE | & 20 other Sixties (1964–1973) TV shows. FERB YOUR ENTHUSIASM (1Q2021): STEVEN UNIVERSE | TOP CAT | REN & STIMPY | SHE-RA AND THE PRINCESSES OF POWER | DRAGON BALL Z | & 20 other animated series. CARBONA YOUR ENTHUSIASM (2020): "Sex Bomb" | "Going Underground" | "Soft South Africans" | "Typical Girls" | "Human Fly" | & 20 other Seventies (1974–1983) punk singles. KLAATU YOU (2020 weekly): ZARDOZ | METROPOLIS | DARK STAR | SINS OF THE FLESHAPOIDS | SOLARIS | & dozens of other pre-STAR WARS sci-fi movies. CONVOY YOUR ENTHUSIASM (2019): THE TAKING OF PELHAM ONE TWO THREE | ROLLERBALL | BLACK SUNDAY | SORCERER | STRAIGHT TIME | & 20 other Seventies (1974–1983) action movies. SERIOCOMIC (2019 weekly): LITTLE LULU | VIZ | MARSUPILAMI | ERNIE POOK'S COMEEK | HELLBOY | & dozens of other comics. TUBE YOUR ENTHUSIASM (2018): LOONEY TUNES | THREE STOOGES | THE AVENGERS | ROCKY & BULLWINKLE | THE TWILIGHT ZONE | & 20 other Fifties (1954–1963) TV shows. WOWEE ZOWEE (2018 weekly): UNISEX | UNDER THE PINK | DUMMY | AMOR PROHIBIDO | HIPS AND MAKERS | & dozens of other Nineties (1994–2003) albums. KLUTE YOUR ENTHUSIASM (2017): THE KILLERS | BANDE À PART (BAND OF OUTSIDERS) | ALPHAVILLE | HARPER | BLOW-UP | & 20 other Sixties (1964–1973) neo-noir movies. #SQUADGOALS (2017 weekly): THE WILD BUNCH | BOWIE'S BAND | THE BLOOMSBURY GROUP | THE HONG KONG CAVALIERS | VI ÄR BÄST! & dozens of other squads. GROK MY ENTHUSIASM (2016 weekly): THE THEORY AND PRACTICE OF LUNCH | WEEKEND | MILLION YEAR PICNIC | LA BARONNE EMILE D'ERLANGER | THE SURVIVAL SAMPLER | & dozens more one-off enthusiasms. QUIRK YOUR ENTHUSIASM (2016): "Tainted Love" | "Metal" | "Frankie Teardrop" | "Savoir Faire" | "Broken English" | & 20 other Seventies (1974–1983) new wave singles. CROM YOUR ENTHUSIASM (2015): DARKER THAN YOU THINK | THE SWORD IN THE STONE | OUT OF THE SILENT PLANET | THIEVES' HOUSE | QUEEN OF THE BLACK COAST | & 20 other Thirties (1934–1943) fantasy novels. KERN YOUR ENTHUSIASM (2014): ALDINE ITALIC | DATA 70 | TORONTO SUBWAY | JOHNSTON'S "HAMLET" | TODD KLONE | & 20 other typefaces. HERC YOUR ENTHUSIASM (2013): "Spoonin' Rap" | "Rapper's Delight" | "Rappin' Blow" | "The Incredible Fulk" | "The Adventures of Super Rhyme" | & 20 other Seventies (1974–1983) hip-hop songs. KIRK YOUR ENTHUSIASM (2012): Justice or vengeance? | Kirk teaches his drill thrall to kiss | "KHAAAAAN!" | "No kill I" | Kirk browbeats NOMAD | & 20 other Captain Kirk scenes. KIRB YOUR ENTHUSIASM (2011): THE ETERNALS | BLACK MAGIC | DEMON | OMAC | CAPTAIN AMERICA | & 20 other Jack Kirby panels.