FIVE-O YOUR ENTHUSIASM (22)
By: David Smay
June 15, 2021
One in a series of 25 enthusiastic posts, contributed by 25 HILOBROW friends and regulars, on the topic of our favorite TV shows of the Sixties (in our periodization: 1964–1973).
*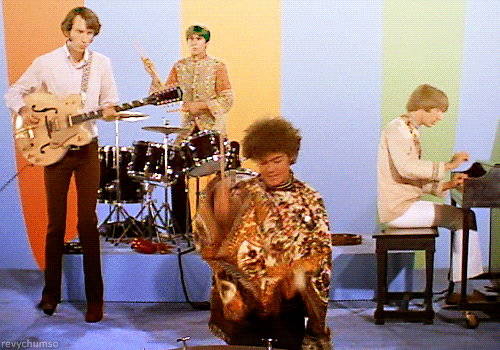 THE MONKEES | 1966–1968
Hey hey, we're the Godard-influenced, inevitably plastic, exploding pop sitcom that won the Emmy for Best Comedy of 1967. Not coincidentally, The Monkees produced incandescent Top 40 hits, a multimedia phenomenon, tedious hippy debates about authenticity and a run on wool watch caps. But let's talk about the show.
Burt Schneider and Bob Rafaelson pitched a sitcom about a rock band for several years before it took off, but when it did everything aligned. The casting, the songs, the direction and the look came together with a rare alchemy into a pure distillation of 1966, a Sunset Strip via Malibu Mod.
Like all great pop it looks simple to assemble from store-bought parts: grab a few cute boys off the shelf, plug them into hoary plot tropes, turn up the music and wacky hijinks ensue. In truth, it's one of the hardest tricks to pull off in showbiz. People have tried many, many times to replicate the Monkees' success, and it's proven impossible.
The chemistry between Micky, Peter, Davy and Mike was so breezy, light and playful they tap-danced through whatever Ruritanian Princess/Haunted House story contrivance of the week without tripping over the plot mechanics. Raybert Productions dug into that Marx Brothers strategy of making every joke a throwaway; they never leaned too hard on a punchline, and it didn't matter if it landed. It conjured just the right airy soufflé of silliness.
James Frawley (best known for The Muppet Movie) directed over half the episodes and set the style by employing the full arsenal of French New Wave techniques: improvised, unscripted dialogue, hand-held cameras, smash cuts, quick edits, breaking the Fourth Wall. All, of course, previously seen in Richard Lester's Beatles movies (the show's obvious and acknowledged influence). By 1966, these were well established film techniques, but they were radically innovative in the standard, stodgy three-camera setup of sixties sitcom direction. And that's why The Monkees episodes still feel fresh compared to their peers.
Now I'm as big a fan as you'll find for mid-sixties sitcom exploitation singles like "The Lurch" or Frank Gorshin's manic "The Riddler," but The Monkees had something way better. They had the unbeatable asset of Don Kirshner and his stable of songwriters: Carole King & Gerry Goffin, Cynthia Mann & Barry Weil, Neil Diamond, Boyce & Hart, Harry Nilsson, John Stewart. (Not to mention Mike Nesmith!)
We're long past the point where the music can be dismissed with tired quips about the Prefab Four. The Monkees didn't chart four #1 albums in 14 months on hype. Those are some of the best American pop rock records of the decade. You can't dismiss "Valleri," "I'm a Believer," "Stepping Stone," "Porpoise Song," "Pleasant Valley Sunday," "Cuddly Toy," "You Just May Be the One" and so many more. Not long after The Monkees went off the air, it went into syndication becoming a Saturday morning staple. It was the greatest gift the sixties gave to those of us who grew up in the seventies.
***
FIVE-O YOUR ENTHUSIASM: INTRODUCTION by Josh Glenn | Lynn Peril on DARK SHADOWS (1966–1971) | Mark Kingwell on THE MAN FROM U.N.C.L.E. (1964–1968) | Elizabeth Foy Larsen on I DREAM OF JEANNIE (1965–1970) | Luc Sante on SECRET AGENT/DANGER MAN (1964–1968 seasons) | Erin M. Routson on THE PATTY DUKE SHOW (1963–1966 run) | Gordon Dahlquist on HAWAII FIVE-O (1968–1973 seasons) | Annie Nocenti on GET SMART (1965–1970) | Sara Driver on THE ADDAMS FAMILY (1964–1966) | Carlo Rotella on MANNIX (1967–1973 seasons) | Adam McGovern on JULIA (1968–1971) | Mimi Lipson on THE MARY TYLER MOORE SHOW (1970–1973 seasons) | Josh Glenn on BATMAN (1966–1968) | Tom Nealon on HOGAN'S HEROES (1965–1971) | Miranda Mellis on THE ODD COUPLE (1970–1973 seasons) | Peggy Nelson on GILLIGAN'S ISLAND (1964–1967) | Susan Roe on THE BRADY BUNCH (1969–1973 seasons) | Michael Grasso on UFO (1970–1973) | Richard McKenna on DOOMWATCH (1970–1972) | Adrienne Crew on BEWITCHED (1964–1972) | Michael Lewy on STAR TREK (1966–1969) | Greg Rowland on THE PARTRIDGE FAMILY (1970–1973 seasons) | David Smay on THE MONKEES (1966–1968) | Vijay Parthasarathy on THE DICK VAN DYKE SHOW (1964–1966 seasons) | Carl Wilson on THE CAROL BURNETT SHOW (1967–1973 seasons) | Jessamyn West on EMERGENCY! (1972–1973 seasons).
MORE ENTHUSIASM at HILOBROW
TEEN YOUR ENTHUSIASM (2Q2023): ANDY GIBB | KIM WYLDE | KIRK CAMERON | MACCA | SHAUN CASSIDY & 20 other heartthrobs. DOLLY YOUR ENTHUSIASM (1Q2023): WE FOUND IT | TOGETHER AGAIN | SUNDAY MORNIN' COMIN' DOWN | BAD CASE OF THE BLUES | FANCY | & 20 other Sixties (1964–1973) Country singles. KILL YOUR ENTHUSIASM (4Q2022): LT. TASHA YAR | JOYCE SUMMERS | COL. HENRY BLAKE | MRS. LANDINGHAM | ALEX KAMAL | & 20 other TV deaths. BLURB YOUR ENTHUSIASM (3Q2022): LEFT-CORNER BRICK | JOY IS RESISTANCE | THE FUTURE IS PASSÉ | EVERY MINUTE AN OCEAN | SHUT UP, HE EXPLAINED | & 20 other apothegms to live by. KOJAK YOUR ENTHUSIASM (2Q2022): ARK II | WKRP IN CINCINNATI | BUCK ROGERS | THE WHITE SHADOW | POLICE WOMAN | & 20 other Seventies (1974–1983) TV shows. KICK YOUR ENTHUSIASM (1Q2022): KUILL | CATO | COSMO | TRIXIE | VOLSTAGG | & 20 other sidekicks. NERD YOUR ENTHUSIASM (4Q2021): TIME | THE POST OFFICE | ARDUIN | DOUBT | SUMMATIONS | & 20 other nerdy passions. SWERVE YOUR ENTHUSIASM (3Q2021): WARHOL'S WALT WHITMAN | 70, GIRLS, 70 | TYRAEL'S MIGHT | SHIRATO SANPEI | THE LEON SUITES | & 20 other never-realized cultural productions. FIVE-O YOUR ENTHUSIASM (2Q2021): DARK SHADOWS | MANNIX | GET SMART | THE ADDAMS FAMILY | I DREAM OF JEANNIE | & 20 other Sixties (1964–1973) TV shows. FERB YOUR ENTHUSIASM (1Q2021): STEVEN UNIVERSE | TOP CAT | REN & STIMPY | SHE-RA AND THE PRINCESSES OF POWER | DRAGON BALL Z | & 20 other animated series. CARBONA YOUR ENTHUSIASM (2020): "Sex Bomb" | "Going Underground" | "Soft South Africans" | "Typical Girls" | "Human Fly" | & 20 other Seventies (1974–1983) punk singles. KLAATU YOU (2020 weekly): ZARDOZ | METROPOLIS | DARK STAR | SINS OF THE FLESHAPOIDS | SOLARIS | & dozens of other pre-STAR WARS sci-fi movies. CONVOY YOUR ENTHUSIASM (2019): THE TAKING OF PELHAM ONE TWO THREE | ROLLERBALL | BLACK SUNDAY | SORCERER | STRAIGHT TIME | & 20 other Seventies (1974–1983) action movies. SERIOCOMIC (2019 weekly): LITTLE LULU | VIZ | MARSUPILAMI | ERNIE POOK'S COMEEK | HELLBOY | & dozens of other comics. TUBE YOUR ENTHUSIASM (2018): LOONEY TUNES | THREE STOOGES | THE AVENGERS | ROCKY & BULLWINKLE | THE TWILIGHT ZONE | & 20 other Fifties (1954–1963) TV shows. WOWEE ZOWEE (2018 weekly): UNISEX | UNDER THE PINK | DUMMY | AMOR PROHIBIDO | HIPS AND MAKERS | & dozens of other Nineties (1994–2003) albums. KLUTE YOUR ENTHUSIASM (2017): THE KILLERS | BANDE À PART (BAND OF OUTSIDERS) | ALPHAVILLE | HARPER | BLOW-UP | & 20 other Sixties (1964–1973) neo-noir movies. #SQUADGOALS (2017 weekly): THE WILD BUNCH | BOWIE'S BAND | THE BLOOMSBURY GROUP | THE HONG KONG CAVALIERS | VI ÄR BÄST! & dozens of other squads. GROK MY ENTHUSIASM (2016 weekly): THE THEORY AND PRACTICE OF LUNCH | WEEKEND | MILLION YEAR PICNIC | LA BARONNE EMILE D'ERLANGER | THE SURVIVAL SAMPLER | & dozens more one-off enthusiasms. QUIRK YOUR ENTHUSIASM (2016): "Tainted Love" | "Metal" | "Frankie Teardrop" | "Savoir Faire" | "Broken English" | & 20 other Seventies (1974–1983) new wave singles. CROM YOUR ENTHUSIASM (2015): DARKER THAN YOU THINK | THE SWORD IN THE STONE | OUT OF THE SILENT PLANET | THIEVES' HOUSE | QUEEN OF THE BLACK COAST | & 20 other Thirties (1934–1943) fantasy novels. KERN YOUR ENTHUSIASM (2014): ALDINE ITALIC | DATA 70 | TORONTO SUBWAY | JOHNSTON'S "HAMLET" | TODD KLONE | & 20 other typefaces. HERC YOUR ENTHUSIASM (2013): "Spoonin' Rap" | "Rapper's Delight" | "Rappin' Blow" | "The Incredible Fulk" | "The Adventures of Super Rhyme" | & 20 other Seventies (1974–1983) hip-hop songs. KIRK YOUR ENTHUSIASM (2012): Justice or vengeance? | Kirk teaches his drill thrall to kiss | "KHAAAAAN!" | "No kill I" | Kirk browbeats NOMAD | & 20 other Captain Kirk scenes. KIRB YOUR ENTHUSIASM (2011): THE ETERNALS | BLACK MAGIC | DEMON | OMAC | CAPTAIN AMERICA | & 20 other Jack Kirby panels.