FIVE-O YOUR ENTHUSIASM (23)
By: Vijay Parthasarathy
June 17, 2021
One in a series of 25 enthusiastic posts, contributed by 25 HILOBROW friends and regulars, on the topic of our favorite TV shows of the Sixties (in our periodization: 1964–1973).
*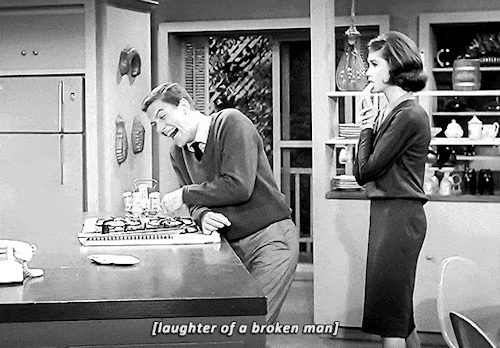 THE DICK VAN DYKE SHOW | 1964–1966 seasons
In 2008 I arrived in the US with the express purpose of studying comedy, and promptly found myself depressed. America, notwithstanding my decades of exposure to its pop-cultural imperialism, was nothing like I had conceived it to be. Wherever I went, strip malls seemed to replicate like bad graphics in a video game. Everyone was polite, but there was a terrifying blankness behind the pleasantness. Brown people, it turned out, didn't make f.r.i.e.n.d.s by dropping sarcastic quips in coffeeshops.
To get a handle on America, I decided to travel back a few decades — and that was when I first encountered The Dick Van Dyke Show. I knew Van Dyke from Chitty Chitty Bang Bang, but the India of my youth (a time before that country metamorphosed into its current neo-capitalist avatar) favored British cultural exports like Fawlty Towers and Yes Minister, so I had never seen Van Dyke's TV work.
You wouldn't think a 1960s black-and-white sitcom about a suburban couple was the obvious antidote to loneliness in recession-era America. But I would plonk down for hours on my apartment's carpeted floor and consume Hulu episodes by the bucketful; this was before anyone had heard of 'binge-watching.'
The Dick Van Dyke Show is the perfect vehicle for the eponymous comedy legend (cast here as television program writer Rob Petrie) to showcase his Stan Laurel-esque hijinks. Co-starring the brilliant Mary Tyler Moore, the series is scripted by Carl Reiner who plays Alan Brady, a minor character but memorably bellicose host of the show-within-the-show. In short, it's a delightfully demented Möbius strip, an emblem of postmodernity — and well ahead of the curve.
All of which is almost incidental, because the show refuses to take itself seriously. Vaudeville coexists with sci-fi comedy plots. The show's universe is at once politically progressive and breathlessly bourgeois. The family isn't perpetually dealing with existential crises. There's none of Arrested Development's self-congratulation.
The fundamental likability of the show allows it to take narrative risks.
Consider the Season 5 opener, "Coast to Coast Big Mouth" (September 1965), in which Laura's tendency to speak offhandedly without thinking — a trait generally regarded as unpleasant in lead characters — reaches its climax when she publicly outs Alan Brady as a toupee-wearer. In a show that is essentially about nothing, there's a real chance Rob could lose his job. Yet the high stakes are effortlessly played for laughs.
Or take Season 3's "My Part-Time Wife," in which Laura, berating Rob for not hiring her as a typist on the grounds that they likely wouldn't work well as both marriage and business partners, exasperatedly pleads, "Darling, don't you realize that in the office you would be the boss?" That might sound like a tired sexist riff, but in 1964 it was ground-breaking to even implicitly suggest on TV that men weren't masters of their fate.
The Dick Van Dyke Show was clever and a major signpost on the path to quality TV; its influence reverberates today via genre-bending productions like WandaVision. Better still, for me it became a substitute family for the one I'd left on another continent.
***
NB: We also included The Dick Van Dyke Show in TUBE YOUR ENTHUSIASM, our 2018 series on TV shows of the Fifties (1954–1963).
FIVE-O YOUR ENTHUSIASM: INTRODUCTION by Josh Glenn | Lynn Peril on DARK SHADOWS (1966–1971) | Mark Kingwell on THE MAN FROM U.N.C.L.E. (1964–1968) | Elizabeth Foy Larsen on I DREAM OF JEANNIE (1965–1970) | Luc Sante on SECRET AGENT/DANGER MAN (1964–1968 seasons) | Erin M. Routson on THE PATTY DUKE SHOW (1963–1966 run) | Gordon Dahlquist on HAWAII FIVE-O (1968–1973 seasons) | Annie Nocenti on GET SMART (1965–1970) | Sara Driver on THE ADDAMS FAMILY (1964–1966) | Carlo Rotella on MANNIX (1967–1973 seasons) | Adam McGovern on JULIA (1968–1971) | Mimi Lipson on THE MARY TYLER MOORE SHOW (1970–1973 seasons) | Josh Glenn on BATMAN (1966–1968) | Tom Nealon on HOGAN'S HEROES (1965–1971) | Miranda Mellis on THE ODD COUPLE (1970–1973 seasons) | Peggy Nelson on GILLIGAN'S ISLAND (1964–1967) | Susan Roe on THE BRADY BUNCH (1969–1973 seasons) | Michael Grasso on UFO (1970–1973) | Richard McKenna on DOOMWATCH (1970–1972) | Adrienne Crew on BEWITCHED (1964–1972) | Michael Lewy on STAR TREK (1966–1969) | Greg Rowland on THE PARTRIDGE FAMILY (1970–1973 seasons) | David Smay on THE MONKEES (1966–1968) | Vijay Parthasarathy on THE DICK VAN DYKE SHOW (1964–1966 seasons) | Carl Wilson on THE CAROL BURNETT SHOW (1967–1973 seasons) | Jessamyn West on EMERGENCY! (1972–1973 seasons).
MORE ENTHUSIASM at HILOBROW
TEEN YOUR ENTHUSIASM (2Q2023): ANDY GIBB | KIM WYLDE | KIRK CAMERON | MACCA | SHAUN CASSIDY & 20 other heartthrobs. DOLLY YOUR ENTHUSIASM (1Q2023): WE FOUND IT | TOGETHER AGAIN | SUNDAY MORNIN' COMIN' DOWN | BAD CASE OF THE BLUES | FANCY | & 20 other Sixties (1964–1973) Country singles. KILL YOUR ENTHUSIASM (4Q2022): LT. TASHA YAR | JOYCE SUMMERS | COL. HENRY BLAKE | MRS. LANDINGHAM | ALEX KAMAL | & 20 other TV deaths. BLURB YOUR ENTHUSIASM (3Q2022): LEFT-CORNER BRICK | JOY IS RESISTANCE | THE FUTURE IS PASSÉ | EVERY MINUTE AN OCEAN | SHUT UP, HE EXPLAINED | & 20 other apothegms to live by. KOJAK YOUR ENTHUSIASM (2Q2022): ARK II | WKRP IN CINCINNATI | BUCK ROGERS | THE WHITE SHADOW | POLICE WOMAN | & 20 other Seventies (1974–1983) TV shows. KICK YOUR ENTHUSIASM (1Q2022): KUILL | CATO | COSMO | TRIXIE | VOLSTAGG | & 20 other sidekicks. NERD YOUR ENTHUSIASM (4Q2021): TIME | THE POST OFFICE | ARDUIN | DOUBT | SUMMATIONS | & 20 other nerdy passions. SWERVE YOUR ENTHUSIASM (3Q2021): WARHOL'S WALT WHITMAN | 70, GIRLS, 70 | TYRAEL'S MIGHT | SHIRATO SANPEI | THE LEON SUITES | & 20 other never-realized cultural productions. FIVE-O YOUR ENTHUSIASM (2Q2021): DARK SHADOWS | MANNIX | GET SMART | THE ADDAMS FAMILY | I DREAM OF JEANNIE | & 20 other Sixties (1964–1973) TV shows. FERB YOUR ENTHUSIASM (1Q2021): STEVEN UNIVERSE | TOP CAT | REN & STIMPY | SHE-RA AND THE PRINCESSES OF POWER | DRAGON BALL Z | & 20 other animated series. CARBONA YOUR ENTHUSIASM (2020): "Sex Bomb" | "Going Underground" | "Soft South Africans" | "Typical Girls" | "Human Fly" | & 20 other Seventies (1974–1983) punk singles. KLAATU YOU (2020 weekly): ZARDOZ | METROPOLIS | DARK STAR | SINS OF THE FLESHAPOIDS | SOLARIS | & dozens of other pre-STAR WARS sci-fi movies. CONVOY YOUR ENTHUSIASM (2019): THE TAKING OF PELHAM ONE TWO THREE | ROLLERBALL | BLACK SUNDAY | SORCERER | STRAIGHT TIME | & 20 other Seventies (1974–1983) action movies. SERIOCOMIC (2019 weekly): LITTLE LULU | VIZ | MARSUPILAMI | ERNIE POOK'S COMEEK | HELLBOY | & dozens of other comics. TUBE YOUR ENTHUSIASM (2018): LOONEY TUNES | THREE STOOGES | THE AVENGERS | ROCKY & BULLWINKLE | THE TWILIGHT ZONE | & 20 other Fifties (1954–1963) TV shows. WOWEE ZOWEE (2018 weekly): UNISEX | UNDER THE PINK | DUMMY | AMOR PROHIBIDO | HIPS AND MAKERS | & dozens of other Nineties (1994–2003) albums. KLUTE YOUR ENTHUSIASM (2017): THE KILLERS | BANDE À PART (BAND OF OUTSIDERS) | ALPHAVILLE | HARPER | BLOW-UP | & 20 other Sixties (1964–1973) neo-noir movies. #SQUADGOALS (2017 weekly): THE WILD BUNCH | BOWIE'S BAND | THE BLOOMSBURY GROUP | THE HONG KONG CAVALIERS | VI ÄR BÄST! & dozens of other squads. GROK MY ENTHUSIASM (2016 weekly): THE THEORY AND PRACTICE OF LUNCH | WEEKEND | MILLION YEAR PICNIC | LA BARONNE EMILE D'ERLANGER | THE SURVIVAL SAMPLER | & dozens more one-off enthusiasms. QUIRK YOUR ENTHUSIASM (2016): "Tainted Love" | "Metal" | "Frankie Teardrop" | "Savoir Faire" | "Broken English" | & 20 other Seventies (1974–1983) new wave singles. CROM YOUR ENTHUSIASM (2015): DARKER THAN YOU THINK | THE SWORD IN THE STONE | OUT OF THE SILENT PLANET | THIEVES' HOUSE | QUEEN OF THE BLACK COAST | & 20 other Thirties (1934–1943) fantasy novels. KERN YOUR ENTHUSIASM (2014): ALDINE ITALIC | DATA 70 | TORONTO SUBWAY | JOHNSTON'S "HAMLET" | TODD KLONE | & 20 other typefaces. HERC YOUR ENTHUSIASM (2013): "Spoonin' Rap" | "Rapper's Delight" | "Rappin' Blow" | "The Incredible Fulk" | "The Adventures of Super Rhyme" | & 20 other Seventies (1974–1983) hip-hop songs. KIRK YOUR ENTHUSIASM (2012): Justice or vengeance? | Kirk teaches his drill thrall to kiss | "KHAAAAAN!" | "No kill I" | Kirk browbeats NOMAD | & 20 other Captain Kirk scenes. KIRB YOUR ENTHUSIASM (2011): THE ETERNALS | BLACK MAGIC | DEMON | OMAC | CAPTAIN AMERICA | & 20 other Jack Kirby panels.