FIVE-O YOUR ENTHUSIASM (17)
By: Michael Grasso
May 27, 2021
One in a series of 25 enthusiastic posts, contributed by 25 HILOBROW friends and regulars, on the topic of our favorite TV shows of the Sixties (in our periodization: 1964–1973).
*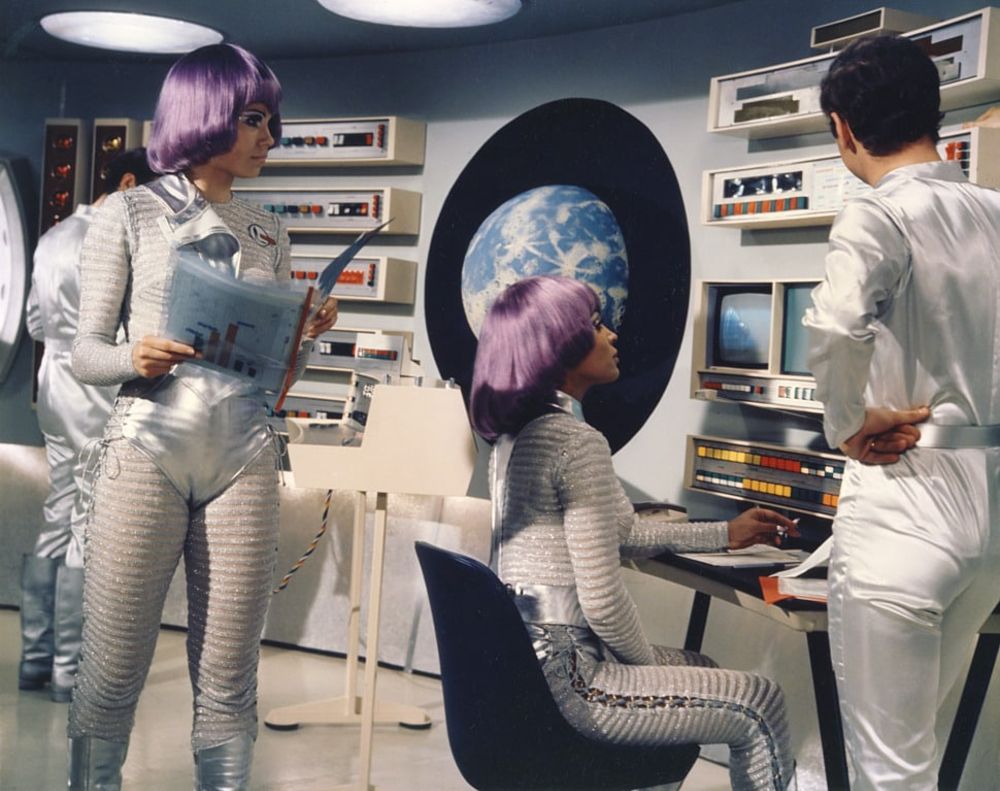 UFO | 1970–1973
Gerry and Sylvia Anderson's mod universe of Supermarionation programs (Thunderbirds, 1965; Captain Scarlet and the Mysterons, 1967) wended its way into the hearts of fans on both sides of the Atlantic throughout the 1960s. But 1970–1973's UFO was a cut above their children's programming output, in both complexity and maturity. Hanging its narrative hook on the 1960s' well-publicized US Air Force investigations into flying saucers, this near-futuristic peek at a world consumed by a secret war between organ-harvesting aliens from a dying world and a worlds-spanning secret military team set to oppose them — the Supreme Headquarters Alien Defence Organisation (SHADO) — still feels simultaneously retrograde and stunningly ahead of its time.
Sure, there are lots of great spaceship and vehicle models and miniature visual effects in the true '60s Anderson style, and the kind of high modernist set dressing and styling that overwhelms the visual senses. Every shot of a SHADO base is packed full of video screens, flashing lights, whirring computer tapes, ultra-modern furniture and fittings, and tremendous costumes. These are noted in the credits as "Century 21 Fashions by Sylvia Anderson"; the purple wigs on the all-female Moonbase crew would become a visual emblem of the series. Add to that groovy jazz incidental music and omnipresent Eurostile Bold Extended titles and labels, and UFO becomes a visual précis of what would eventually become recognized as the retrofuturistic late-'60s and '70s sci-fi aesthetic.
Sometimes, of course, this ultra-modernism collides head-on with 1970's idea of "hip" and "modern," such as the omnipresent smoking and boozing, or more seriously the camera's lingering over the skin-tight uniforms of female SHADO agents. (To be fair, the mesh-shirt uniforms on the male submariner Skydiver crew personnel also give the male-attracted their share of eye candy, even if the camera doesn't ogle them in quite the same way.)
I've seen series lead Edward Bishop (playing SHADO Commander Ed Straker) compared to William Shatner's Kirk but to me Straker seems a more complex and nuanced character, somewhere between the swinging élan of The Avengers' John Steed and the melancholy Cold War futility of leads such as Patrick McGoohan in Danger Man and The Prisoner, or Roy Thinnes in The Invaders. While Bishop might not have the charisma of these leads, he's a reliable center around which the plots of UFO episodes can revolve. And speaking of that Cold War paranoia, the cover for SHADO's (and Commander Straker's) operations in the UK — a film studio reminiscent of Shepperton and Pinewood — evokes the mutual complicity of the military and entertainment complexes in the Vietnam era nearly a decade before works such as Apocalypse Now did.
But it's overall plot and setup for the series — the idea of UFOs coming to earth to harvest humanity's organs, waging a secret guerrilla war of infiltration, abduction and mutilation — that really ups the ante on creepiness… and provides a very interesting prism through which to understand the cultural context of UFO. New developments in organ transplantation were all over the news in 1970; just a few years previous the first heart transplant had been performed by Christian Barnaard. But here the futuristic promise of extended lifespans is perverted by the alien visitors' pure, mean desperation for survival. The visitors are arriving from a dying world; a common sci-fi trope by 1970, made all the more immediate by humanity's contemporary collective realization that our planet might be on a similar trajectory. Straker asks his SHADO team in the pilot episode to imagine "a situation we may one day find ourselves in… natural resources exhausted… doomed to extinction." The ufonauts "look upon [humanity] not with animosity but with callousness, as we look upon our animals that we depend on for food." A complex evocation of environmental collapse, the human tendency towards brutal dominion over nature, and paranoia that the enemies may already be inside the gates: for a silly show that most remember for space-age moon-girls with violet bob wigs and cheesy flying saucer models, UFO still packs a powerful thematic punch in our actual Century 21.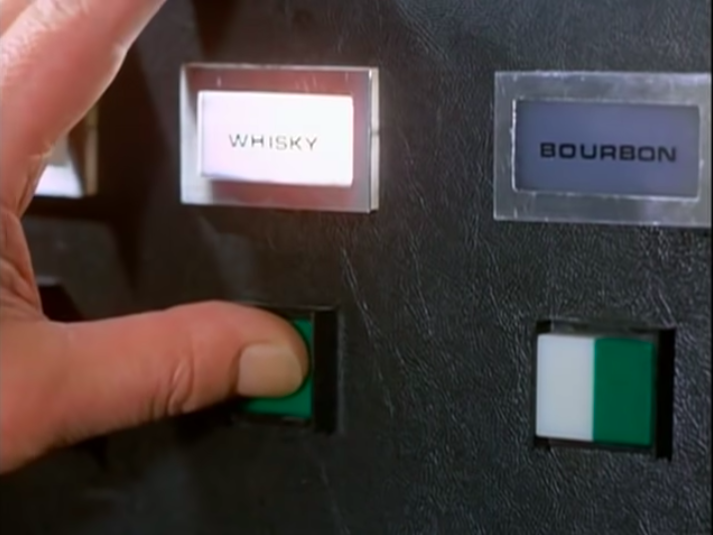 ***
FIVE-O YOUR ENTHUSIASM: INTRODUCTION by Josh Glenn | Lynn Peril on DARK SHADOWS (1966–1971) | Mark Kingwell on THE MAN FROM U.N.C.L.E. (1964–1968) | Elizabeth Foy Larsen on I DREAM OF JEANNIE (1965–1970) | Luc Sante on SECRET AGENT/DANGER MAN (1964–1968 seasons) | Erin M. Routson on THE PATTY DUKE SHOW (1963–1966 run) | Gordon Dahlquist on HAWAII FIVE-O (1968–1973 seasons) | Annie Nocenti on GET SMART (1965–1970) | Sara Driver on THE ADDAMS FAMILY (1964–1966) | Carlo Rotella on MANNIX (1967–1973 seasons) | Adam McGovern on JULIA (1968–1971) | Mimi Lipson on THE MARY TYLER MOORE SHOW (1970–1973 seasons) | Josh Glenn on BATMAN (1966–1968) | Tom Nealon on HOGAN'S HEROES (1965–1971) | Miranda Mellis on THE ODD COUPLE (1970–1973 seasons) | Peggy Nelson on GILLIGAN'S ISLAND (1964–1967) | Susan Roe on THE BRADY BUNCH (1969–1973 seasons) | Michael Grasso on UFO (1970–1973) | Richard McKenna on DOOMWATCH (1970–1972) | Adrienne Crew on BEWITCHED (1964–1972) | Michael Lewy on STAR TREK (1966–1969) | Greg Rowland on THE PARTRIDGE FAMILY (1970–1973 seasons) | David Smay on THE MONKEES (1966–1968) | Vijay Parthasarathy on THE DICK VAN DYKE SHOW (1964–1966 seasons) | Carl Wilson on THE CAROL BURNETT SHOW (1967–1973 seasons) | Jessamyn West on EMERGENCY! (1972–1973 seasons).
MORE ENTHUSIASM at HILOBROW
TEEN YOUR ENTHUSIASM (2Q2023): ANDY GIBB | KIM WYLDE | KIRK CAMERON | MACCA | SHAUN CASSIDY & 20 other heartthrobs. DOLLY YOUR ENTHUSIASM (1Q2023): WE FOUND IT | TOGETHER AGAIN | SUNDAY MORNIN' COMIN' DOWN | BAD CASE OF THE BLUES | FANCY | & 20 other Sixties (1964–1973) Country singles. KILL YOUR ENTHUSIASM (4Q2022): LT. TASHA YAR | JOYCE SUMMERS | COL. HENRY BLAKE | MRS. LANDINGHAM | ALEX KAMAL | & 20 other TV deaths. BLURB YOUR ENTHUSIASM (3Q2022): LEFT-CORNER BRICK | JOY IS RESISTANCE | THE FUTURE IS PASSÉ | EVERY MINUTE AN OCEAN | SHUT UP, HE EXPLAINED | & 20 other apothegms to live by. KOJAK YOUR ENTHUSIASM (2Q2022): ARK II | WKRP IN CINCINNATI | BUCK ROGERS | THE WHITE SHADOW | POLICE WOMAN | & 20 other Seventies (1974–1983) TV shows. KICK YOUR ENTHUSIASM (1Q2022): KUILL | CATO | COSMO | TRIXIE | VOLSTAGG | & 20 other sidekicks. NERD YOUR ENTHUSIASM (4Q2021): TIME | THE POST OFFICE | ARDUIN | DOUBT | SUMMATIONS | & 20 other nerdy passions. SWERVE YOUR ENTHUSIASM (3Q2021): WARHOL'S WALT WHITMAN | 70, GIRLS, 70 | TYRAEL'S MIGHT | SHIRATO SANPEI | THE LEON SUITES | & 20 other never-realized cultural productions. FIVE-O YOUR ENTHUSIASM (2Q2021): DARK SHADOWS | MANNIX | GET SMART | THE ADDAMS FAMILY | I DREAM OF JEANNIE | & 20 other Sixties (1964–1973) TV shows. FERB YOUR ENTHUSIASM (1Q2021): STEVEN UNIVERSE | TOP CAT | REN & STIMPY | SHE-RA AND THE PRINCESSES OF POWER | DRAGON BALL Z | & 20 other animated series. CARBONA YOUR ENTHUSIASM (2020): "Sex Bomb" | "Going Underground" | "Soft South Africans" | "Typical Girls" | "Human Fly" | & 20 other Seventies (1974–1983) punk singles. KLAATU YOU (2020 weekly): ZARDOZ | METROPOLIS | DARK STAR | SINS OF THE FLESHAPOIDS | SOLARIS | & dozens of other pre-STAR WARS sci-fi movies. CONVOY YOUR ENTHUSIASM (2019): THE TAKING OF PELHAM ONE TWO THREE | ROLLERBALL | BLACK SUNDAY | SORCERER | STRAIGHT TIME | & 20 other Seventies (1974–1983) action movies. SERIOCOMIC (2019 weekly): LITTLE LULU | VIZ | MARSUPILAMI | ERNIE POOK'S COMEEK | HELLBOY | & dozens of other comics. TUBE YOUR ENTHUSIASM (2018): LOONEY TUNES | THREE STOOGES | THE AVENGERS | ROCKY & BULLWINKLE | THE TWILIGHT ZONE | & 20 other Fifties (1954–1963) TV shows. WOWEE ZOWEE (2018 weekly): UNISEX | UNDER THE PINK | DUMMY | AMOR PROHIBIDO | HIPS AND MAKERS | & dozens of other Nineties (1994–2003) albums. KLUTE YOUR ENTHUSIASM (2017): THE KILLERS | BANDE À PART (BAND OF OUTSIDERS) | ALPHAVILLE | HARPER | BLOW-UP | & 20 other Sixties (1964–1973) neo-noir movies. #SQUADGOALS (2017 weekly): THE WILD BUNCH | BOWIE'S BAND | THE BLOOMSBURY GROUP | THE HONG KONG CAVALIERS | VI ÄR BÄST! & dozens of other squads. GROK MY ENTHUSIASM (2016 weekly): THE THEORY AND PRACTICE OF LUNCH | WEEKEND | MILLION YEAR PICNIC | LA BARONNE EMILE D'ERLANGER | THE SURVIVAL SAMPLER | & dozens more one-off enthusiasms. QUIRK YOUR ENTHUSIASM (2016): "Tainted Love" | "Metal" | "Frankie Teardrop" | "Savoir Faire" | "Broken English" | & 20 other Seventies (1974–1983) new wave singles. CROM YOUR ENTHUSIASM (2015): DARKER THAN YOU THINK | THE SWORD IN THE STONE | OUT OF THE SILENT PLANET | THIEVES' HOUSE | QUEEN OF THE BLACK COAST | & 20 other Thirties (1934–1943) fantasy novels. KERN YOUR ENTHUSIASM (2014): ALDINE ITALIC | DATA 70 | TORONTO SUBWAY | JOHNSTON'S "HAMLET" | TODD KLONE | & 20 other typefaces. HERC YOUR ENTHUSIASM (2013): "Spoonin' Rap" | "Rapper's Delight" | "Rappin' Blow" | "The Incredible Fulk" | "The Adventures of Super Rhyme" | & 20 other Seventies (1974–1983) hip-hop songs. KIRK YOUR ENTHUSIASM (2012): Justice or vengeance? | Kirk teaches his drill thrall to kiss | "KHAAAAAN!" | "No kill I" | Kirk browbeats NOMAD | & 20 other Captain Kirk scenes. KIRB YOUR ENTHUSIASM (2011): THE ETERNALS | BLACK MAGIC | DEMON | OMAC | CAPTAIN AMERICA | & 20 other Jack Kirby panels.