CONVOY YOUR ENTHUSIASM (14)
By: Mark Kingwell
August 14, 2019
One of 25 installments in a series of enthusiastic posts analyzing and celebrating some of our favorite action movies from the Seventies (1974–1983).
*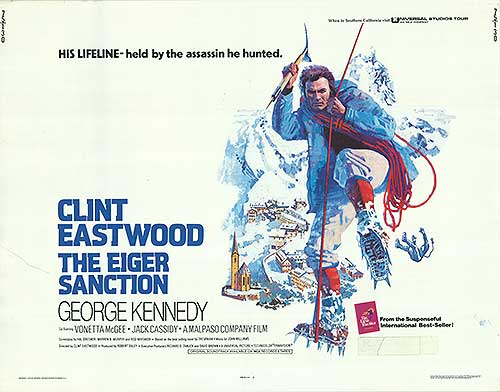 THE EIGER SANCTION | CLINT EASTWOOD | 1975
The story is preposterous yet excellent. Clint Eastwood plays Jonathan Hemlock, an art lecturer who turns out to be a former government assassin and expert mountaineer. Coerced back into service, he is to join an elite team of climbers to scale the hard north face of the Eiger, an almost 4000-metre spike in the Swiss Bernese Alps. The albino ex-Nazi director (!) of Hemlock's former unit, C2, pressures him by threatening to expose the professor's collection of untaxed masterpieces. There is also a cash sweetener that Hemlock can use to buy a Pissarro. Dragon, for that is indeed his name, lives in semi-darkness and survives on regular blood transfusions. Fantastic!
Hemlock agrees to take on the 'sanction', that is, the assassination of a member of the climbing team who murdered Dragon's old friend. But he doesn't know who the killer is – until the final minutes of the climb. Some details of the film's thrilling mountainside scenes, such as the sudden onset of bad weather and use of the peak's internal funicular rail line, are borrowed from an actual 1936 attempt by a German and Austrian team to tackle the north face. Five members of the ten-person team died on the ice.
This film is such a heady mixture of adventure and absolute tosh that it becomes irresistible, especially if you have any tolerance for the tough-but-silly Sean Connery James Bond films that preceded it (viz. Dr. No [1962] and You Only Live Twice [1967]). Roger Ebert noted that it was impossible to take The Eiger Sanction's plot seriously "for more than fifteen seconds at a time," while a more charitable New York Times critic called it "long, boring, but never foolish." (That 'but never' should really be 'and often'.) There is also, this being 1975, sexism and racism aplenty, including a seductive "Black chick" flight attendant called Jemima Brown, whom Hemlock chats into his bed, and a mysteriously silent Native American woman who trains the out-of-shape professor with grueling desert hikes and sly backward glances. The movie's best performances come from George Kennedy and Jack Cassidy, both working side angles on the sanction.
In today's world of CGI effects, super-quick cuts, and tedious head-shot gunfights, the realistic last act of the film is memorable, as the climbers deal with the peak and their mutual suspicions. Trevanian, the novelist who penned the original 1972 book (actually film scholar Rodney William Whitaker), worked on the screenplay, but later called the movie "vapid." The book is pretty good, as long as you it read as Whitaker's dead-on spoofing of espionage novels. A later riff on spy fiction, Shibumi (1979), includes supernatural powers, the board game Go, and more assassins. What?
Well, Whitaker was always goofing, but trust Clint Eastwood to take the Eiger material, and himself, way too seriously.
Fun fact: In the original 2014 John Wick film, before one of those head-shot circuses, a security guard can be seen reading Shibumi. Then Keanu Reeves shoots him.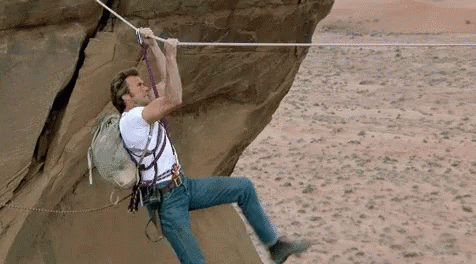 ***
CONVOY YOUR ENTHUSIASM: INTRODUCTION | Madeline Ashby on BLADE RUNNER | Erik Davis on BRING ME THE HEAD OF ALFREDO GARCIA | Mimi Lipson on CONVOY | Luc Sante on BLACK SUNDAY | Josh Glenn on THREE DAYS OF THE CONDOR | Lisa Jane Persky on SORCERER | Devin McKinney on THE TAKING OF PELHAM ONE TWO THREE | Adam McGovern on QUINTET | Mandy Keifetz on DEATH RACE 2000 | Peter Doyle on SOUTHERN COMFORT | Jonathan Lethem on STRAIGHT TIME | Heather Kapplow on THE KILLER ELITE | Tom Nealon on EVERY WHICH WAY BUT LOOSE | Mark Kingwell on THE EIGER SANCTION | Sherri Wasserman on ESCAPE FROM NEW YORK | Gordon Dahlquist on MARATHON MAN | David Levine on PARALLAX VIEW | Matthew Sharpe on ROLLERBALL | Ramona Lyons on ALIEN | Dan Piepenbring on WHITE LINE FEVER | Marc Weidenbaum on THIEF | Carolyn Kellogg on MAD MAX | Carlo Rotella on KUNG FU | Peggy Nelson on SMOKEY & THE BANDIT | Brian Berger on FRIDAY FOSTER.
MORE ENTHUSIASM at HILOBROW
NERD YOUR ENTHUSIASM (4Q2021): NERDING | ARDUIN | KLINGON CONFIDENTIAL | MAP INSERTS | TIME | & 20 other nerdy passions. SWERVE YOUR ENTHUSIASM (3Q2021): WARHOL'S WALT WHITMAN | 70, GIRLS, 70 | TYRAEL'S MIGHT | SHIRATO SANPEI | THE LEON SUITES | & 20 other never-realized cultural productions. FIVE-O YOUR ENTHUSIASM (2Q2021): DARK SHADOWS | MANNIX | GET SMART | THE ADDAMS FAMILY | I DREAM OF JEANNIE | & 20 other Sixties (1964–1973) TV shows. FERB YOUR ENTHUSIASM (1Q2021): STEVEN UNIVERSE | TOP CAT | REN & STIMPY | SHE-RA AND THE PRINCESSES OF POWER | DRAGON BALL Z | & 20 other animated series. CARBONA YOUR ENTHUSIASM (2020): "Sex Bomb" | "Going Underground" | "Soft South Africans" | "Typical Girls" | "Human Fly" | & 20 other Seventies (1974–1983) punk singles. KLAATU YOU (2020 weekly): ZARDOZ | METROPOLIS | DARK STAR | SINS OF THE FLESHAPOIDS | SOLARIS | & dozens of other pre-STAR WARS sci-fi movies. CONVOY YOUR ENTHUSIASM (2019): THE TAKING OF PELHAM ONE TWO THREE | ROLLERBALL | BLACK SUNDAY | SORCERER | STRAIGHT TIME | & 20 other Seventies (1974–1983) action movies. SERIOCOMIC (2019 weekly): LITTLE LULU | VIZ | MARSUPILAMI | ERNIE POOK'S COMEEK | HELLBOY | & dozens of other comics. TUBE YOUR ENTHUSIASM (2018): LOONEY TUNES | THREE STOOGES | THE AVENGERS | ROCKY & BULLWINKLE | THE TWILIGHT ZONE | & 20 other Fifties (1954–1963) TV shows. WOWEE ZOWEE (2018 weekly): UNISEX | UNDER THE PINK | DUMMY | AMOR PROHIBIDO | HIPS AND MAKERS | & dozens of other Nineties (1994–2003) albums. KLUTE YOUR ENTHUSIASM (2017): THE KILLERS | BANDE À PART (BAND OF OUTSIDERS) | ALPHAVILLE | HARPER | BLOW-UP | & 20 other Sixties (1964–1973) neo-noir movies. #SQUADGOALS (2017 weekly): THE WILD BUNCH | BOWIE'S BAND | THE BLOOMSBURY GROUP | THE HONG KONG CAVALIERS | VI ÄR BÄST! & dozens of other squads. GROK MY ENTHUSIASM (2016 weekly): THE THEORY AND PRACTICE OF LUNCH | WEEKEND | MILLION YEAR PICNIC | LA BARONNE EMILE D'ERLANGER | THE SURVIVAL SAMPLER | & dozens more one-off enthusiasms. QUIRK YOUR ENTHUSIASM (2016): "Tainted Love" | "Metal" | "Frankie Teardrop" | "Savoir Faire" | "Broken English" | & 20 other Seventies (1974–1983) new wave singles. CROM YOUR ENTHUSIASM (2015): DARKER THAN YOU THINK | THE SWORD IN THE STONE | OUT OF THE SILENT PLANET | THIEVES' HOUSE | QUEEN OF THE BLACK COAST | & 20 other Thirties (1934–1943) fantasy novels. KERN YOUR ENTHUSIASM (2014): ALDINE ITALIC | DATA 70 | TORONTO SUBWAY | JOHNSTON'S "HAMLET" | TODD KLONE | & 20 other typefaces. HERC YOUR ENTHUSIASM (2013): "Spoonin' Rap" | "Rapper's Delight" | "Rappin' Blow" | "The Incredible Fulk" | "The Adventures of Super Rhyme" | & 20 other Seventies (1974–1983) hip-hop songs. KIRK YOUR ENTHUSIASM (2012): Justice or vengeance? | Kirk teaches his drill thrall to kiss | "KHAAAAAN!" | "No kill I" | Kirk browbeats NOMAD | & 20 other Captain Kirk scenes. KIRB YOUR ENTHUSIASM (2011): THE ETERNALS | BLACK MAGIC | DEMON | OMAC | CAPTAIN AMERICA | & 20 other Jack Kirby panels.