CONVOY YOUR ENTHUSIASM (24)
By: Peggy Nelson
August 24, 2019
One of 25 installments in a series of enthusiastic posts analyzing and celebrating some of our favorite action movies from the Seventies (1974–1983).
*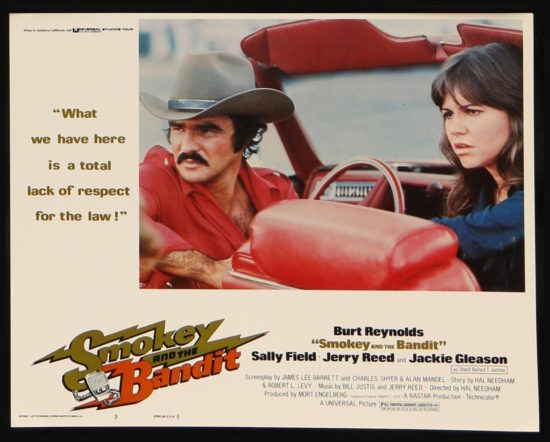 SMOKEY AND THE BANDIT | d. HAL NEEDHAM | 1977
On the surface, Smokey and the Bandit is a lighthearted road movie. But in the substrate, as so often in Seventies films, something darker, grittier, and altogether more interesting is going on.
Bandit (played with easy charm by Burt Reynolds in tight flares) has only just managed to escape the working class into the entertainment precariot as a "truck rodeo star." He's dozing in a hammock when he gets the challenge from some slightly richer bandits to run a caper: bring 400 cases of Coors east from Texas to Georgia for their next shindig in only 28 hours. This is illegal. Bandit says yes.
Smokey and the Bandit was filmed at the height of the CB radio craze in the US, where truckers — and anyone who shopped at Radio Shack — could self-broadcast and chitchat over various local and otherwise unused channels of the 27 MHz radio band. Truckers developed their own lingo, so heavily used in the film it almost requires subtitles. But basically: smokey means cop (because the feds wore hats like Smokey the Bear); see also: bears, bear in the air (police helicopter).
Bandit and his sidekick Snowman (singer Jerry Reed, who also wrote the theme song) head for Texarkana at speed and pick up the beer with no problem. Snowman actually drives the 18-wheeler; Bandit drives a Thunderbird, speeding and making showy hockey stops to distract from the speeding truck. In the utilitarian calculus of the road, they gamble that the cops will chase the flash instead of the rig.
Mishaps ensue, and gradually, as Bandit acquires a second sidekick in failed chorus line dancer "Frog" (Sally Field), the plot becomes slightly richer. The cops — correction, smokeys — are on their tail, not because of the speeding, but because Sally Field is a runaway bride from a Texas sheriff's son, and sheriff senior (played with a pathos more grim than antic by Jackie Gleason) will not stand for that. Thus begins a multi-state, multi-character car chase that will not see so many cop cars wrecked until the Blues Brothers take it to the limit in 1980.
But flip the film over and look for the union label. Despite heavy marketing to the economy sector, the Adolph Coors Company was notoriously anti-labor, and the year this film came out an AFL-CIO boycott of the beer had just been declared. Outside the film itself, but within the cultural context of its production, Sally Field was just two years away from her star turn in Norma Rae (1979), where she would own the screen as a real-life heroine of the textile labor movement.
One might think that with all the hard-working, hell-raising antics of Bandit and buddies, that they might well refuse future boss-driven capers and turn instead towards fomenting class-consciousness. CB radio after all was, and still is for that matter, a secure P2P communications channel, especially with (as demonstrated in the film) lingo encryption and prearranged channel-switching. Breaker breaker 1-9: organize!
***
CONVOY YOUR ENTHUSIASM: INTRODUCTION | Madeline Ashby on BLADE RUNNER | Erik Davis on BRING ME THE HEAD OF ALFREDO GARCIA | Mimi Lipson on CONVOY | Luc Sante on BLACK SUNDAY | Josh Glenn on THREE DAYS OF THE CONDOR | Lisa Jane Persky on SORCERER | Devin McKinney on THE TAKING OF PELHAM ONE TWO THREE | Adam McGovern on QUINTET | Mandy Keifetz on DEATH RACE 2000 | Peter Doyle on SOUTHERN COMFORT | Jonathan Lethem on STRAIGHT TIME | Heather Kapplow on THE KILLER ELITE | Tom Nealon on EVERY WHICH WAY BUT LOOSE | Mark Kingwell on THE EIGER SANCTION | Sherri Wasserman on ESCAPE FROM NEW YORK | Gordon Dahlquist on MARATHON MAN | David Levine on PARALLAX VIEW | Matthew Sharpe on ROLLERBALL | Ramona Lyons on ALIEN | Dan Piepenbring on WHITE LINE FEVER | Marc Weidenbaum on THIEF | Carolyn Kellogg on MAD MAX | Carlo Rotella on KUNG FU | Peggy Nelson on SMOKEY & THE BANDIT | Brian Berger on FRIDAY FOSTER.
MORE ENTHUSIASM at HILOBROW
NERD YOUR ENTHUSIASM (4Q2021): NERDING | ARDUIN | KLINGON CONFIDENTIAL | MAP INSERTS | TIME | & 20 other nerdy passions. SWERVE YOUR ENTHUSIASM (3Q2021): WARHOL'S WALT WHITMAN | 70, GIRLS, 70 | TYRAEL'S MIGHT | SHIRATO SANPEI | THE LEON SUITES | & 20 other never-realized cultural productions. FIVE-O YOUR ENTHUSIASM (2Q2021): DARK SHADOWS | MANNIX | GET SMART | THE ADDAMS FAMILY | I DREAM OF JEANNIE | & 20 other Sixties (1964–1973) TV shows. FERB YOUR ENTHUSIASM (1Q2021): STEVEN UNIVERSE | TOP CAT | REN & STIMPY | SHE-RA AND THE PRINCESSES OF POWER | DRAGON BALL Z | & 20 other animated series. CARBONA YOUR ENTHUSIASM (2020): "Sex Bomb" | "Going Underground" | "Soft South Africans" | "Typical Girls" | "Human Fly" | & 20 other Seventies (1974–1983) punk singles. KLAATU YOU (2020 weekly): ZARDOZ | METROPOLIS | DARK STAR | SINS OF THE FLESHAPOIDS | SOLARIS | & dozens of other pre-STAR WARS sci-fi movies. CONVOY YOUR ENTHUSIASM (2019): THE TAKING OF PELHAM ONE TWO THREE | ROLLERBALL | BLACK SUNDAY | SORCERER | STRAIGHT TIME | & 20 other Seventies (1974–1983) action movies. SERIOCOMIC (2019 weekly): LITTLE LULU | VIZ | MARSUPILAMI | ERNIE POOK'S COMEEK | HELLBOY | & dozens of other comics. TUBE YOUR ENTHUSIASM (2018): LOONEY TUNES | THREE STOOGES | THE AVENGERS | ROCKY & BULLWINKLE | THE TWILIGHT ZONE | & 20 other Fifties (1954–1963) TV shows. WOWEE ZOWEE (2018 weekly): UNISEX | UNDER THE PINK | DUMMY | AMOR PROHIBIDO | HIPS AND MAKERS | & dozens of other Nineties (1994–2003) albums. KLUTE YOUR ENTHUSIASM (2017): THE KILLERS | BANDE À PART (BAND OF OUTSIDERS) | ALPHAVILLE | HARPER | BLOW-UP | & 20 other Sixties (1964–1973) neo-noir movies. #SQUADGOALS (2017 weekly): THE WILD BUNCH | BOWIE'S BAND | THE BLOOMSBURY GROUP | THE HONG KONG CAVALIERS | VI ÄR BÄST! & dozens of other squads. GROK MY ENTHUSIASM (2016 weekly): THE THEORY AND PRACTICE OF LUNCH | WEEKEND | MILLION YEAR PICNIC | LA BARONNE EMILE D'ERLANGER | THE SURVIVAL SAMPLER | & dozens more one-off enthusiasms. QUIRK YOUR ENTHUSIASM (2016): "Tainted Love" | "Metal" | "Frankie Teardrop" | "Savoir Faire" | "Broken English" | & 20 other Seventies (1974–1983) new wave singles. CROM YOUR ENTHUSIASM (2015): DARKER THAN YOU THINK | THE SWORD IN THE STONE | OUT OF THE SILENT PLANET | THIEVES' HOUSE | QUEEN OF THE BLACK COAST | & 20 other Thirties (1934–1943) fantasy novels. KERN YOUR ENTHUSIASM (2014): ALDINE ITALIC | DATA 70 | TORONTO SUBWAY | JOHNSTON'S "HAMLET" | TODD KLONE | & 20 other typefaces. HERC YOUR ENTHUSIASM (2013): "Spoonin' Rap" | "Rapper's Delight" | "Rappin' Blow" | "The Incredible Fulk" | "The Adventures of Super Rhyme" | & 20 other Seventies (1974–1983) hip-hop songs. KIRK YOUR ENTHUSIASM (2012): Justice or vengeance? | Kirk teaches his drill thrall to kiss | "KHAAAAAN!" | "No kill I" | Kirk browbeats NOMAD | & 20 other Captain Kirk scenes. KIRB YOUR ENTHUSIASM (2011): THE ETERNALS | BLACK MAGIC | DEMON | OMAC | CAPTAIN AMERICA | & 20 other Jack Kirby panels.