CONVOY YOUR ENTHUSIASM (17)
By: David Levine
August 17, 2019
One of 25 installments in a series of enthusiastic posts analyzing and celebrating some of our favorite action movies from the Seventies (1974–1983).
*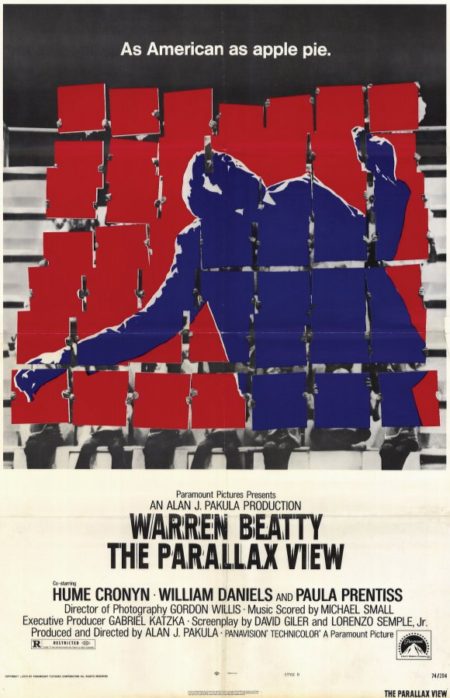 THE PARALLAX VIEW | d. ALAN J. PAKULA | 1974
If you look carefully at that montage in The Parallax View — the "screen test" where they show Warren Beatty a montage of images with titles like MOTHER, LOVE, ENEMY, GOD, HOME to see if he's got what it takes to be an all-star psychopath assassin — you're going to find an image of me, cuddling naked with an up-and-coming-soon-to-be-B-list TV star named Ben Murphy. Also us out to dinner at a place called Butterfield's. The montage doesn't indicate that stuff — you'd have to research the images for that — but researching the images is exactly the kind of thing I was counting on people not to do when I changed my name to Bess Cofield for the purposes of that shoot, and agreed to simulate having sex with a guy I was already having sex with anyway under the pretense that we'd just met, for a pictorial in the November 1973 issue of Penthouse's "feminist" counterpart VIVA. The conceit, dreamed up by Ben Murphy's publicist, was that we'd never met (ha ha), and that VIVA had just magically picked up the tab for these two wildly attractive young people to go on a blind-date-lost-weekend in Laurel Canyon in exchange for getting to watch us "get to know each other" and fuck. Damn right I used a pseudonym. It's not like the pictorial was about me, even if it was called Bess and Ben.
In the Parallax View montage, those three images from the shoot are sandwiched between 339 others, going by at a rate of on-average one-per-second for about four and a half minutes, over an increasingly angsty Aaron-Copeland-by-way-of-Jimi-Hendrix score by the film's composer, Michael Small. The montage was a drop-in, created after the movie was cut, because the original psych test — Warren Beatty watches some dude kill a kitten at a bar without flinching — proved unshootable. So instead Pakula sends his AD, John Boorstin, to collect images from LIFE magazine, the Family of Man book, and various print publications and WPA archives, and they kind of create a Nixon '68 ad on steroids. It didn't have any more to do with me than the pictorial did. Paramount arranged the image rights with Penthouse LLC. I didn't even see The Parallax View; I was too busy gigging around LA with my useless, pointless band, W.W. Fancy.
And that's the detail that gives it away. After pages of Ben saying stupid shit like, "Because of my celebrity status, I am elevated to the position of a sexual executioner. I become a shining knight who rescues the local maiden from her own virginity" — after pages of that nonsense, when VIVA finally gets in a sentence about me, they use my fake name — as requested — but my real band: "Bess Cofield, lead singer in the W.W. Fancy Rock Group". Who asked them to do that? Not me.
From there all you have to do is look up W.W. Fancy to see that no one named Bess Cofield was ever in that band but that the guitarist, Dave Somerville, was formerly in a band with Glen Larson, producer of Alias Smith and Jones, starring Ben Murphy. Then you're probably like, Huh, let's take a closer look at that roster, and then you notice that while no one named Bess Cofield is in that band, there is someone named Gail Jensen, who went on to write the novelty hit "The Unknown Stuntman," with Dave Somerville and Glen Larson, for Glen's subsequent TV hit, The Fall Guy. This Gail Jensen goes on to marry known sex pervert David Carradine, and from there all you have to do is watch David and Gail sing "Troublemaker" on the Merv Griffin Show in 1983 and then you see the resemblance and say, "Egad! Bess Cofield is Gail Jensen."
But by then I'm dead. Alcohol-related issues, 2010 (you try being David Carradine's ex-wife). Glen wasn't around anymore to help me out or hook me up or whatever he thought he was doing throughout our 20-year friendship; off to that great mormon Battlestar in the sky. My kidneys failed, I fell, I hit my head, I went into a coma and died. 60 fucking years old. Every single move I made throughout my life made perfect sense to me. That's what everyone keeps telling Warren in Parallax View: It only looks like conspiracy if you're a detective.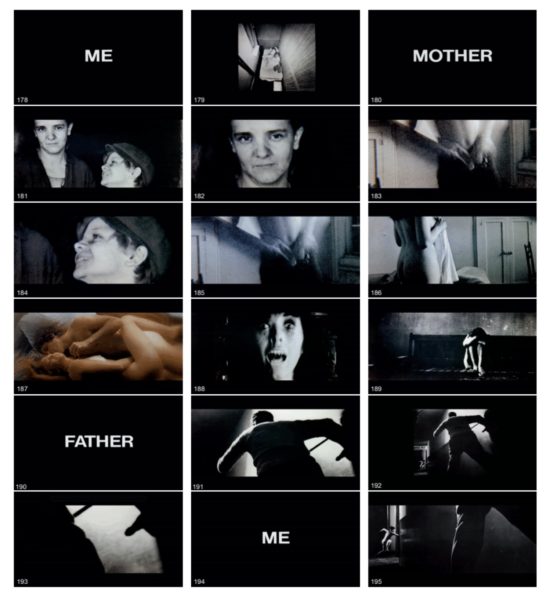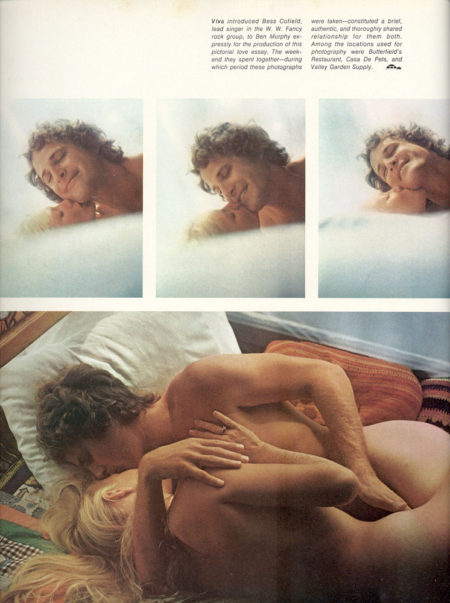 Read David Levine's complete analysis of the Parallax View montage here. It's extraordinary.
***
CONVOY YOUR ENTHUSIASM: INTRODUCTION | Madeline Ashby on BLADE RUNNER | Erik Davis on BRING ME THE HEAD OF ALFREDO GARCIA | Mimi Lipson on CONVOY | Luc Sante on BLACK SUNDAY | Josh Glenn on THREE DAYS OF THE CONDOR | Lisa Jane Persky on SORCERER | Devin McKinney on THE TAKING OF PELHAM ONE TWO THREE | Adam McGovern on QUINTET | Mandy Keifetz on DEATH RACE 2000 | Peter Doyle on SOUTHERN COMFORT | Jonathan Lethem on STRAIGHT TIME | Heather Kapplow on THE KILLER ELITE | Tom Nealon on EVERY WHICH WAY BUT LOOSE | Mark Kingwell on THE EIGER SANCTION | Sherri Wasserman on ESCAPE FROM NEW YORK | Gordon Dahlquist on MARATHON MAN | David Levine on PARALLAX VIEW | Matthew Sharpe on ROLLERBALL | Ramona Lyons on ALIEN | Dan Piepenbring on WHITE LINE FEVER | Marc Weidenbaum on THIEF | Carolyn Kellogg on MAD MAX | Carlo Rotella on KUNG FU | Peggy Nelson on SMOKEY & THE BANDIT | Brian Berger on FRIDAY FOSTER.
MORE ENTHUSIASM at HILOBROW
NERD YOUR ENTHUSIASM (4Q2021): NERDING | ARDUIN | KLINGON CONFIDENTIAL | MAP INSERTS | TIME | & 20 other nerdy passions. SWERVE YOUR ENTHUSIASM (3Q2021): WARHOL'S WALT WHITMAN | 70, GIRLS, 70 | TYRAEL'S MIGHT | SHIRATO SANPEI | THE LEON SUITES | & 20 other never-realized cultural productions. FIVE-O YOUR ENTHUSIASM (2Q2021): DARK SHADOWS | MANNIX | GET SMART | THE ADDAMS FAMILY | I DREAM OF JEANNIE | & 20 other Sixties (1964–1973) TV shows. FERB YOUR ENTHUSIASM (1Q2021): STEVEN UNIVERSE | TOP CAT | REN & STIMPY | SHE-RA AND THE PRINCESSES OF POWER | DRAGON BALL Z | & 20 other animated series. CARBONA YOUR ENTHUSIASM (2020): "Sex Bomb" | "Going Underground" | "Soft South Africans" | "Typical Girls" | "Human Fly" | & 20 other Seventies (1974–1983) punk singles. KLAATU YOU (2020 weekly): ZARDOZ | METROPOLIS | DARK STAR | SINS OF THE FLESHAPOIDS | SOLARIS | & dozens of other pre-STAR WARS sci-fi movies. CONVOY YOUR ENTHUSIASM (2019): THE TAKING OF PELHAM ONE TWO THREE | ROLLERBALL | BLACK SUNDAY | SORCERER | STRAIGHT TIME | & 20 other Seventies (1974–1983) action movies. SERIOCOMIC (2019 weekly): LITTLE LULU | VIZ | MARSUPILAMI | ERNIE POOK'S COMEEK | HELLBOY | & dozens of other comics. TUBE YOUR ENTHUSIASM (2018): LOONEY TUNES | THREE STOOGES | THE AVENGERS | ROCKY & BULLWINKLE | THE TWILIGHT ZONE | & 20 other Fifties (1954–1963) TV shows. WOWEE ZOWEE (2018 weekly): UNISEX | UNDER THE PINK | DUMMY | AMOR PROHIBIDO | HIPS AND MAKERS | & dozens of other Nineties (1994–2003) albums. KLUTE YOUR ENTHUSIASM (2017): THE KILLERS | BANDE À PART (BAND OF OUTSIDERS) | ALPHAVILLE | HARPER | BLOW-UP | & 20 other Sixties (1964–1973) neo-noir movies. #SQUADGOALS (2017 weekly): THE WILD BUNCH | BOWIE'S BAND | THE BLOOMSBURY GROUP | THE HONG KONG CAVALIERS | VI ÄR BÄST! & dozens of other squads. GROK MY ENTHUSIASM (2016 weekly): THE THEORY AND PRACTICE OF LUNCH | WEEKEND | MILLION YEAR PICNIC | LA BARONNE EMILE D'ERLANGER | THE SURVIVAL SAMPLER | & dozens more one-off enthusiasms. QUIRK YOUR ENTHUSIASM (2016): "Tainted Love" | "Metal" | "Frankie Teardrop" | "Savoir Faire" | "Broken English" | & 20 other Seventies (1974–1983) new wave singles. CROM YOUR ENTHUSIASM (2015): DARKER THAN YOU THINK | THE SWORD IN THE STONE | OUT OF THE SILENT PLANET | THIEVES' HOUSE | QUEEN OF THE BLACK COAST | & 20 other Thirties (1934–1943) fantasy novels. KERN YOUR ENTHUSIASM (2014): ALDINE ITALIC | DATA 70 | TORONTO SUBWAY | JOHNSTON'S "HAMLET" | TODD KLONE | & 20 other typefaces. HERC YOUR ENTHUSIASM (2013): "Spoonin' Rap" | "Rapper's Delight" | "Rappin' Blow" | "The Incredible Fulk" | "The Adventures of Super Rhyme" | & 20 other Seventies (1974–1983) hip-hop songs. KIRK YOUR ENTHUSIASM (2012): Justice or vengeance? | Kirk teaches his drill thrall to kiss | "KHAAAAAN!" | "No kill I" | Kirk browbeats NOMAD | & 20 other Captain Kirk scenes. KIRB YOUR ENTHUSIASM (2011): THE ETERNALS | BLACK MAGIC | DEMON | OMAC | CAPTAIN AMERICA | & 20 other Jack Kirby panels.