CONVOY YOUR ENTHUSIASM (22)
By: Carolyn Kellogg
August 22, 2019
This post is an addendum to the CONVOY YOUR ENTHUSIASM series, which analyzes and celebrates some of our favorite action movies from the Seventies (1974–1983).
*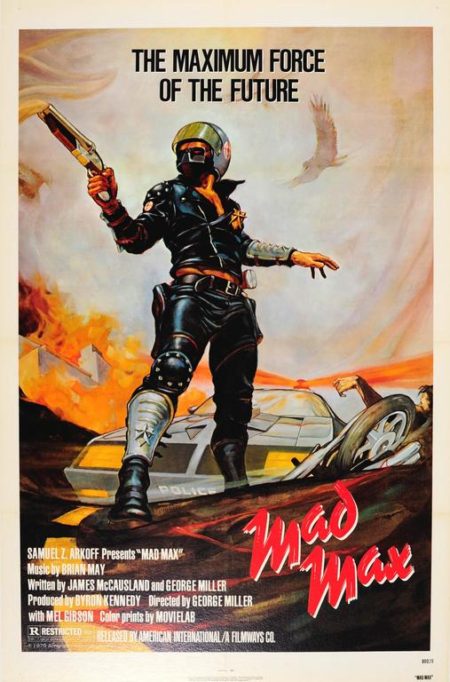 MAD MAX | d. GEORGE MILLER | 1979
Mad Max blew onto American movie screens on a scorching sirocco in 1980. For anyone who suspected that disco wasn't our future, and knew that Han, Luke and Leia were just a pretty story, suddenly there was an alternative looming reality blaring at us from Australia: desert, depravity, roadburn, madness, speed speed speed.
Our hero is Mel Gibson, something that only later we would realize was deeply unfortunate. Then he was young, unknown, gorgeous and objectified: every time he's on screen at home with his lovely wife, she's dressed and he's shirtless, maybe wrapped in a towel. Max starts out as a decent cop with a wife and child and ends up — after a film full of his interactions with a motorcycle gang led by a charismatic, fucked up dude called Toecutter — alone, and the titular pissed off/crazy man.
In this world, declaring itself on screen to be coming just A FEW YEARS FROM NOW, society is functioning enough so that a police officer tends houseplants at his apartment, but it's broken down enough that a couple of amped up freaks can steal a cop car and deliberately set a path to their own annihilation, cackling madly all the way. So much motion fills the screen, yet we know from frame one what's happening and where the danger lies; George Miller, who would make Max movies a lifetime project, is a genius.
The vistas are stretched wide, long and bare Australian horizons that look like America's high deserts and were inspired by Sergio Leone's spaghetti westerns. Not that I knew any of that when I first saw it on the revival circuit in high school. The film was shown without the proper projector lens that would have stretched the anamorphic widescreen image to its proper proportions — so everyone was squished tall and thin. It was all wrong narrow angles, as if every scene were being shoved through a chute with manic force, adding to the sense of otherworldly displacement.
As if that wasn't enough, it also had the worst dubbed audio track ever, mismatched dialog that could be almost impossible to hear. Yes, Australians speak English, but the distribution company was afraid Americans (pre-Crocodile Dundee) wouldn't be able to decipher the accents. The plot, which involves corruption, destruction and betrayals, was pretty hard to parse — luckily, the racing cars and fiery crashes were not.
And while this film spends much of its time in civilization and even at the beach, it's the dystopian near-abandoned towns, the anarchic motorcycle gang, the lawlessness in the dry desert landscapes that made it special. So special that Max's dystopia would be successful and addictive and last for four films, so far. Who is to say this mad desert destiny is not just a few years from now, after all?
***
CONVOY YOUR ENTHUSIASM: INTRODUCTION | Madeline Ashby on BLADE RUNNER | Erik Davis on BRING ME THE HEAD OF ALFREDO GARCIA | Mimi Lipson on CONVOY | Luc Sante on BLACK SUNDAY | Josh Glenn on THREE DAYS OF THE CONDOR | Lisa Jane Persky on SORCERER | Devin McKinney on THE TAKING OF PELHAM ONE TWO THREE | Adam McGovern on QUINTET | Mandy Keifetz on DEATH RACE 2000 | Peter Doyle on SOUTHERN COMFORT | Jonathan Lethem on STRAIGHT TIME | Heather Kapplow on THE KILLER ELITE | Tom Nealon on EVERY WHICH WAY BUT LOOSE | Mark Kingwell on THE EIGER SANCTION | Sherri Wasserman on ESCAPE FROM NEW YORK | Gordon Dahlquist on MARATHON MAN | David Levine on PARALLAX VIEW | Matthew Sharpe on ROLLERBALL | Ramona Lyons on ALIEN | Dan Piepenbring on WHITE LINE FEVER | Marc Weidenbaum on THIEF | Carolyn Kellogg on MAD MAX | Carlo Rotella on KUNG FU | Peggy Nelson on SMOKEY & THE BANDIT | Brian Berger on FRIDAY FOSTER.
MORE ENTHUSIASM at HILOBROW
NERD YOUR ENTHUSIASM (4Q2021): NERDING | ARDUIN | KLINGON CONFIDENTIAL | MAP INSERTS | TIME | & 20 other nerdy passions. SWERVE YOUR ENTHUSIASM (3Q2021): WARHOL'S WALT WHITMAN | 70, GIRLS, 70 | TYRAEL'S MIGHT | SHIRATO SANPEI | THE LEON SUITES | & 20 other never-realized cultural productions. FIVE-O YOUR ENTHUSIASM (2Q2021): DARK SHADOWS | MANNIX | GET SMART | THE ADDAMS FAMILY | I DREAM OF JEANNIE | & 20 other Sixties (1964–1973) TV shows. FERB YOUR ENTHUSIASM (1Q2021): STEVEN UNIVERSE | TOP CAT | REN & STIMPY | SHE-RA AND THE PRINCESSES OF POWER | DRAGON BALL Z | & 20 other animated series. CARBONA YOUR ENTHUSIASM (2020): "Sex Bomb" | "Going Underground" | "Soft South Africans" | "Typical Girls" | "Human Fly" | & 20 other Seventies (1974–1983) punk singles. KLAATU YOU (2020 weekly): ZARDOZ | METROPOLIS | DARK STAR | SINS OF THE FLESHAPOIDS | SOLARIS | & dozens of other pre-STAR WARS sci-fi movies. CONVOY YOUR ENTHUSIASM (2019): THE TAKING OF PELHAM ONE TWO THREE | ROLLERBALL | BLACK SUNDAY | SORCERER | STRAIGHT TIME | & 20 other Seventies (1974–1983) action movies. SERIOCOMIC (2019 weekly): LITTLE LULU | VIZ | MARSUPILAMI | ERNIE POOK'S COMEEK | HELLBOY | & dozens of other comics. TUBE YOUR ENTHUSIASM (2018): LOONEY TUNES | THREE STOOGES | THE AVENGERS | ROCKY & BULLWINKLE | THE TWILIGHT ZONE | & 20 other Fifties (1954–1963) TV shows. WOWEE ZOWEE (2018 weekly): UNISEX | UNDER THE PINK | DUMMY | AMOR PROHIBIDO | HIPS AND MAKERS | & dozens of other Nineties (1994–2003) albums. KLUTE YOUR ENTHUSIASM (2017): THE KILLERS | BANDE À PART (BAND OF OUTSIDERS) | ALPHAVILLE | HARPER | BLOW-UP | & 20 other Sixties (1964–1973) neo-noir movies. #SQUADGOALS (2017 weekly): THE WILD BUNCH | BOWIE'S BAND | THE BLOOMSBURY GROUP | THE HONG KONG CAVALIERS | VI ÄR BÄST! & dozens of other squads. GROK MY ENTHUSIASM (2016 weekly): THE THEORY AND PRACTICE OF LUNCH | WEEKEND | MILLION YEAR PICNIC | LA BARONNE EMILE D'ERLANGER | THE SURVIVAL SAMPLER | & dozens more one-off enthusiasms. QUIRK YOUR ENTHUSIASM (2016): "Tainted Love" | "Metal" | "Frankie Teardrop" | "Savoir Faire" | "Broken English" | & 20 other Seventies (1974–1983) new wave singles. CROM YOUR ENTHUSIASM (2015): DARKER THAN YOU THINK | THE SWORD IN THE STONE | OUT OF THE SILENT PLANET | THIEVES' HOUSE | QUEEN OF THE BLACK COAST | & 20 other Thirties (1934–1943) fantasy novels. KERN YOUR ENTHUSIASM (2014): ALDINE ITALIC | DATA 70 | TORONTO SUBWAY | JOHNSTON'S "HAMLET" | TODD KLONE | & 20 other typefaces. HERC YOUR ENTHUSIASM (2013): "Spoonin' Rap" | "Rapper's Delight" | "Rappin' Blow" | "The Incredible Fulk" | "The Adventures of Super Rhyme" | & 20 other Seventies (1974–1983) hip-hop songs. KIRK YOUR ENTHUSIASM (2012): Justice or vengeance? | Kirk teaches his drill thrall to kiss | "KHAAAAAN!" | "No kill I" | Kirk browbeats NOMAD | & 20 other Captain Kirk scenes. KIRB YOUR ENTHUSIASM (2011): THE ETERNALS | BLACK MAGIC | DEMON | OMAC | CAPTAIN AMERICA | & 20 other Jack Kirby panels.