CONVOY YOUR ENTHUSIASM (10)
By: Peter Doyle
August 10, 2019
One of 25 installments in a series of enthusiastic posts analyzing and celebrating some of our favorite action movies from the Seventies (1974–1983).
*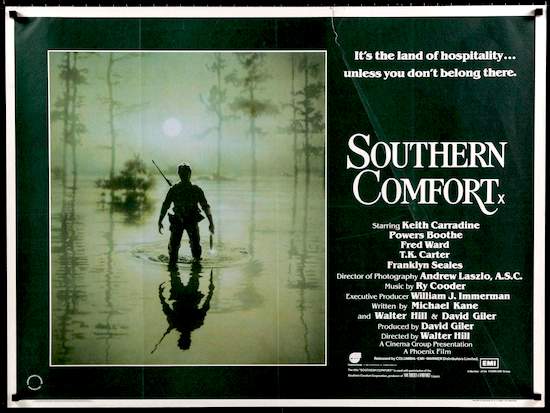 SOUTHERN COMFORT | d. WALTER HILL | 1981
It's an old war movie template: a motley band of warriors lost in enemy territory, reduced, disarmed, obliged to trek to safety using only their wits and courage. But where is safety to be found? All any of them can do is make a guess, so who among them is to be heeded? Precedents like Desperate Journey (1942) or Lost Patrol (1934) tended to be derring-do, sabre-rattling affairs.
The critical and box office success of Deliverance in 1971 had already complicated the city-folk-lost-and-outgunned-in-the territory-of-the-rural-other format somewhat, questioning certain of the imperialist assumptions of the form. Ten years later Walter Hill came along with this unashamedly lowbrow genre-flick riffing on the theme. Here it's a bunch of yahoo national guardsman, skiving off on a weekend exercise in the swamps of Louisiana. They 'borrow' some boats left unattended by Cajun hunters to get across a bayou, then a guardsman playfully shoots blanks at the disgruntled Cajuns who have appeared back on the bank. Bad move. The Cajuns have real bullets. Payback begins. A guardsman is shot dead.
The terrified men schlep on through the swamp, desperately clutching their useless weapons, as they are picked off one by one. (Look out for some punning on the guardsmen's names and their various modes of death.)
Annoying habits quickly become fatal flaws. Group cohesion breaks down. It's a 'We've met the enemy and he is us' kind of deal. Soon it's every man for himself. Not quite — stick together to survive, right? It's become a social laboratory yarn. So can the relatively pure of heart form a sub-bond and save themselves?
Young Keith Carradine can't help but be among the pure of heart, of course, and Powers Boothe (the evil Cy Toliver in Deadwood) just wants is to be left alone. Is that enough to exempt him from the karmic punishments due to operatives of the military industrial complex?
This is a movie with no real female parts and virtually no female dialogue, and modern viewers may experience relatability issues. Director Hill, always drawn to masculinist fables, to his credit, never buys in. His male collective isn't a band of bros so much as a ship of fools. The real subject is powerlessness. Expect zero in the way of male heroics.
The men finally stumble into a village where a big, loose Saturday afternoon party is going on, a rockin' Cajun band is playing (the legendary Balfa Brothers, with Marc Savoy), and pigs are being slaughtered for the feast. Beers are thrust into the soldiers' hands, and a nice girl invites Carradine to dance; it's a vision of community from which the men themselves are existentially exiled. But wait, aren't these the same folk who were trying to kill them back there a way? Naw, these are the 'good Cajuns' says Carradine. How much he knows.
Ry Cooder's slide guitar soundtrack is delicious, by the way.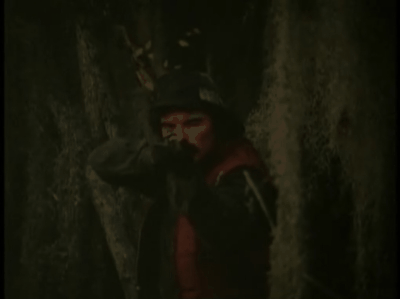 ***
CONVOY YOUR ENTHUSIASM: INTRODUCTION | Madeline Ashby on BLADE RUNNER | Erik Davis on BRING ME THE HEAD OF ALFREDO GARCIA | Mimi Lipson on CONVOY | Luc Sante on BLACK SUNDAY | Josh Glenn on THREE DAYS OF THE CONDOR | Lisa Jane Persky on SORCERER | Devin McKinney on THE TAKING OF PELHAM ONE TWO THREE | Adam McGovern on QUINTET | Mandy Keifetz on DEATH RACE 2000 | Peter Doyle on SOUTHERN COMFORT | Jonathan Lethem on STRAIGHT TIME | Heather Kapplow on THE KILLER ELITE | Tom Nealon on EVERY WHICH WAY BUT LOOSE | Mark Kingwell on THE EIGER SANCTION | Sherri Wasserman on ESCAPE FROM NEW YORK | Gordon Dahlquist on MARATHON MAN | David Levine on PARALLAX VIEW | Matthew Sharpe on ROLLERBALL | Ramona Lyons on ALIEN | Dan Piepenbring on WHITE LINE FEVER | Marc Weidenbaum on THIEF | Carolyn Kellogg on MAD MAX | Carlo Rotella on KUNG FU | Peggy Nelson on SMOKEY & THE BANDIT | Brian Berger on FRIDAY FOSTER.
MORE ENTHUSIASM at HILOBROW
NERD YOUR ENTHUSIASM (4Q2021): NERDING | ARDUIN | KLINGON CONFIDENTIAL | MAP INSERTS | TIME | & 20 other nerdy passions. SWERVE YOUR ENTHUSIASM (3Q2021): WARHOL'S WALT WHITMAN | 70, GIRLS, 70 | TYRAEL'S MIGHT | SHIRATO SANPEI | THE LEON SUITES | & 20 other never-realized cultural productions. FIVE-O YOUR ENTHUSIASM (2Q2021): DARK SHADOWS | MANNIX | GET SMART | THE ADDAMS FAMILY | I DREAM OF JEANNIE | & 20 other Sixties (1964–1973) TV shows. FERB YOUR ENTHUSIASM (1Q2021): STEVEN UNIVERSE | TOP CAT | REN & STIMPY | SHE-RA AND THE PRINCESSES OF POWER | DRAGON BALL Z | & 20 other animated series. CARBONA YOUR ENTHUSIASM (2020): "Sex Bomb" | "Going Underground" | "Soft South Africans" | "Typical Girls" | "Human Fly" | & 20 other Seventies (1974–1983) punk singles. KLAATU YOU (2020 weekly): ZARDOZ | METROPOLIS | DARK STAR | SINS OF THE FLESHAPOIDS | SOLARIS | & dozens of other pre-STAR WARS sci-fi movies. CONVOY YOUR ENTHUSIASM (2019): THE TAKING OF PELHAM ONE TWO THREE | ROLLERBALL | BLACK SUNDAY | SORCERER | STRAIGHT TIME | & 20 other Seventies (1974–1983) action movies. SERIOCOMIC (2019 weekly): LITTLE LULU | VIZ | MARSUPILAMI | ERNIE POOK'S COMEEK | HELLBOY | & dozens of other comics. TUBE YOUR ENTHUSIASM (2018): LOONEY TUNES | THREE STOOGES | THE AVENGERS | ROCKY & BULLWINKLE | THE TWILIGHT ZONE | & 20 other Fifties (1954–1963) TV shows. WOWEE ZOWEE (2018 weekly): UNISEX | UNDER THE PINK | DUMMY | AMOR PROHIBIDO | HIPS AND MAKERS | & dozens of other Nineties (1994–2003) albums. KLUTE YOUR ENTHUSIASM (2017): THE KILLERS | BANDE À PART (BAND OF OUTSIDERS) | ALPHAVILLE | HARPER | BLOW-UP | & 20 other Sixties (1964–1973) neo-noir movies. #SQUADGOALS (2017 weekly): THE WILD BUNCH | BOWIE'S BAND | THE BLOOMSBURY GROUP | THE HONG KONG CAVALIERS | VI ÄR BÄST! & dozens of other squads. GROK MY ENTHUSIASM (2016 weekly): THE THEORY AND PRACTICE OF LUNCH | WEEKEND | MILLION YEAR PICNIC | LA BARONNE EMILE D'ERLANGER | THE SURVIVAL SAMPLER | & dozens more one-off enthusiasms. QUIRK YOUR ENTHUSIASM (2016): "Tainted Love" | "Metal" | "Frankie Teardrop" | "Savoir Faire" | "Broken English" | & 20 other Seventies (1974–1983) new wave singles. CROM YOUR ENTHUSIASM (2015): DARKER THAN YOU THINK | THE SWORD IN THE STONE | OUT OF THE SILENT PLANET | THIEVES' HOUSE | QUEEN OF THE BLACK COAST | & 20 other Thirties (1934–1943) fantasy novels. KERN YOUR ENTHUSIASM (2014): ALDINE ITALIC | DATA 70 | TORONTO SUBWAY | JOHNSTON'S "HAMLET" | TODD KLONE | & 20 other typefaces. HERC YOUR ENTHUSIASM (2013): "Spoonin' Rap" | "Rapper's Delight" | "Rappin' Blow" | "The Incredible Fulk" | "The Adventures of Super Rhyme" | & 20 other Seventies (1974–1983) hip-hop songs. KIRK YOUR ENTHUSIASM (2012): Justice or vengeance? | Kirk teaches his drill thrall to kiss | "KHAAAAAN!" | "No kill I" | Kirk browbeats NOMAD | & 20 other Captain Kirk scenes. KIRB YOUR ENTHUSIASM (2011): THE ETERNALS | BLACK MAGIC | DEMON | OMAC | CAPTAIN AMERICA | & 20 other Jack Kirby panels.