CONVOY YOUR ENTHUSIASM (21)
By: Marc Weidenbaum
August 21, 2019
One of 25 installments in a series of enthusiastic posts analyzing and celebrating some of our favorite action movies from the Seventies (1974–1983).
*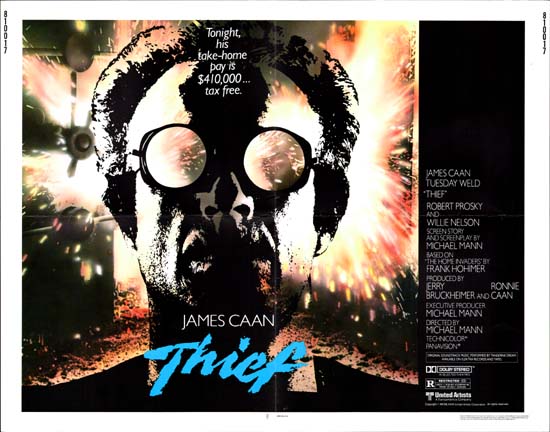 THIEF | d. MICHAEL MANN | 1981
Tuesday Weld is bugged. She is annoyed. There is a passive surveillance device in her home. She appears confused as to which life decisions mapped her route to this troubling moment.
Well, not Tuesday Weld. Jessie is bugged. Jessie is the woman Weld portrays in Michael Mann's 1981 film, Thief, a slow-burn thriller punctuated by moments of intense physicality. Anxious about this invasion of privacy, Jessie turns to Frank, the titular thief played by James Caan, and asks, "What does this mean?"
Frank replies, "It means heat." What Frank means by "heat" is "attention from formidable adversaries on both sides of the law who were my dowry when you and I became a couple," but he might as well have said, "It means Heat and Manhunter and The Insider and Collateral."
For if Jessie spends Thief precipitously close to the end of her line, the movie marks a beginning for Mann's. Thief is Mann's feature film debut. So many storytelling fixations that inform Thief will surface repeatedly in Mann's work to come, among them: masculine violence, dishonor among thieves, the narrative momentum of money, the transcendent beauty of the urban landscape, and an intimate dance between synthesized and environmental sound. (Thief's score is by the early electronic band Tangerine Dream, plus a track by Craig Safan emulating Pink Floyd. There is an opening scene of rainy fire escapes and vaporous sine waves that fully channels Blade Runner a year before that movie's release.)
Frank is an ex-con trying to leave crime behind in a Chicago where cops moonlight as criminals. Frank is what students of action films and of physics recognize as a classical model of potential energy, a classical model bearing a grudge and a pinky ring (both of which should have tipped off Weld's Jessie). When that potential energy is triggered, it metamorphoses into action.
The action in Thief unfurls against twinned adversaries: man versus man, and man versus machine. The machines are vaults holding gems and other currency. They are attacked with professional ferocity by Frank and his henchmen (among them James Belushi), employing drills, flames, and muscle. As in any heist film worth the name, a substantial amount of Thief involves the refinement of a plan that may very well go wrong.
The machines are brutalized. The men have it worse. They are pummeled and shot after first being hunted and, most importantly, humiliated. When Belushi's character is gunned down in a car lot, his body is forced back in an exaggerated slow motion that reads as stop motion: gangland as choreographed by Ray Harryhausen. When the film's heavy, a mercurial crime boss portrayed by later Hill Street Blues softie Robert Prosky, is shot in the head, the movie pauses for a reflective split second of visual whiplash.
In contrast to the rehearsed violence perpetrated against machines, the violence between men in Thief is slowed not in advance but immediately upon impact. Mann's lesson is clear: this sort of violence cannot be assiduously prepared for; it must be studied as it unfolds.
***
CONVOY YOUR ENTHUSIASM: INTRODUCTION | Madeline Ashby on BLADE RUNNER | Erik Davis on BRING ME THE HEAD OF ALFREDO GARCIA | Mimi Lipson on CONVOY | Luc Sante on BLACK SUNDAY | Josh Glenn on THREE DAYS OF THE CONDOR | Lisa Jane Persky on SORCERER | Devin McKinney on THE TAKING OF PELHAM ONE TWO THREE | Adam McGovern on QUINTET | Mandy Keifetz on DEATH RACE 2000 | Peter Doyle on SOUTHERN COMFORT | Jonathan Lethem on STRAIGHT TIME | Heather Kapplow on THE KILLER ELITE | Tom Nealon on EVERY WHICH WAY BUT LOOSE | Mark Kingwell on THE EIGER SANCTION | Sherri Wasserman on ESCAPE FROM NEW YORK | Gordon Dahlquist on MARATHON MAN | David Levine on PARALLAX VIEW | Matthew Sharpe on ROLLERBALL | Ramona Lyons on ALIEN | Dan Piepenbring on WHITE LINE FEVER | Marc Weidenbaum on THIEF | Carolyn Kellogg on MAD MAX | Carlo Rotella on KUNG FU | Peggy Nelson on SMOKEY & THE BANDIT | Brian Berger on FRIDAY FOSTER.
MORE ENTHUSIASM at HILOBROW
NERD YOUR ENTHUSIASM (4Q2021): NERDING | ARDUIN | KLINGON CONFIDENTIAL | MAP INSERTS | TIME | & 20 other nerdy passions. SWERVE YOUR ENTHUSIASM (3Q2021): WARHOL'S WALT WHITMAN | 70, GIRLS, 70 | TYRAEL'S MIGHT | SHIRATO SANPEI | THE LEON SUITES | & 20 other never-realized cultural productions. FIVE-O YOUR ENTHUSIASM (2Q2021): DARK SHADOWS | MANNIX | GET SMART | THE ADDAMS FAMILY | I DREAM OF JEANNIE | & 20 other Sixties (1964–1973) TV shows. FERB YOUR ENTHUSIASM (1Q2021): STEVEN UNIVERSE | TOP CAT | REN & STIMPY | SHE-RA AND THE PRINCESSES OF POWER | DRAGON BALL Z | & 20 other animated series. CARBONA YOUR ENTHUSIASM (2020): "Sex Bomb" | "Going Underground" | "Soft South Africans" | "Typical Girls" | "Human Fly" | & 20 other Seventies (1974–1983) punk singles. KLAATU YOU (2020 weekly): ZARDOZ | METROPOLIS | DARK STAR | SINS OF THE FLESHAPOIDS | SOLARIS | & dozens of other pre-STAR WARS sci-fi movies. CONVOY YOUR ENTHUSIASM (2019): THE TAKING OF PELHAM ONE TWO THREE | ROLLERBALL | BLACK SUNDAY | SORCERER | STRAIGHT TIME | & 20 other Seventies (1974–1983) action movies. SERIOCOMIC (2019 weekly): LITTLE LULU | VIZ | MARSUPILAMI | ERNIE POOK'S COMEEK | HELLBOY | & dozens of other comics. TUBE YOUR ENTHUSIASM (2018): LOONEY TUNES | THREE STOOGES | THE AVENGERS | ROCKY & BULLWINKLE | THE TWILIGHT ZONE | & 20 other Fifties (1954–1963) TV shows. WOWEE ZOWEE (2018 weekly): UNISEX | UNDER THE PINK | DUMMY | AMOR PROHIBIDO | HIPS AND MAKERS | & dozens of other Nineties (1994–2003) albums. KLUTE YOUR ENTHUSIASM (2017): THE KILLERS | BANDE À PART (BAND OF OUTSIDERS) | ALPHAVILLE | HARPER | BLOW-UP | & 20 other Sixties (1964–1973) neo-noir movies. #SQUADGOALS (2017 weekly): THE WILD BUNCH | BOWIE'S BAND | THE BLOOMSBURY GROUP | THE HONG KONG CAVALIERS | VI ÄR BÄST! & dozens of other squads. GROK MY ENTHUSIASM (2016 weekly): THE THEORY AND PRACTICE OF LUNCH | WEEKEND | MILLION YEAR PICNIC | LA BARONNE EMILE D'ERLANGER | THE SURVIVAL SAMPLER | & dozens more one-off enthusiasms. QUIRK YOUR ENTHUSIASM (2016): "Tainted Love" | "Metal" | "Frankie Teardrop" | "Savoir Faire" | "Broken English" | & 20 other Seventies (1974–1983) new wave singles. CROM YOUR ENTHUSIASM (2015): DARKER THAN YOU THINK | THE SWORD IN THE STONE | OUT OF THE SILENT PLANET | THIEVES' HOUSE | QUEEN OF THE BLACK COAST | & 20 other Thirties (1934–1943) fantasy novels. KERN YOUR ENTHUSIASM (2014): ALDINE ITALIC | DATA 70 | TORONTO SUBWAY | JOHNSTON'S "HAMLET" | TODD KLONE | & 20 other typefaces. HERC YOUR ENTHUSIASM (2013): "Spoonin' Rap" | "Rapper's Delight" | "Rappin' Blow" | "The Incredible Fulk" | "The Adventures of Super Rhyme" | & 20 other Seventies (1974–1983) hip-hop songs. KIRK YOUR ENTHUSIASM (2012): Justice or vengeance? | Kirk teaches his drill thrall to kiss | "KHAAAAAN!" | "No kill I" | Kirk browbeats NOMAD | & 20 other Captain Kirk scenes. KIRB YOUR ENTHUSIASM (2011): THE ETERNALS | BLACK MAGIC | DEMON | OMAC | CAPTAIN AMERICA | & 20 other Jack Kirby panels.