Simon Munnery
By: Robert Wringham
December 6, 2014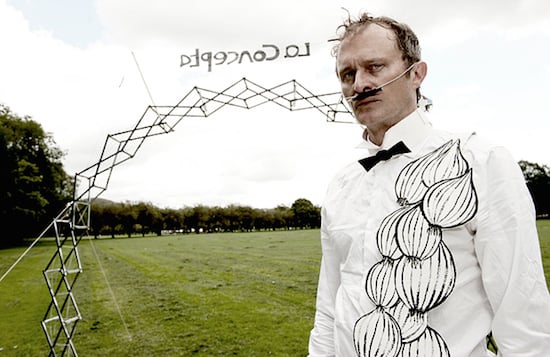 A review once described SIMON MUNNERY (born 1967) as "the nearest comedy gets to art," leading Munnery to conclude that his work occupies a no-man's land between "unfunny comedy" and "shit art." In fact, it's great art. Whether he's doing fairly straight stand-up in nightclubs, spurting bubbles from a top hat in surrealist one-person shows like 2011's La Concepta, or making live short-range broadcasts in his recent Fylm series, his material is as sharp as his props are ramshackle. With Munnery you can expect malfunctioning homemade technology and highly auteured jokes: razor-sharp wit deployed in self-defense as he fumbles with a soldering iron. There's always an element of danger, the feeling that the show could genuinely fail, taking everyone with it. He does characters too, the finest being "The League Against Tedium", a poor man's Nietzsche, decked out in ludicrous pantomime drag and spouting aphorisms about his superiority to worms. It's hard to pinpoint Munnery's finest moment, but his '90s nightclub Cluub Zarathustra (created with Stewart Lee) best epitomises that cocktail of wit and chaos: conventional stand-up was verboten, replaced by a roster of strange acts (surrealist films, deliberately awful poetry, a man who melted ice with coins and salt) with The League as host. Simon Munnery is the best and strangest comedian working today. See him if you can.
***
On his or her birthday, HiLobrow irregularly pays tribute to one of our high-, low-, no-, or hilobrow heroes. Also born this date: Randy Rhoads, Paul De Man.
READ MORE about members of the Reconstructionist Generation (1964–1973).