Simulacra (14)
By: Peggy Nelson
July 27, 2021
"Who will speak for the trees?" – The Lorax
"Who will speak for the butterflies?" – Cory McAbee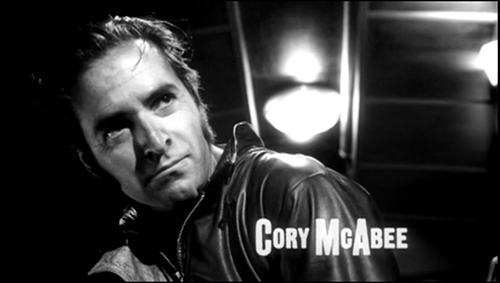 Filmmaker, writer, musician, and new media artist Cory McAbee, director of cult space cowboy musical The American Astronaut (2001), has announced I, Butterfly, a series of migration-mapping, continent-spanning bike rides for Fall 2021 to raise awareness and funds (and other relevant materiel) for the monarch butterflies, whose populations have been in steep decline over the course of his, and our, lifetimes. Once a common marker of the summer months in North America, and famously clustering in Capistrano-like colonies in Mexico during winter, it is now so unusual to see one of the orange-and-black bugs as to be remarked upon by anyone that does.
The delicate insects have been doing the seemingly impossible for millennia, migrating for thousands of miles, twice a year, following the seasons. And even more impossibly, they do this over generations. Not just that each generation knows the migratory path, but, the lifespans of the butterflies are so short that each migration itself takes generations: you, as a butterfly, might be born a "middle monarch", and only complete your part of the journey, say, from Memphis to Nashville. Your ancestors had handed it to you, and your descendants will take it from there.
McAbee's bike ride invites us to do the same. I, Butterfly invites participants to mimic part of the migratory route on bicycle, whatever part is near their area, handing the proverbial baton to others, who will ride their section.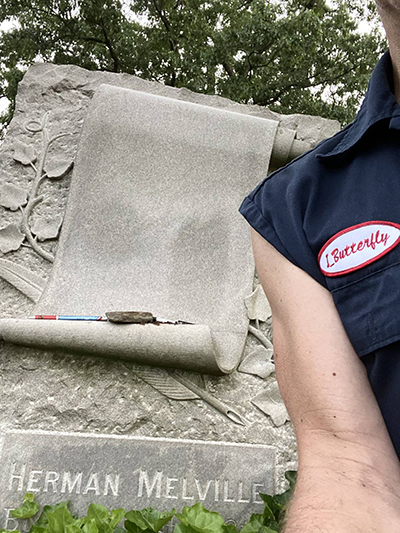 Since we live longer than butterflies, we don't have to do this over generations; instead, the entire process will be measured in weeks, months at the outside, and your individual part might be only a few hours. Use your own bike or rent one, map your route on Komoot, buy some locally-sourced milkweeds, and meet up with other monarchs.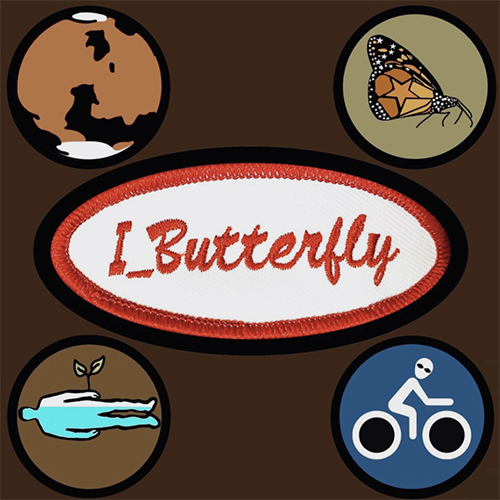 Some key links and tools from the project website:
I, Butterfly will be a nationwide festival of self-guided bike tours that will follow the monarch butterfly paths during the summer/fall migration season. The three paths will include the East Coast route stretching from Maine to Florida, the mid-America routes from Canada to Mexico, and the West Coast route from the Rockies to the Pacific Ocean.

KOMOOT: We will be using Komoot as a way to share and coordinate bike routes. To join Cory McAbee on Komoot, click this star ★
THE PATCH: To visually unify riders and all other participants we encourage you to get an "I_Butterfly" name patch, like the one pictured at the top of this page. That particular patch (style #2 red/white. Red text in Brush Script) was purchased at this link ★
CITIZEN SCIENCE: We encourage all interested parties (riders and supporters) to register monarch butterfly sightings at JOURNEY NORTH ★
MILKWEED: Monarch butterflies rely on milkweed for survival. You can order milkweed that is native to your area from Monarchwatch.org ★
SPRING WATER: If you enjoy taking detours to collect, drink or soak in local spring water here is a map. Includes links for water quality reviews ★
Do it. Be a middle monarch.
I, Butterfly from Cory McAbee on Vimeo; film written, directed and animated by Forrest Gamble.
***
Cory McAbee: website, Twitter, YouTube
I, Butterfly project site: I, Butterfly, FAQs and key info
The American Astronaut: Wikipedia; interview on rogerebert.com, trailer; available to stream on various platforms.