KICK YOUR ENTHUSIASM (1)
By: Annie Nocenti
January 3, 2022
One in a series of 25 enthusiastic posts, contributed by 25 HILOBROW friends and regulars, on the topic of a favorite sidekick — whether real-life or fictional.
*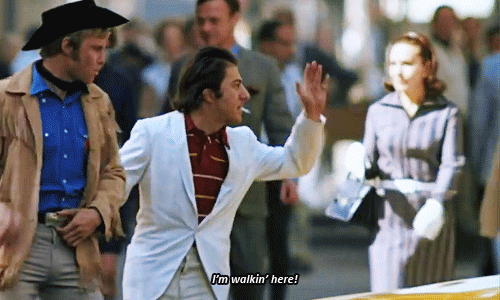 RATSO
Seen through the lens of today's reductionist meme culture, the 1969 classic film Midnight Cowboy is a dance of two fading cyphers: the counterfeit cowboy and the scrappy grifter.
Joe Buck (Jon Voight), a costumed cowboy who's most likely never been on a horse, takes a bus from Texas to sleazy Times Square with an ill-formed notion to hustle women. There he meets bottom-feeding swindler Ratso Rizzo (Dustin Hoffman), who cons him, schools him, and eventually flips the script on the sidekick narrative.
Ratso is cast in the mold of the street-smart hustlers of literature. Disheveled and pigeon-toed, Ratso has the scurvy underdog smarts of a rat. He's a sidekick by necessity, living off the fallen coin of others, destined to be both sidelined and kicked.
Dumb blonde Joe Buck sees himself as a Marlboro Man, a Hollywood Western icon, but he's fashioned of cheap buckskin, tin stars, and cowhide fringe. In the twilight of cattle-drives, with all the cows headed for factory farms, Buck clings to a dying archetype. He stalks rich women as they walk their lapdogs, oblivious to their disdain. When Buck uses his "Excuse me ma'am, where's the Statue of Liberty?" aw-shucks opener on one mark (Sylvia Miles) she retorts, "It's up in Central Park, takin' a leak."
When he stumbles on a score of Buck lookalikes in Stetsons working the same midnight cowboy ruse, it finally dawns on Buck that his charade is a cliché. Ratso knows Buck's type. Hell, he even has a poster of Paul Newman in Hud, a film about a real cowboy slash sex symbol slash hustler. When Ratso pegs Buck's game at first glance, Buck protests, "John Wayne! You gonna tell me he's a fag?"
And so Buck hitches his game to the mongrel Ratso. Even in a white jacket Ratso looks dirty; after all he's fulfilling the legacy of the boot-polish blackened hands of his shoeshine father. "Faggot undertaker had to bury him with his gloves on," sneers Ratso.
Ratso tries to put a shine on the shit of own his life. He calls the hole he slithers through to get into his squat his "private entrance." This shit-shining attitude is backdropped against billboards, window displays, and TV talkshow chatter, as if to say that advertising, with its power to simultaneously offer up false dreams and undermine hope, is the true villainy and violence of the world, not these two-bit street hustlers.
The film is peppered with Kinsey Report-style frank sex talk of the era, which climaxes at a "happening" fashioned after Andy Warhol's Factory; a psychedelic vanity bash complete with what, in the future, will be called the selfies of the "me" generation. As Ratso says of the party hosts "Hansel's a fag and Gretel's got the hots for herself."
Ratso never had the options of the Warhol kids, and this resonance has a further reach in today's economic schisms. Ad culture sells millennials the same hope that was achievable to the boomers before them, but impossible for many today, leaving them trapped in the undercurrents, hustling via Instagram and kickstarters. A grifter's hustle is the norm, as more people than ever maneuver to feed from the scraps.
Life kicks the shit out of sidekicks. Ratso clings to a fantasy of retiring one day to the Florida sunshine of his dreams. When he falls ill, Buck, packs him onto a bus south. Ratso knows he's near death. Perhaps it's his last act as a great sidekick, to deliver his friend to salvation. Stripped of his cowboy clothes, Buck might do just fine in sunny Florida.
There is an iconic moment in the film. Jay-walking into traffic, Ratso slaps a car in his way. His angry protest "I'm walkin' here!" became a universal cry for dignity, no matter how low you've sunk. Now everyone is Ratso Rizzo.
***
KICK YOUR ENTHUSIASM: INTRODUCTION by Josh Glenn | Annie Nocenti on RATSO | Barbara Bogaev on TRIXIE | Sara Ryan on SWIFT WIND | Carlo Rotella on BELT BEARERS | Adam McGovern on JACKIE McGEE | Josh Glenn on RAWHIDE | Gabriela Pedranti on KUILL | Douglas Wolk on VOLSTAGG | Serdar Paktin on CATO | Deirdre Day on TRAMPAS | Dean Haspiel on TIN MAN | Flourish Klink on THE APOSTLE PETER | Miranda Mellis on FAMILIAR | Peggy Nelson on COSMO | Beth Lisick on MARTHA BROOKS | Bishakh Som on CAPTAIN HADDOCK | Stephanie Burt on SAMUEL TAYLOR COLERIDGE | Greg Rowland on SPOCK | Adam Netburn on SENKETSU | Mimi Lipson on ROBIN QUIVERS | Jonathan Pinchera on GUTS | Tom Nealon on TWIKI | Mandy Keifetz on DR. EINSTEIN | Judith Zissman on IGNATZ MOUSE | Anthony Miller on DOCTOR GONZO.
MORE ENTHUSIASM at HILOBROW
STOOGE YOUR ENTHUSIASM (4Q2023): MOVE ON FAST | 96 TEARS | SHE CRACKED | WHAT A WAY TO DIE | PSYCHOTIC REACTION | & 20 other Sixties (1964–1973) proto-punk songs. STOOGE YOUR ENTHUSIASM (4Q2023): MOVE ON FAST | 96 TEARS | SHE CRACKED | WHAT A WAY TO DIE | PSYCHOTIC REACTION | & 20 other Sixties (1964–1973) proto-punk songs. CURVE YOUR ENTHUSIASM (3Q2023): PIZZA PURISM | BOY BANDS | THE '86 METS | LOVE ISLAND UK | ELTON JOHN | & 20 other reconsidered enthusiasms. TEEN YOUR ENTHUSIASM (2Q2023): ANDY GIBB | VALERIE BERTINELLI | KIM WILDE | ARLO GUTHRIE | MIKE PATTON | & 20 other heartthrobs from our adolescences. DOLLY YOUR ENTHUSIASM (1Q2023): WE FOUND IT | TOGETHER AGAIN | SUNDAY MORNIN' COMIN' DOWN | BAD CASE OF THE BLUES | FANCY | & 20 other Sixties (1964–1973) Country records. KILL YOUR ENTHUSIASM (4Q2022): LT. TASHA YAR | JOYCE SUMMERS | COL. HENRY BLAKE | MRS. LANDINGHAM | ALEX KAMAL | & 20 other TV deaths. BLURB YOUR ENTHUSIASM (3Q2022): LEFT-CORNER BRICK | JOY IS RESISTANCE | THE FUTURE IS PASSÉ | EVERY MINUTE AN OCEAN | SHUT UP, HE EXPLAINED | & 20 other apothegms to live by. KOJAK YOUR ENTHUSIASM (2Q2022): ARK II | WKRP IN CINCINNATI | BUCK ROGERS | THE WHITE SHADOW | POLICE WOMAN | & 20 other Seventies (1974–1983) TV shows. KICK YOUR ENTHUSIASM (1Q2022): KUILL | CATO | COSMO | TRIXIE | VOLSTAGG | & 20 other sidekicks. NERD YOUR ENTHUSIASM (4Q2021): TIME | THE POST OFFICE | ARDUIN | DOUBT | SUMMATIONS | & 20 other nerdy passions. SWERVE YOUR ENTHUSIASM (3Q2021): WARHOL'S WALT WHITMAN | 70, GIRLS, 70 | TYRAEL'S MIGHT | SHIRATO SANPEI | THE LEON SUITES | & 20 other never-realized cultural productions. FIVE-O YOUR ENTHUSIASM (2Q2021): DARK SHADOWS | MANNIX | GET SMART | THE ADDAMS FAMILY | I DREAM OF JEANNIE | & 20 other Sixties (1964–1973) TV shows. FERB YOUR ENTHUSIASM (1Q2021): STEVEN UNIVERSE | TOP CAT | REN & STIMPY | SHE-RA AND THE PRINCESSES OF POWER | DRAGON BALL Z | & 20 other animated series. CARBONA YOUR ENTHUSIASM (2020): "Sex Bomb" | "Going Underground" | "Soft South Africans" | "Typical Girls" | "Human Fly" | & 20 other Seventies (1974–1983) punk singles. KLAATU YOU (2020 weekly): ZARDOZ | METROPOLIS | DARK STAR | SINS OF THE FLESHAPOIDS | SOLARIS | & dozens of other pre-STAR WARS sci-fi movies. CONVOY YOUR ENTHUSIASM (2019): THE TAKING OF PELHAM ONE TWO THREE | ROLLERBALL | BLACK SUNDAY | SORCERER | STRAIGHT TIME | & 20 other Seventies (1974–1983) action movies. SERIOCOMIC (2019 weekly): LITTLE LULU | VIZ | MARSUPILAMI | ERNIE POOK'S COMEEK | HELLBOY | & dozens of other comics. TUBE YOUR ENTHUSIASM (2018): LOONEY TUNES | THREE STOOGES | THE AVENGERS | ROCKY & BULLWINKLE | THE TWILIGHT ZONE | & 20 other Fifties (1954–1963) TV shows. WOWEE ZOWEE (2018 weekly): UNISEX | UNDER THE PINK | DUMMY | AMOR PROHIBIDO | HIPS AND MAKERS | & dozens of other Nineties (1994–2003) albums. KLUTE YOUR ENTHUSIASM (2017): THE KILLERS | BANDE À PART (BAND OF OUTSIDERS) | ALPHAVILLE | HARPER | BLOW-UP | & 20 other Sixties (1964–1973) neo-noir movies. #SQUADGOALS (2017 weekly): THE WILD BUNCH | BOWIE'S BAND | THE BLOOMSBURY GROUP | THE HONG KONG CAVALIERS | VI ÄR BÄST! & dozens of other squads. GROK MY ENTHUSIASM (2016 weekly): THE THEORY AND PRACTICE OF LUNCH | WEEKEND | MILLION YEAR PICNIC | LA BARONNE EMILE D'ERLANGER | THE SURVIVAL SAMPLER | & dozens more one-off enthusiasms. QUIRK YOUR ENTHUSIASM (2016): "Tainted Love" | "Metal" | "Frankie Teardrop" | "Savoir Faire" | "Broken English" | & 20 other Seventies (1974–1983) new wave singles. CROM YOUR ENTHUSIASM (2015): DARKER THAN YOU THINK | THE SWORD IN THE STONE | OUT OF THE SILENT PLANET | THIEVES' HOUSE | QUEEN OF THE BLACK COAST | & 20 other Thirties (1934–1943) fantasy novels. KERN YOUR ENTHUSIASM (2014): ALDINE ITALIC | DATA 70 | TORONTO SUBWAY | JOHNSTON'S "HAMLET" | TODD KLONE | & 20 other typefaces. HERC YOUR ENTHUSIASM (2013): "Spoonin' Rap" | "Rapper's Delight" | "Rappin' Blow" | "The Incredible Fulk" | "The Adventures of Super Rhyme" | & 20 other Seventies (1974–1983) hip-hop songs. KIRK YOUR ENTHUSIASM (2012): Justice or vengeance? | Kirk teaches his drill thrall to kiss | "KHAAAAAN!" | "No kill I" | Kirk browbeats NOMAD | & 20 other Captain Kirk scenes. KIRB YOUR ENTHUSIASM (2011): THE ETERNALS | BLACK MAGIC | DEMON | OMAC | CAPTAIN AMERICA | & 20 other Jack Kirby panels.