Plastic Bertrand
By: Ingrid Schorr
February 24, 2010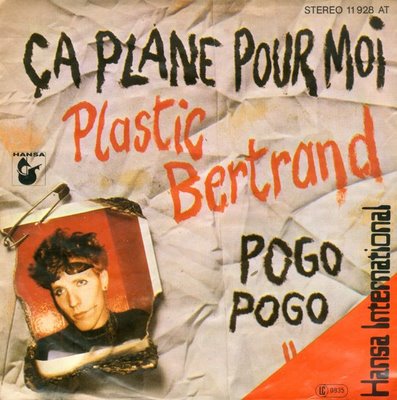 A good 15 years before the East Coast/West Coast rap wars there was New Wave versus No Wave, which played out among micro-societies in US college towns and suburban neighborhoods. Basically it came down to fun vs. no fun. New Wavers wore colorful, shredded rag-bag clothes and exuberant hennaed hair; No Wavers wore crisp, fitted, monochromatic outfits and shaved their heads. No Wavers stood erect and smoked; New Wavers affected a broken scarecrow posture and weren't afraid to spaz out. No Wave bands (DNA, Teenage Jesus and the Jerks, 8-Eyed Spy) implied a grim intellectualism; New Wave was saucier: the B-52's, Ian Dury, Talking Heads. Swept into the New Wave mix by default was PLASTIC BERTRAND (born Roger Marie François Jouret, 1954) and his frantic, kinetic 1977 single "Ça Plane Pour Moi" (born "Jet Boy Jet Girl"). Saxophones that vroomed like tissue paper over a giant comb, compelling Belgian-French slang lyrics, the occasional English phrase to yell out while dancing — "I am the king of the divan!" — we didn't know who the hell this person was, but we loved him. And now you know which side I was on.
***
PUNK, POST-PUNK & ALTERNATIVE on HILOBROW: Joey Ramone | Dez Cadena | Jello Biafra | HR | Mike Watt | Vivienne Westwood | Iggy Pop | D. Boon | John Lydon | Henry Rollins | Palmolive | Plastic Bertrand | Kira Roessler | Lisa Carver | Frank Black | Ari Up | Gary Panter | Mike Watt | Ian Curtis | Paul Simonon | Darby Crash | Penelope Houston | Exene Cervenka | Sid Vicious | Andrew Eldritch | Kate Pierson | Richard Hell | Paul Westerberg | Lux Interior | Ian Dury | Stiv Bators | Tom Verlaine | Colin Newman | Johnny Thunders | Poison Ivy | Green Gartside | Lydia Lunch | Mark E. Smith | David Byrne | Debbie Harry | Captain Sensible | Mark Mothersbaugh | Kim Gordon | ALSO: The Original Generation X (1954–1963) and the birth of DIY | The Original Stooge | Origin of the Pogo | Shocking Blocking: Rock'n'Roll High School | Punk fanzines from the 1970s | Post-Punk and New Wave on HiLobrow
READ MORE about those born on the cusp between two generations. Plastic Bertrand was born between the Blank Generation and the OGXers.
Each day, HILOBROW pays tribute to one of our favorite high-, low-, no-, or hilobrow heroes on that person's birthday. Click here for more HiLo Hero shout-outs. To get HiLo Heroes updates via Facebook, click here.