Paul Simonon
By: Lynn Peril
December 15, 2009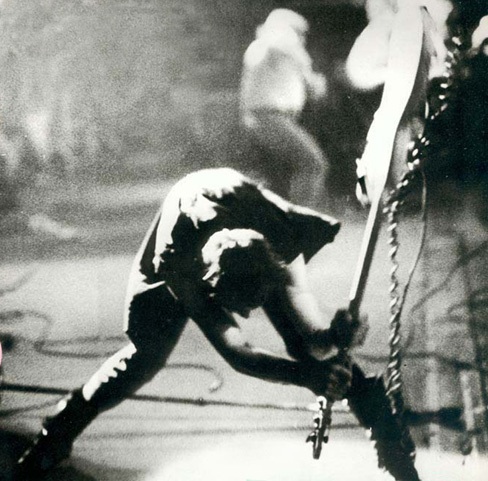 The Clash was on the front lines of the punk revolution of the late 1970s, but bassist PAUL SIMONON (born 1955) shared some similarities with an iconic rebel of the previous generation. Like the Beatles' original bassist, Stu Sutcliffe, Simonon's first love was painting. Neither man could play his instrument when first tapped by their respective groups; a blonde, brooding stage presence was deemed more important than musical skill. But unlike the ill-fated Beatle (who died tragically not long after he left the band in 1961), Simonon quickly grew into a talented bass man, whose artistic sensibilities honed The Clash's visual style, just as his childhood exposure to reggae and ska on the mean streets of London's immigrant neighborhoods influenced the band's signature sound.
***
PUNK, POST-PUNK & ALTERNATIVE on HILOBROW: Joey Ramone | Dez Cadena | Jello Biafra | HR | Mike Watt | Vivienne Westwood | Iggy Pop | D. Boon | John Lydon | Henry Rollins | Palmolive | Plastic Bertrand | Kira Roessler | Lisa Carver | Frank Black | Ari Up | Gary Panter | Mike Watt | Ian Curtis | Paul Simonon | Darby Crash | Penelope Houston | Exene Cervenka | Sid Vicious | Andrew Eldritch | Kate Pierson | Richard Hell | Paul Westerberg | Lux Interior | Ian Dury | Stiv Bators | Tom Verlaine | Colin Newman | Johnny Thunders | Poison Ivy | Green Gartside | Lydia Lunch | Mark E. Smith | David Byrne | Debbie Harry | Captain Sensible | Mark Mothersbaugh | Kim Gordon | ALSO: The Original Generation X (1954–1963) and the birth of DIY | The Original Stooge | Origin of the Pogo | Shocking Blocking: Rock'n'Roll High School | Punk fanzines from the 1970s | Post-Punk and New Wave on HiLobrow
READ MORE about the Original Generation X.
Each day, HILOBROW pays tribute to one of our favorite high-, low-, no-, or hilobrow heroes on that person's birthday. Click here for more HiLo Hero shout-outs.