Penelope Houston
By: Tor Aarestad
December 17, 2009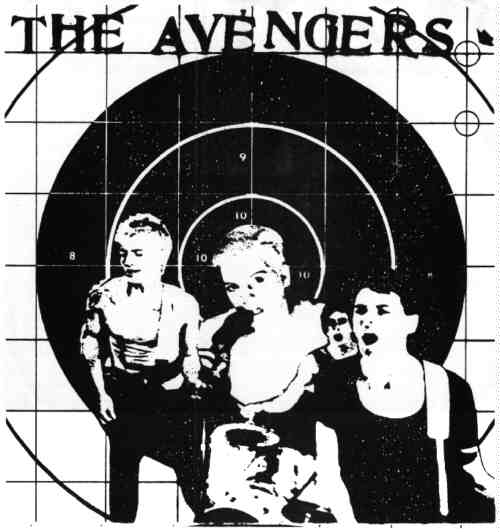 They say that if you were in San Francisco in the summer of 1977 and went to a Filipino restaurant/club called the Mabuhay Gardens up on Broadway in North Beach by the strip clubs, you could have seen one of the greatest bands in the world almost any night of the week. The Avengers had one of the best punk singers who ever lived, name of PENELOPE HOUSTON (born 1958). They say the band opened for the Sex Pistols and blew them off the stage, convincing Pistols guitarist Steve Jones to produce an album. Too good to be true, right? Maybe so — because in 1979, poof!…. the band was gone. No album, no greatest punk singer ever. Did The Avengers really exist? True, you can find videos, supposedly from '78, of a band called The Avengers — in which a ferocious young woman sings a Pistols-like youth anthem, "We are the One". And in '83, an Avengers album that supposedly includes the fabled Jones-produced songs appeared; it's out of print, though. Not long after that, someone named Penelope Houston recorded a few proto-Liz Phair/Aimee Mann underground singer-songwriter albums. Today, that same person curates an Avengers website, and claims she'll sell you a CD-Rom copy of her own, out-of-print Avengers album. They even say that the Avengers have popped up again in San Francisco, and if you're lucky you might see them play around town. Pull the other one! Like we'd believe any of that.
***
PUNK, POST-PUNK & ALTERNATIVE on HILOBROW: Joey Ramone | Dez Cadena | Jello Biafra | HR | Mike Watt | Vivienne Westwood | Iggy Pop | D. Boon | John Lydon | Henry Rollins | Palmolive | Plastic Bertrand | Kira Roessler | Lisa Carver | Frank Black | Ari Up | Gary Panter | Mike Watt | Ian Curtis | Paul Simonon | Darby Crash | Penelope Houston | Exene Cervenka | Sid Vicious | Andrew Eldritch | Kate Pierson | Richard Hell | Paul Westerberg | Lux Interior | Ian Dury | Stiv Bators | Tom Verlaine | Colin Newman | Johnny Thunders | Poison Ivy | Green Gartside | Lydia Lunch | Mark E. Smith | David Byrne | Debbie Harry | Captain Sensible | Mark Mothersbaugh | Kim Gordon | ALSO: The Original Generation X (1954–1963) and the birth of DIY | The Original Stooge | Origin of the Pogo | Shocking Blocking: Rock'n'Roll High School | Punk fanzines from the 1970s | Post-Punk and New Wave on HiLobrow
READ MORE about the Original Generation X.
Each day, HILOBROW pays tribute to one of our favorite high-, low-, no-, or hilobrow heroes on that person's birthday. Click here for more HiLo Hero shout-outs.