Iggy Pop
By: David Smay
April 21, 2011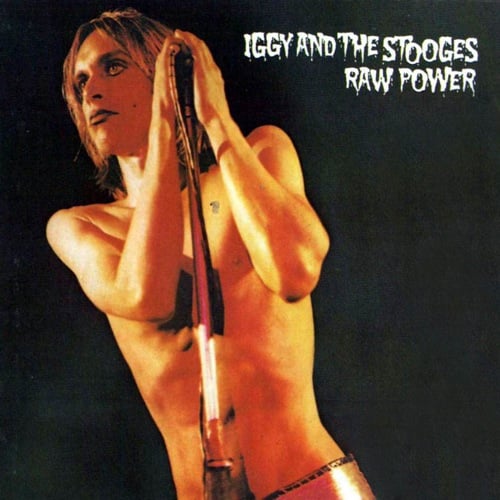 Four years ago on this day I ensured that whatever else I had done as a parent, I did one thing indisputably right; I took my son to see The Stooges reunion show for his first concert. It was the day IGGY POP (James Osterberg, born 1947) turned sixty, and Ron Asheton and Scott Asheton and Mike Watt unleashed primal Detroit fury on us. We watched as Iggy's tendons drew taut almost to snapping, yanking his ropey limbs across the stage. "He's sixty?!" my son turned to me. "He's amazing!"
"Sometimes the audience makes you do terrible things," Iggy once said, referring to the incident where he harrowed his chest with broken glass. There is that sense of him giving himself to the music, to the audience, wholly. Did rock and roll ever need Chris Burden when Iggy was willing to bleed for us? Once he infamously took a shit on the stage in the middle of a show. He's stepped off the stage and out onto the audience's hands in Cincinnati, marching across their lifting grip, anointing himself with peanut butter. If I focus now on his body, don't think I don't value the avante-prole twist of his mind. He is, after all, the man who wrote the lyrics to "The Passenger" and "Lust for Life," and a published scholar on Edward Gibbons. But trust that I am using the word very precisely when I say he is rock incarnate. This is the meat of the matter, physicality, the exaltation of cocks, the mystery of our very embodiment alight with anarchic spark. This is Iggy Pop's body, broken for you. And we do drink in remembrance of him. He is sixty-four today.
***
PUNK, POST-PUNK & ALTERNATIVE on HILOBROW: Joey Ramone | Dez Cadena | Jello Biafra | HR | Mike Watt | Vivienne Westwood | Iggy Pop | D. Boon | John Lydon | Henry Rollins | Palmolive | Plastic Bertrand | Kira Roessler | Lisa Carver | Frank Black | Ari Up | Gary Panter | Mike Watt | Ian Curtis | Paul Simonon | Darby Crash | Penelope Houston | Exene Cervenka | Sid Vicious | Andrew Eldritch | Kate Pierson | Richard Hell | Paul Westerberg | Lux Interior | Ian Dury | Stiv Bators | Tom Verlaine | Colin Newman | Johnny Thunders | Poison Ivy | Green Gartside | Lydia Lunch | Mark E. Smith | David Byrne | Debbie Harry | Captain Sensible | Mark Mothersbaugh | Kim Gordon | ALSO: The Original Generation X (1954–1963) and the birth of DIY | The Original Stooge | Origin of the Pogo | Shocking Blocking: Rock'n'Roll High School | Punk fanzines from the 1970s | Post-Punk and New Wave on HiLobrow
On his or her birthday, HiLobrow irregularly pays tribute to one of our high-, low-, no-, or hilobrow heroes. Also born this date: Max Weber.
READ MORE about members of the Blank Generation (1944-53).