Gary Panter
By: Dan Nadel
December 1, 2012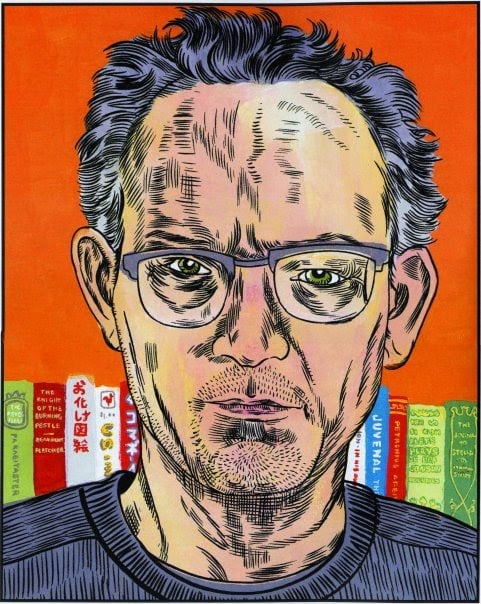 GARY PANTER (born 1950) helped define the look of punk, designed Pee-wee's Playhouse, and is known for plenty of other stuff — including multiple Jimbo graphic novels, virtuoso drawing, and searing image-making. Innumerable artists, as has been said of the Beatles, have based their entire careers on the briefest of his ideas. What's often overlooked about Panter, though, is his nuanced approach to human relationships — the emotions that pass between men and women, but also between men and men, even hillbillies and hillbillies. Gary was raised, in Texas, to be a certain type of man; but the Sixties and Seventies happened. He and I often talk about manhood, and that usually means: relationships. He's spent decades wondering about how a 21st-century dude is supposed to do and feel. His most recent paintings on paper, which are among the best of his career, observe points of conflict, seduction, befuddlement: four women in business suits, each going a different direction; a cowboy astride a horse, staring at the viewer; a crush of oddly soft gladiators in combat; a general meeting his aide's white-clad wife; a loin-cloth man menacing a woman with a spear. These moments seem to me like Panter grappling with daily life and wondering about how we communicate, which is both a literal aspect of his work (he is a consummate hand-letterer) and at the core of his graphic narratives, which often occur in Dal Tokyo, a Japan-Texas urban cultural collision on Mars.
When it comes to manhood, relationships, communication, money, art, Gary doesn't offer answers, thank heavens! But he's awfully fun to sidle up next to for some jawboning.
***
PUNK, POST-PUNK & ALTERNATIVE on HILOBROW: Joey Ramone | Dez Cadena | Jello Biafra | HR | Mike Watt | Vivienne Westwood | Iggy Pop | D. Boon | John Lydon | Henry Rollins | Palmolive | Plastic Bertrand | Kira Roessler | Lisa Carver | Frank Black | Ari Up | Gary Panter | Mike Watt | Ian Curtis | Paul Simonon | Darby Crash | Penelope Houston | Exene Cervenka | Sid Vicious | Andrew Eldritch | Kate Pierson | Richard Hell | Paul Westerberg | Lux Interior | Ian Dury | Stiv Bators | Tom Verlaine | Colin Newman | Johnny Thunders | Poison Ivy | Green Gartside | Lydia Lunch | Mark E. Smith | David Byrne | Debbie Harry | Captain Sensible | Mark Mothersbaugh | Kim Gordon | ALSO: The Original Generation X (1954–1963) and the birth of DIY | The Original Stooge | Origin of the Pogo | Shocking Blocking: Rock'n'Roll High School | Punk fanzines from the 1970s | Post-Punk and New Wave on HiLobrow
NEW WAVE SCI-FI at HILOBROW: 75 Best New Wave (1964–1983) Sci-Fi Novels | Back to Utopia: Fredric Jameson's theorizing about New Wave sci-fi | Douglas Adams | Poul Anderson | J.G. Ballard | John Brunner | William Burroughs | Octavia E. Butler | Samuel R. Delany | Philip K. Dick | Frank Herbert | Ursula K. Le Guin | Barry N. Malzberg | Moebius (Jean Giraud) | Michael Moorcock | Alan Moore | Gary Panter | Walker Percy | Thomas Pynchon | Joanna Russ | James Tiptree Jr. (Alice Sheldon) | Kurt Vonnegut | PLUS: Jack Kirby's Golden Age and New Wave science fiction comics.
READ HILOBROW POSTS by GARY PANTER: Tadanori Yokoo | Peter Saul | Yasuji Tanioka | H.C. Westermann | Öyvind Fahlström | Cal Schenkel | Eduardo Paolozzi | Tod Dockstader | Yayoi Kusama | Walter Lantz | Richard Lindner | Shigeru Sugiura | Todd Rundgren | Yoshikazu Ebisu | Jim Nutt | Judy Henske | Tod Dockstader | Jesse Marsh | Tetsumi Kudo | Larry Poons | Ed Sanders | Dick Briefer | Dick Briefer
On his or her birthday, HiLobrow irregularly pays tribute to one of our high-, low-, no-, or hilobrow heroes. Also born this date: Woody Allen.
READ MORE about members of the Blank Generation (1944-53).