The Original Stooge
By: Joshua Glenn
October 23, 2010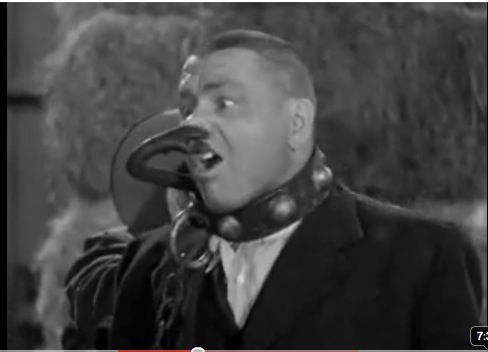 I have long argued that Curly Howard invented punk. He did so in The Three Troubledoers (1946), which features the anarchistic skinhead sporting a long black coat, high leather boots, and a huge studded dog's collar.
At one point, Curly even barks like a dog! Remember, the first punk song was The Stooges' "I Wanna be Your Dog" (1969).
PS: Dean Martin follows in Curly's footsteps by sporting a slashed jacket in Rio Bravo (1959).
***
MORE FURSHLUGGINER THEORIES BY JOSH GLENN: TAKING THE MICKEY (series) | KLAATU YOU (series intro) | We Are Iron Man! | And We Lived Beneath the Waves | Is It A Chamber Pot? | I'd Like to Force the World to Sing | The Argonaut Folly | The Perfect Flâneur | The Twentieth Day of January | The Dark Side of Scrabble | The YHWH Virus | Boston (Stalker) Rock | The Sweetest Hangover | The Vibe of Dr. Strange | CONVOY YOUR ENTHUSIASM (series intro) | Tyger! Tyger! | Star Wars Semiotics | The Original Stooge | Fake Authenticity | Camp, Kitsch & Cheese | Stallone vs. Eros | The UNCLE Hypothesis | Icon Game | Meet the Semionauts | The Abductive Method | Semionauts at Work | Origin of the Pogo | The Black Iron Prison | Blue Krishma! | Big Mal Lives! | Schmoozitsu | You Down with VCP? | Calvin Peeing Meme | Daniel Clowes: Against Groovy | The Zine Revolution (series) | Best Adventure Novels (series) | Debating in a Vacuum (notes on the Kirk-Spock-McCoy triad) | Pluperfect PDA (series) | Double Exposure (series) | Fitting Shoes (series) | Cthulhuwatch (series) | Shocking Blocking (series) | Quatschwatch (series)
***
READ MORE essays by Joshua Glenn, originally published in: THE BAFFLER | BOSTON GLOBE IDEAS | BRAINIAC | CABINET | FEED | HERMENAUT | HILOBROW | HILOBROW: GENERATIONS | HILOBROW: RADIUM AGE SCIENCE FICTION | HILOBROW: SHOCKING BLOCKING | THE IDLER | IO9 | N+1 | NEW YORK TIMES BOOK REVIEW | SEMIONAUT | SLATE