Kira Roessler
By: Deb Chachra
June 12, 2013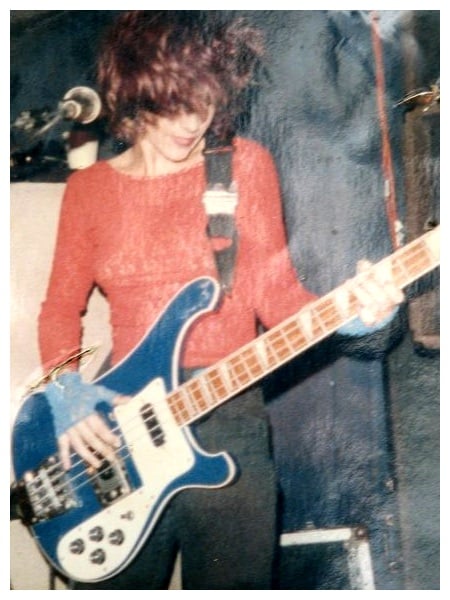 In 1983, KIRA ROESSLER (born 1962) was asked to join the California punk band Black Flag, replacing the founding bassist. Her joining the band meant that they had to meet some logistical constraints; the band's touring and recording schedule couldn't conflict with the academic calendar at UCLA, where Kira was studying applied engineering. Over the next few years, she played on five Black Flag albums and toured with them, as well as writing songs for what would turn out to be the final Minutemen album, 3-Way Tie (For Last). James Parker writes about her bass playing in Turned On, his biography of Henry Rollins:
[She] held it down, dug in behind the beat, underpinned [guitarist Greg Ginn's] guitar work with a minimum of fuss, but something in her very consistency built an energy, a menace that defined the MY WAR groove. With Kira in place, Black Flag went into attack mode.
In 1985, Roessler was asked to leave Black Flag; they'd scheduled a tour that coincided with her final quarter at UCLA. She graduated with her engineering degree in 1986, but continued to play bass, co-writing songs with Mike Watt for his post-Minutemen band fIREHOSE and performing with him in their two-bass duo, Dos. After working as a programmer for a decade or so, Roessler began to do sound and dialogue editing for film and television. She's now won two Primetime Emmys in "Outstanding Sound Editing" for her work — which includes the "Blackwater" episode of Game of Thrones.
In a 2011 Village Voice interview, Roessler was asked if she was a role model; she modestly replied, "You tell me." Yes, Kira Roessler, you are.
***
PUNK, POST-PUNK & ALTERNATIVE on HILOBROW: Joey Ramone | Dez Cadena | Jello Biafra | HR | Mike Watt | Vivienne Westwood | Iggy Pop | D. Boon | John Lydon | Henry Rollins | Palmolive | Plastic Bertrand | Kira Roessler | Lisa Carver | Frank Black | Ari Up | Gary Panter | Mike Watt | Ian Curtis | Paul Simonon | Darby Crash | Penelope Houston | Exene Cervenka | Sid Vicious | Andrew Eldritch | Kate Pierson | Richard Hell | Paul Westerberg | Lux Interior | Ian Dury | Stiv Bators | Tom Verlaine | Colin Newman | Johnny Thunders | Poison Ivy | Green Gartside | Lydia Lunch | Mark E. Smith | David Byrne | Debbie Harry | Captain Sensible | Mark Mothersbaugh | Kim Gordon | ALSO: The Original Generation X (1954–1963) and the birth of DIY | The Original Stooge | Origin of the Pogo | Shocking Blocking: Rock'n'Roll High School | Punk fanzines from the 1970s | Post-Punk and New Wave on HiLobrow
On his or her birthday, HiLobrow irregularly pays tribute to one of our high-, low-, no-, or hilobrow heroes. Also born this date: Djuna Barnes, Weegee, Egon Schiele, Samuel Z. Arkoff.
READ MORE about members of the Original Generation X (1954–1963).