#SQUADGOALS (36)
By: Jacob Mikanowski
September 6, 2017
One in a series of enthusiastic posts, contributed by HILOBROW friends and regulars during 2017, on the subject of our favorite squads.
*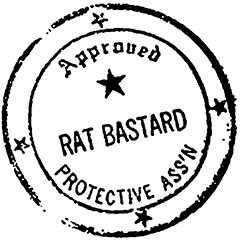 When Bruce Conner got off the plane from Wichita to San Francisco in the fall of 1957, the Beat thing had become a punchline. One enterprising North Beach café-owner even paid a painter to sit in the window in a beret and goatee. That painter's name was Wally Hedrick, a fake Beat but a real artist. He lived in a house on Filmore with a group of other painters, artists and musicians, including his wife, Jay DeFeo.
People called the house Painterland. It was the first place Conner stayed after he got off that plane. While there, he sent out letters to a dozen friends, telling them they were members of something called the Rat Bastard Protective Association, and that dues were three dollars a year. They met once a month, and if you paid, you got to put the Rat Bastard seal on your work.
Conner was the only one to use the seal. But they did have meetings — once on a miserably cold night on the Golden Gate Bridge. And they had something resembling an aesthetic, or an ethos. Maybe they were even a movement. The name came from the San Francisco garbage collector's union, the Scavenger's Protective Association, and scavenging was the key to how Conner and his friends made their art. The Western Addition was being torn down all around them as part of the city's urban renewal (or 'Negro-Removal', as James Baldwin nicknamed it) program. The Rat Bastards picked its bones for scrap. From it, they made sculptures, paintings, whirligigs, Christmas trees and installations. None of it sold. Most of it was ephemeral, or meant to be. Assemblage was the name of the game.
Conner, the rat-bastard-in-chief, made works he called his "rat bastards." They were weird collections of materials — doll parts, cigar boxes, magazine cut-outs — glued and nailed together and then wrapped in torn nylon stockings. They look like roadkill or artifacts from the Upside-Down, but also dreams and fantasies no one wants to admit having. They make Surrealism seem soft and combines look mannered.
The Rat Bastard renaissance only lasted a few years. Conner's works might have had the most staying power out of the group, but no work sums up the squad better than Joan Brown's Fur Rat. It's a sculpture of a giant rat which she made of wood, chicken wire, plaster, string, nails and raccoon fur. It's almost more of a dog or a fox than a rat, but it's a rat bastard to the core: fearless, inventive, not afraid to be a little gross. A wild beast rummaging in the corridors of art history, building a reality out of the scraps others had left behind.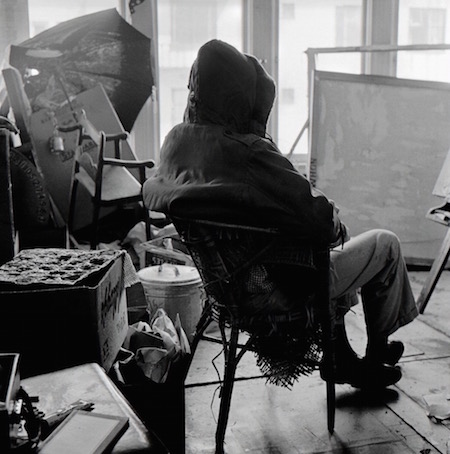 ***
#SQUADGOALS: Annie Nocenti on THE WILD BUNCH | Alice Boone on PRETTY LITTLE LIARS | Gordon Dahlquist on BOWIE'S BAND | Rob Wringham on THE HOME GUARD | Jennifer Krasinski on WATERSHIP DOWN RABBITS | Annalee Newitz on ROBIN HOOD'S MERRY PALS | Adrienne Crew on THE BLOOMSBURY GROUP | Mark Kingwell on THE HONG KONG CAVALIERS | Adam McGovern on KAMANDI'S FAMILY | John Overholt on THE CLUB | Greg Rowland on THE VULTURE SQUADRON | Sara Ryan on BETSY, TACY & TIB | Chelsey Johnson on VI ÄR BÄST! | Brian Berger on THE JOHN FORD STOCK COMPANY | Sherri Wasserman on THE WARRIORS | Jessamyn West on FAREYNIKTE PARTIZANER ORGANIZATSYE | Josh Glenn on DADA | Matthew De Abaitua on THE TIME | Mandy Keifetz on THE FOUNDING FATHERS | William Nericcio on ZOOT SUIT PACHUCOS | Deb Chachra on FIREFLY CREW | Matthew Battles on THE ANIMAL FAMILY | Ingrid Schorr on THE HARLEM GLOBETROTTERS | Joe Alterio on THE USUAL GANG OF IDIOTS | Dan Reines on THE BREAKFAST CLUB | Rob Walker on LES TROIS INSÉPARABLES | Devin McKinney on 1975 RED SOX | Steph Burt on DAMAGE CONTROL | Elina Shatkin on THE HOLOGRAMS | Chris Spurgeon on THE ALKALI METALS | Carl Wilson on NEW YORK SCHOOL POETS | Barbara Bogaev on THE MOD SQUAD | Franklin Bruno on THE AACM | Judith Zissman on THE FUTURIANS | Mimi Zeiger on ARCHIGRAM | Jacob Mikanowski on THE RATBASTARDS | Lynn Peril on THE DALY SISTERS | Anindita Basu Sempere on MEG MURRY'S FAMILY | Libi Rose on THE ENIAC TEAM | Gary Panter on THE TRIBE OF HIPPIES | Peter Doyle on CORNEL WILDE BOYS | Ken Layne on THE MONKEY WRENCH GANG | Molly Wright Steenson on BAUHAUS | Katie Hennessey on BEAT POETS | Mimi Lipson on THE RUNAWAYS | Jordan Ellenberg on BOURBAKI | Michael Campochiaro on THE SUICIDE SQUAD | Deborah Wassertzug on THE BLOODHOUND GANG | Colin Dickey on ACÉPHALE | Douglas Wolk on SEVEN SOLDIERS OF VICTORY | David Smay on THE MYSTIC KNIGHTS OF THE OINGO BOINGO | Karinne Keithley Syers on BLACKLIPS PERFORMANCE CULT.
MORE ENTHUSIASM at HILOBROW
NERD YOUR ENTHUSIASM (4Q2021): NERDING | ARDUIN | KLINGON CONFIDENTIAL | MAP INSERTS | TIME | & 20 other nerdy passions. SWERVE YOUR ENTHUSIASM (3Q2021): WARHOL'S WALT WHITMAN | 70, GIRLS, 70 | TYRAEL'S MIGHT | SHIRATO SANPEI | THE LEON SUITES | & 20 other never-realized cultural productions. FIVE-O YOUR ENTHUSIASM (2Q2021): DARK SHADOWS | MANNIX | GET SMART | THE ADDAMS FAMILY | I DREAM OF JEANNIE | & 20 other Sixties (1964–1973) TV shows. FERB YOUR ENTHUSIASM (1Q2021): STEVEN UNIVERSE | TOP CAT | REN & STIMPY | SHE-RA AND THE PRINCESSES OF POWER | DRAGON BALL Z | & 20 other animated series. CARBONA YOUR ENTHUSIASM (2020): "Sex Bomb" | "Going Underground" | "Soft South Africans" | "Typical Girls" | "Human Fly" | & 20 other Seventies (1974–1983) punk singles. KLAATU YOU (2020 weekly): ZARDOZ | METROPOLIS | DARK STAR | SINS OF THE FLESHAPOIDS | SOLARIS | & dozens of other pre-STAR WARS sci-fi movies. CONVOY YOUR ENTHUSIASM (2019): THE TAKING OF PELHAM ONE TWO THREE | ROLLERBALL | BLACK SUNDAY | SORCERER | STRAIGHT TIME | & 20 other Seventies (1974–1983) action movies. SERIOCOMIC (2019 weekly): LITTLE LULU | VIZ | MARSUPILAMI | ERNIE POOK'S COMEEK | HELLBOY | & dozens of other comics. TUBE YOUR ENTHUSIASM (2018): LOONEY TUNES | THREE STOOGES | THE AVENGERS | ROCKY & BULLWINKLE | THE TWILIGHT ZONE | & 20 other Fifties (1954–1963) TV shows. WOWEE ZOWEE (2018 weekly): UNISEX | UNDER THE PINK | DUMMY | AMOR PROHIBIDO | HIPS AND MAKERS | & dozens of other Nineties (1994–2003) albums. KLUTE YOUR ENTHUSIASM (2017): THE KILLERS | BANDE À PART (BAND OF OUTSIDERS) | ALPHAVILLE | HARPER | BLOW-UP | & 20 other Sixties (1964–1973) neo-noir movies. #SQUADGOALS (2017 weekly): THE WILD BUNCH | BOWIE'S BAND | THE BLOOMSBURY GROUP | THE HONG KONG CAVALIERS | VI ÄR BÄST! & dozens of other squads. GROK MY ENTHUSIASM (2016 weekly): THE THEORY AND PRACTICE OF LUNCH | WEEKEND | MILLION YEAR PICNIC | LA BARONNE EMILE D'ERLANGER | THE SURVIVAL SAMPLER | & dozens more one-off enthusiasms. QUIRK YOUR ENTHUSIASM (2016): "Tainted Love" | "Metal" | "Frankie Teardrop" | "Savoir Faire" | "Broken English" | & 20 other Seventies (1974–1983) new wave singles. CROM YOUR ENTHUSIASM (2015): DARKER THAN YOU THINK | THE SWORD IN THE STONE | OUT OF THE SILENT PLANET | THIEVES' HOUSE | QUEEN OF THE BLACK COAST | & 20 other Thirties (1934–1943) fantasy novels. KERN YOUR ENTHUSIASM (2014): ALDINE ITALIC | DATA 70 | TORONTO SUBWAY | JOHNSTON'S "HAMLET" | TODD KLONE | & 20 other typefaces. HERC YOUR ENTHUSIASM (2013): "Spoonin' Rap" | "Rapper's Delight" | "Rappin' Blow" | "The Incredible Fulk" | "The Adventures of Super Rhyme" | & 20 other Seventies (1974–1983) hip-hop songs. KIRK YOUR ENTHUSIASM (2012): Justice or vengeance? | Kirk teaches his drill thrall to kiss | "KHAAAAAN!" | "No kill I" | Kirk browbeats NOMAD | & 20 other Captain Kirk scenes. KIRB YOUR ENTHUSIASM (2011): THE ETERNALS | BLACK MAGIC | DEMON | OMAC | CAPTAIN AMERICA | & 20 other Jack Kirby panels.