#SQUADGOALS (31)
By: Carl Wilson
August 2, 2017
One in a series of enthusiastic posts, contributed by HILOBROW friends and regulars during 2017, on the subject of our favorite squads.
*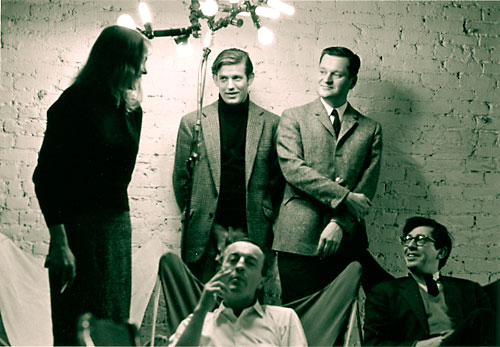 WHY I AM NOT A NEW YORK SCHOOL POET
I am not a New York School poet, I'm a rock
critic,
though I think I'd rather not be. Why? Well,
many days
as a young man, younger and more man
than I wished, I would go to the library on
Colborne Street
with a series of questions that were the
same question:
Where did this culture come from? This
meaning
the one I most cared about, with punk rock,
late-night TV,
David Lynch, comix zines in it, though I also
cared
about literature or jazz, e.g., which weren't
much in it,
except by rare invitation. If you were a
young man
you mostly found out the answers were
drugs,
the Velvet Underground, the Weather
Underground, the
Beat Generation. If you were lucky maybe
someone told you John Cage.
(Dadaists and surrealists, bien sur,
but that's over in the other place.)
Around when you were catching on
that Andy Warhol's banana pulled more
weight
than John Cale's viola, when you were not
as young a man, or if you never were a
man,
the Beat Generation would be making you
very tired,
in aggregate though not every particulate,
above all for the denouncing and
pronouncing, which
the Republicans later heard about, and
yelled GOOD IDEA.
Finally you found out, maybe from poems
copied for you
by a woman you loved who was smarter
than you,
about the New York School in the 1950s,
who were
John Ashbery, Frank O'Hara, James
Schuyler, and Kenneth Koch
(pronounced Coke like the coke-bottle
glasses). Optionally
also Barbara Guest, Joe Brainard, Ted
Berrigan,
and Bernadette Mayer, et al. All
indifferent to denouncing and
pronouncing, yet
(don't tell the internet) not bored or evil
but rather so beautifully exhilarated about
having washed up
on Manhattan-which-was-still-Manhattan
from wherever
(who remembered?) on waves of splattered
paint. In "The Morning
of the Poem," Schuyler told this story about
what it was like
for them to meet (I took the line indents
out, it was too much):
"When I first knew John Ashbery he slipped
me
one of his trick test questions (we were
looking at a window
full of knitted ribbon dresses): 'I don't think
James Joyce is any good: do you?' Think,
what did I think! I
didn't know you were allowed not to like
James
Joyce. The book I suppose is a masterpiece:
freedom of
choice is better. Thank you, 'Little J.A. in a
Prospect of Flowers.'"
Joyce or no Joyce, their poems rejoice in
letting in
brows of all furrinesses and their friends
as characters (poetry will be sociable
or not at all!), and exclamation marks,
kangaroos and Cokes,
Kenneth or otherwise. If New Yorkers were
Dr. Seuss drawings,
or Lana Turner were Popeye, or cherubs
were epistemology,
Republicans never noticed and still don't.
Women
were seldom props for William Tell
practice; mercy, some of the poets
were women, though more of their painter
friends were,
and returning to figuration. A few were
even heteros.
Granted, lots, whatever gender, were Ivy
League valedictorians
and track stars for Mineola Prep. There are
dodgy tales
about their dealings with LeRoi Jones, who
fled them
into the arms of Amiri Baraka. Still, in some
insane
time like 1952 or 1955 it seems they'd
already known
not only about late-night TV and comix
zines (collages!)
and that not as much literature would
follow, but also that queer
shoulders would get sprung from the
wheel. So they held
Stonewall some 15 years in advance, down
the hall
from Uncle Wystan Auden's apartment (he
left early)
and celebrated all morning and mourned
all night.
They were so sad that they wrote about
happiness,
removing the transition between the two
so the straights couldn't prosecute it. And
wrote novels together,
and ridiculous plays, very fast, that they
made
each other star in. (Oh, the punishment
theaters
now inflict for the crime of having written a
play! "Development"?
No, no. Do it like this.) They glowered drunk
at each other's boy-and-girl-friends at
parties
but always went to the parties (or not at all)
and borrowed typewriters there, if they
weren't over
in the other place, because Paris-which-
wasn't-exactly-still-Paris
was their own time-travel destination. They
were the last pack
of poets who wanted to be painters,
instead of rock stars.
So if Frank O'Hara had lived past 40 (Fire
Island, dune buggy)
maybe he would have run a Factory
that built a better Brillo box. But I didn't
come from that culture.
Even though now the palaces give my
beloved little J.A.
all the crackerjacks for being
still here, so wistful and so bereft of blood
relations.
I came from this culture (notice my
pronunciation),
where you can say James Joyce was bad all
day long
and nobody gets mad or exhilarated or
starts looking
at ribbon dresses. It's called SARDINES.
***
#SQUADGOALS: Annie Nocenti on THE WILD BUNCH | Alice Boone on PRETTY LITTLE LIARS | Gordon Dahlquist on BOWIE'S BAND | Rob Wringham on THE HOME GUARD | Jennifer Krasinski on WATERSHIP DOWN RABBITS | Annalee Newitz on ROBIN HOOD'S MERRY PALS | Adrienne Crew on THE BLOOMSBURY GROUP | Mark Kingwell on THE HONG KONG CAVALIERS | Adam McGovern on KAMANDI'S FAMILY | John Overholt on THE CLUB | Greg Rowland on THE VULTURE SQUADRON | Sara Ryan on BETSY, TACY & TIB | Chelsey Johnson on VI ÄR BÄST! | Brian Berger on THE JOHN FORD STOCK COMPANY | Sherri Wasserman on THE WARRIORS | Jessamyn West on FAREYNIKTE PARTIZANER ORGANIZATSYE | Josh Glenn on DADA | Matthew De Abaitua on THE TIME | Mandy Keifetz on THE FOUNDING FATHERS | William Nericcio on ZOOT SUIT PACHUCOS | Deb Chachra on FIREFLY CREW | Matthew Battles on THE ANIMAL FAMILY | Ingrid Schorr on THE HARLEM GLOBETROTTERS | Joe Alterio on THE USUAL GANG OF IDIOTS | Dan Reines on THE BREAKFAST CLUB | Rob Walker on LES TROIS INSÉPARABLES | Devin McKinney on 1975 RED SOX | Steph Burt on DAMAGE CONTROL | Elina Shatkin on THE HOLOGRAMS | Chris Spurgeon on THE ALKALI METALS | Carl Wilson on NEW YORK SCHOOL POETS | Barbara Bogaev on THE MOD SQUAD | Franklin Bruno on THE AACM | Judith Zissman on THE FUTURIANS | Mimi Zeiger on ARCHIGRAM | Jacob Mikanowski on THE RATBASTARDS | Lynn Peril on THE DALY SISTERS | Anindita Basu Sempere on MEG MURRY'S FAMILY | Libi Rose on THE ENIAC TEAM | Gary Panter on THE TRIBE OF HIPPIES | Peter Doyle on CORNEL WILDE BOYS | Ken Layne on THE MONKEY WRENCH GANG | Molly Wright Steenson on BAUHAUS | Katie Hennessey on BEAT POETS | Mimi Lipson on THE RUNAWAYS | Jordan Ellenberg on BOURBAKI | Michael Campochiaro on THE SUICIDE SQUAD | Deborah Wassertzug on THE BLOODHOUND GANG | Colin Dickey on ACÉPHALE | Douglas Wolk on SEVEN SOLDIERS OF VICTORY | David Smay on THE MYSTIC KNIGHTS OF THE OINGO BOINGO | Karinne Keithley Syers on BLACKLIPS PERFORMANCE CULT.
MORE ENTHUSIASM at HILOBROW
NERD YOUR ENTHUSIASM (4Q2021): NERDING | ARDUIN | KLINGON CONFIDENTIAL | MAP INSERTS | TIME | & 20 other nerdy passions. SWERVE YOUR ENTHUSIASM (3Q2021): WARHOL'S WALT WHITMAN | 70, GIRLS, 70 | TYRAEL'S MIGHT | SHIRATO SANPEI | THE LEON SUITES | & 20 other never-realized cultural productions. FIVE-O YOUR ENTHUSIASM (2Q2021): DARK SHADOWS | MANNIX | GET SMART | THE ADDAMS FAMILY | I DREAM OF JEANNIE | & 20 other Sixties (1964–1973) TV shows. FERB YOUR ENTHUSIASM (1Q2021): STEVEN UNIVERSE | TOP CAT | REN & STIMPY | SHE-RA AND THE PRINCESSES OF POWER | DRAGON BALL Z | & 20 other animated series. CARBONA YOUR ENTHUSIASM (2020): "Sex Bomb" | "Going Underground" | "Soft South Africans" | "Typical Girls" | "Human Fly" | & 20 other Seventies (1974–1983) punk singles. KLAATU YOU (2020 weekly): ZARDOZ | METROPOLIS | DARK STAR | SINS OF THE FLESHAPOIDS | SOLARIS | & dozens of other pre-STAR WARS sci-fi movies. CONVOY YOUR ENTHUSIASM (2019): THE TAKING OF PELHAM ONE TWO THREE | ROLLERBALL | BLACK SUNDAY | SORCERER | STRAIGHT TIME | & 20 other Seventies (1974–1983) action movies. SERIOCOMIC (2019 weekly): LITTLE LULU | VIZ | MARSUPILAMI | ERNIE POOK'S COMEEK | HELLBOY | & dozens of other comics. TUBE YOUR ENTHUSIASM (2018): LOONEY TUNES | THREE STOOGES | THE AVENGERS | ROCKY & BULLWINKLE | THE TWILIGHT ZONE | & 20 other Fifties (1954–1963) TV shows. WOWEE ZOWEE (2018 weekly): UNISEX | UNDER THE PINK | DUMMY | AMOR PROHIBIDO | HIPS AND MAKERS | & dozens of other Nineties (1994–2003) albums. KLUTE YOUR ENTHUSIASM (2017): THE KILLERS | BANDE À PART (BAND OF OUTSIDERS) | ALPHAVILLE | HARPER | BLOW-UP | & 20 other Sixties (1964–1973) neo-noir movies. #SQUADGOALS (2017 weekly): THE WILD BUNCH | BOWIE'S BAND | THE BLOOMSBURY GROUP | THE HONG KONG CAVALIERS | VI ÄR BÄST! & dozens of other squads. GROK MY ENTHUSIASM (2016 weekly): THE THEORY AND PRACTICE OF LUNCH | WEEKEND | MILLION YEAR PICNIC | LA BARONNE EMILE D'ERLANGER | THE SURVIVAL SAMPLER | & dozens more one-off enthusiasms. QUIRK YOUR ENTHUSIASM (2016): "Tainted Love" | "Metal" | "Frankie Teardrop" | "Savoir Faire" | "Broken English" | & 20 other Seventies (1974–1983) new wave singles. CROM YOUR ENTHUSIASM (2015): DARKER THAN YOU THINK | THE SWORD IN THE STONE | OUT OF THE SILENT PLANET | THIEVES' HOUSE | QUEEN OF THE BLACK COAST | & 20 other Thirties (1934–1943) fantasy novels. KERN YOUR ENTHUSIASM (2014): ALDINE ITALIC | DATA 70 | TORONTO SUBWAY | JOHNSTON'S "HAMLET" | TODD KLONE | & 20 other typefaces. HERC YOUR ENTHUSIASM (2013): "Spoonin' Rap" | "Rapper's Delight" | "Rappin' Blow" | "The Incredible Fulk" | "The Adventures of Super Rhyme" | & 20 other Seventies (1974–1983) hip-hop songs. KIRK YOUR ENTHUSIASM (2012): Justice or vengeance? | Kirk teaches his drill thrall to kiss | "KHAAAAAN!" | "No kill I" | Kirk browbeats NOMAD | & 20 other Captain Kirk scenes. KIRB YOUR ENTHUSIASM (2011): THE ETERNALS | BLACK MAGIC | DEMON | OMAC | CAPTAIN AMERICA | & 20 other Jack Kirby panels.