#SQUADGOALS (26)
By: Rob Walker
June 28, 2017
One in a series of enthusiastic posts, contributed by HILOBROW friends and regulars during 2017, on the subject of our favorite squads.
*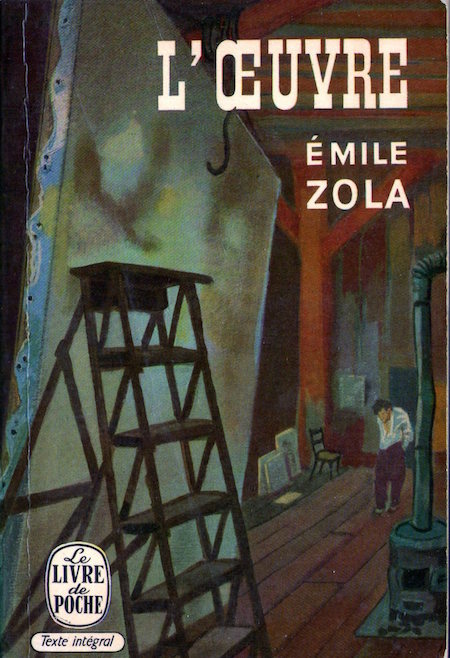 Early in The Masterpiece (serialized 1885–1886), the cocksure young painter Claude Lantier and his pals, all transplants from provincial Plassans who aspire to various artistic careers, "seem to take up the whole width" of a Parisian boulevard as they strut forth to a night of drunkenly predicting a creative revolution with themselves in the vanguard. "The gang usually spread out like that, as friends tacked themselves on to it until it looked like a horde on the war-path. As they squared their broad young shoulders, these twenty-year-olds took possession of the entire pavement. … Victory was theirs for certain." The "gang," Zola writes, is in "mad pursuit of their dreams of an artists' Utopia."
"Ah! This Paris! It's ours!" Lantier declares. "All ours for the taking!"
"And we'll take it," his fellow art-gangster, a writer named Sandoz, adds.
"Of course we will!" the others agree.
Of course they won't, and the details of their artistic ideas hardly matter. What matters is the exhilarating sense of possibility that binds them — no less genuine for all its naïveté. "The Plassans gang" stomps about "as if they wanted to conquer one district after another by flinging their startling theories in the face of its houses," wallowing in the scorn of Paris' establishment squares. "What does it matter," Lantier cries, "if the public laughs? … After all, it really amounts to a victory." Perceived as the gang's leader, he's already the subject of jealous whispers in the cafes where young artists gather, pointing at him "as if he were the chief of some terrible tribe of savages."
At the risk of over-foreshadowing, Zola quickly and correctly informs us that part of the thrill is the certainty that this cannot last: "As yet nothing had come between them, neither their fundamental disparities, which they had not realized, nor the spirit of rivalry which was one day to set them at variance. The success of one, surely, meant success for them all!" The sole established artist that the gang admires sadly explains that it never gets better than this. "If only you knew how lucky you all are to be still at the bottom of the slope," he says, but they ignore him, as they must.
Lantier was based in part on Paul Cézanne, Zola's actual childhood friend. Along with their fellow son of a Plassans-like town, Baptistin Baille (eventually a professor), they were "les trois inséparables," setting out to conquer Paris with their own "startling theories." In The Masterpiece, only Sandoz, a laughably self-serving stand-in for Zola, emerges with his integrity, humanity, and psyche intact. The rest of the gang devolves into lives of back-stabbing, creative theft, selling out, personal and artistic treachery, humiliation, and abject failure — with Lantier destined for the most pathetic future of them all. Zola sent the book to Cézanne, who never spoke to him again.
***
#SQUADGOALS: Annie Nocenti on THE WILD BUNCH | Alice Boone on PRETTY LITTLE LIARS | Gordon Dahlquist on BOWIE'S BAND | Rob Wringham on THE HOME GUARD | Jennifer Krasinski on WATERSHIP DOWN RABBITS | Annalee Newitz on ROBIN HOOD'S MERRY PALS | Adrienne Crew on THE BLOOMSBURY GROUP | Mark Kingwell on THE HONG KONG CAVALIERS | Adam McGovern on KAMANDI'S FAMILY | John Overholt on THE CLUB | Greg Rowland on THE VULTURE SQUADRON | Sara Ryan on BETSY, TACY & TIB | Chelsey Johnson on VI ÄR BÄST! | Brian Berger on THE JOHN FORD STOCK COMPANY | Sherri Wasserman on THE WARRIORS | Jessamyn West on FAREYNIKTE PARTIZANER ORGANIZATSYE | Josh Glenn on DADA | Matthew De Abaitua on THE TIME | Mandy Keifetz on THE FOUNDING FATHERS | William Nericcio on ZOOT SUIT PACHUCOS | Deb Chachra on FIREFLY CREW | Matthew Battles on THE ANIMAL FAMILY | Ingrid Schorr on THE HARLEM GLOBETROTTERS | Joe Alterio on THE USUAL GANG OF IDIOTS | Dan Reines on THE BREAKFAST CLUB | Rob Walker on LES TROIS INSÉPARABLES | Devin McKinney on 1975 RED SOX | Steph Burt on DAMAGE CONTROL | Elina Shatkin on THE HOLOGRAMS | Chris Spurgeon on THE ALKALI METALS | Carl Wilson on NEW YORK SCHOOL POETS | Barbara Bogaev on THE MOD SQUAD | Franklin Bruno on THE AACM | Judith Zissman on THE FUTURIANS | Mimi Zeiger on ARCHIGRAM | Jacob Mikanowski on THE RATBASTARDS | Lynn Peril on THE DALY SISTERS | Anindita Basu Sempere on MEG MURRY'S FAMILY | Libi Rose on THE ENIAC TEAM | Gary Panter on THE TRIBE OF HIPPIES | Peter Doyle on CORNEL WILDE BOYS | Ken Layne on THE MONKEY WRENCH GANG | Molly Wright Steenson on BAUHAUS | Katie Hennessey on BEAT POETS | Mimi Lipson on THE RUNAWAYS | Jordan Ellenberg on BOURBAKI | Michael Campochiaro on THE SUICIDE SQUAD | Deborah Wassertzug on THE BLOODHOUND GANG | Colin Dickey on ACÉPHALE | Douglas Wolk on SEVEN SOLDIERS OF VICTORY | David Smay on THE MYSTIC KNIGHTS OF THE OINGO BOINGO | Karinne Keithley Syers on BLACKLIPS PERFORMANCE CULT.
MORE ENTHUSIASM at HILOBROW
NERD YOUR ENTHUSIASM (4Q2021): NERDING | ARDUIN | KLINGON CONFIDENTIAL | MAP INSERTS | TIME | & 20 other nerdy passions. SWERVE YOUR ENTHUSIASM (3Q2021): WARHOL'S WALT WHITMAN | 70, GIRLS, 70 | TYRAEL'S MIGHT | SHIRATO SANPEI | THE LEON SUITES | & 20 other never-realized cultural productions. FIVE-O YOUR ENTHUSIASM (2Q2021): DARK SHADOWS | MANNIX | GET SMART | THE ADDAMS FAMILY | I DREAM OF JEANNIE | & 20 other Sixties (1964–1973) TV shows. FERB YOUR ENTHUSIASM (1Q2021): STEVEN UNIVERSE | TOP CAT | REN & STIMPY | SHE-RA AND THE PRINCESSES OF POWER | DRAGON BALL Z | & 20 other animated series. CARBONA YOUR ENTHUSIASM (2020): "Sex Bomb" | "Going Underground" | "Soft South Africans" | "Typical Girls" | "Human Fly" | & 20 other Seventies (1974–1983) punk singles. KLAATU YOU (2020 weekly): ZARDOZ | METROPOLIS | DARK STAR | SINS OF THE FLESHAPOIDS | SOLARIS | & dozens of other pre-STAR WARS sci-fi movies. CONVOY YOUR ENTHUSIASM (2019): THE TAKING OF PELHAM ONE TWO THREE | ROLLERBALL | BLACK SUNDAY | SORCERER | STRAIGHT TIME | & 20 other Seventies (1974–1983) action movies. SERIOCOMIC (2019 weekly): LITTLE LULU | VIZ | MARSUPILAMI | ERNIE POOK'S COMEEK | HELLBOY | & dozens of other comics. TUBE YOUR ENTHUSIASM (2018): LOONEY TUNES | THREE STOOGES | THE AVENGERS | ROCKY & BULLWINKLE | THE TWILIGHT ZONE | & 20 other Fifties (1954–1963) TV shows. WOWEE ZOWEE (2018 weekly): UNISEX | UNDER THE PINK | DUMMY | AMOR PROHIBIDO | HIPS AND MAKERS | & dozens of other Nineties (1994–2003) albums. KLUTE YOUR ENTHUSIASM (2017): THE KILLERS | BANDE À PART (BAND OF OUTSIDERS) | ALPHAVILLE | HARPER | BLOW-UP | & 20 other Sixties (1964–1973) neo-noir movies. #SQUADGOALS (2017 weekly): THE WILD BUNCH | BOWIE'S BAND | THE BLOOMSBURY GROUP | THE HONG KONG CAVALIERS | VI ÄR BÄST! & dozens of other squads. GROK MY ENTHUSIASM (2016 weekly): THE THEORY AND PRACTICE OF LUNCH | WEEKEND | MILLION YEAR PICNIC | LA BARONNE EMILE D'ERLANGER | THE SURVIVAL SAMPLER | & dozens more one-off enthusiasms. QUIRK YOUR ENTHUSIASM (2016): "Tainted Love" | "Metal" | "Frankie Teardrop" | "Savoir Faire" | "Broken English" | & 20 other Seventies (1974–1983) new wave singles. CROM YOUR ENTHUSIASM (2015): DARKER THAN YOU THINK | THE SWORD IN THE STONE | OUT OF THE SILENT PLANET | THIEVES' HOUSE | QUEEN OF THE BLACK COAST | & 20 other Thirties (1934–1943) fantasy novels. KERN YOUR ENTHUSIASM (2014): ALDINE ITALIC | DATA 70 | TORONTO SUBWAY | JOHNSTON'S "HAMLET" | TODD KLONE | & 20 other typefaces. HERC YOUR ENTHUSIASM (2013): "Spoonin' Rap" | "Rapper's Delight" | "Rappin' Blow" | "The Incredible Fulk" | "The Adventures of Super Rhyme" | & 20 other Seventies (1974–1983) hip-hop songs. KIRK YOUR ENTHUSIASM (2012): Justice or vengeance? | Kirk teaches his drill thrall to kiss | "KHAAAAAN!" | "No kill I" | Kirk browbeats NOMAD | & 20 other Captain Kirk scenes. KIRB YOUR ENTHUSIASM (2011): THE ETERNALS | BLACK MAGIC | DEMON | OMAC | CAPTAIN AMERICA | & 20 other Jack Kirby panels.