E.J. Bellocq
By: Jacob Mikanowski
August 19, 2015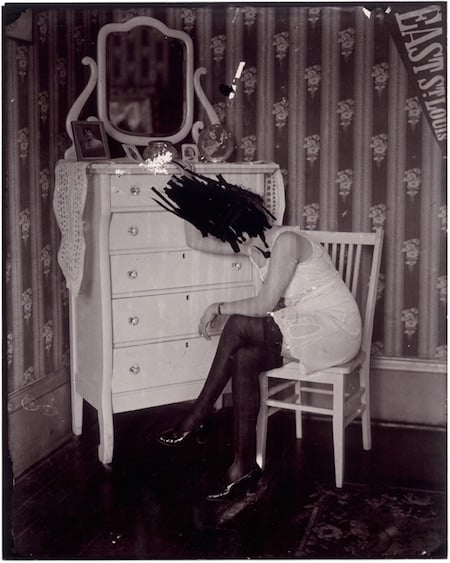 E.J. BELLOCQ (1873–1949) is one of the most enigmatic figures in the whole history of photography. We know little about his life. If the photographer Lee Friedlander hadn't stumbled onto a cache of his negatives in the drawer of an antique store, years after his death, we'd probably know nothing at all. He was born in New Orleans, into a wealthy Creole family. He took up photography first as a hobby, and then made it into a profession, taking pictures of boats for local shipping companies. Bellocq is rumored to have been a dwarf, and to have suffered from hydrocephaly. That's probably untrue. He was a dandy though, and his passions took him to Storyville, New Orleans' legal red light district. There he took photographs inside bordellos and opium dens. The only ones that survive are of prostitutes. They are all portraits. Bellocq's relationship to his sitters is unclear. Was he their friend, their lover, a client, or an interloper? The portraits themselves suggest that there was some warmth in the relationship. They are warm, intimate, and remarkably relaxed. Each one conjures up a world. But why do some have their faces scratched out? And why were most of them never developed? Bellocq's work is proof that in photography, mystery is a byproduct of ignorance, just as beauty can be the result of chance.
***
On his or her birthday, HiLobrow irregularly pays tribute to one of our high-, low-, no-, or hilobrow heroes. Also born this date: Ogden Nash, Skip Williamson, John Cotton Dana.
READ MORE about men and women born on the cusp between the Anarcho-Symbolist (1864–73) and Psychonaut (1874–1883) Generations.