Jay DeFeo
By: Peggy Nelson
March 31, 2013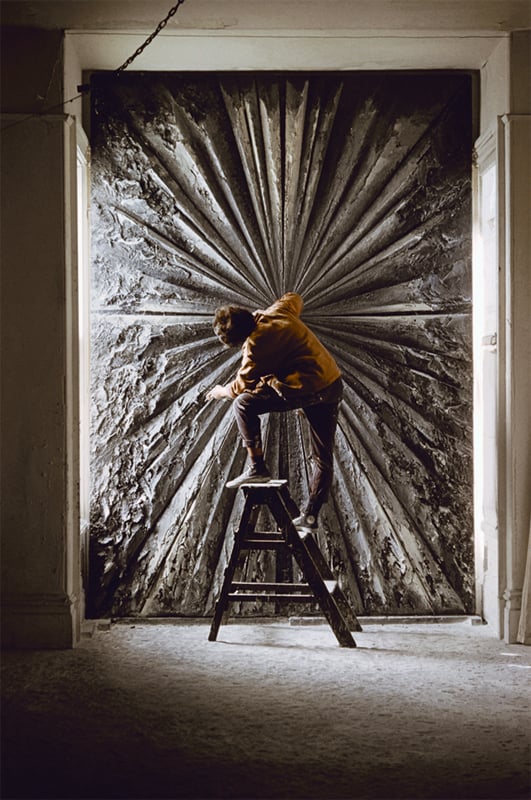 JAY DEFEO (1929–89), whose best-known work is the monumental painting The Rose, is best known herself for her obsessive approach to its creation. A central figure in the mid-century San Francisco art scene, DeFeo forged her own path through the ferment and experimentation of the Beat era, while grappling with the weight of art history, from prehistoric sculpture to the outsized post-war influence of Jackson Pollock. From 1958 to 1966 she worked on, and worked over, this single painting. She became a fixture at the local hardware store, going back for more and more gallons of white and grey to be emptied and applied. She scraped paint away, then applied it again. She began to carve into it when the layers became deep enough, and slowly expanded its textures from hard edges to rougher, more organic forms. As much an uncomfortable record of intense inwardness as it is an imposing object, The Rose and its process embody a set of uneasy paradoxes. It is a work more of architecture than painting, whose presence shut out the light in her apartment, composed in decidedly nonfloral whites and greys. It grew to over two tons, yet was constructed of materials so unstable that it began to crumble from the inside out. And its name belies its sweetness; it looks like nothing so much as a fortress wall, splintering from the other side, the collision of an irresistible force with an immovable object. DeFeo's later output was sporadic; plagued by financial uncertainty and ill health, she never attempted another work on the scale of The Rose. Yet all her work wrestles with the creative urge as primal force: monochromatic shapes push and surge against the picture plane, while delicate lines slice an ever-more finely-grained uncertainty. DeFeo died of cancer at 60, possibly as a result of the lead paint used in The Rose. But she left us signs of an indelible struggle, documenting that life force we can neither master, nor leave alone.
Click here for info on the DeFeo retreospective at the Whitney.
***
On his or her birthday, HiLobrow irregularly pays tribute to one of our high-, low-, no-, or hilobrow heroes. Also born this date: Lefty Frizzell, Octavio Paz.
READ MORE about members of the Postmodernist Generation (1924-33).