#SQUADGOALS (51)
By: David Smay
December 20, 2017
One in a series of enthusiastic posts, contributed by HILOBROW friends and regulars during 2017, on the subject of our favorite squads.
*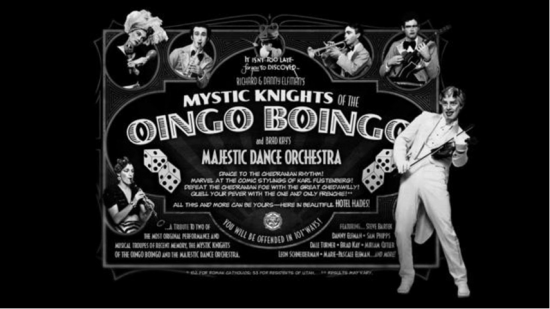 The countercultural ferment of the late Sixties and early Seventies churned up a slew of Anarchisto Art Theatres driven by an eager glee to offend. These weren't full-blown bohemian scenes, but tighter constellations of talent, rarely more than twenty people, dotted around the country. Communitarian ideals about live/work/sex/drugs/create lingered into the mid-seventies producing the Cockettes in San Francisco with their Nocturnal Dream Show at the Palace Theater, John Waters' Dreamlanders in Baltimore and Provincetown, the original Rocky Horror Picture Show on stage in London, Charles Ludlam and John Vacarro's Theater of the Ridiculous (the prototype for these groups) in downtown Manhattan, and my squad of choice, The Mystic Knights of the Oingo Boingo from Los Angeles.
Best known today as the wacky cabaret precursor to the New Wave band Oingo Boingo (which is itself now somewhat overshadowed by Danny Elfman's soundtrack career) The Mystic Knights carved out an uniquely Angeleno take on performance art. Triangulating between Dr. Demento, Ernic Kovacs' Nairobi Trio and the loopiest Betty Boop cartoons they served up arty provocations with high entertainment value.
It all began when the ginger-haired Brothers Elfman left their native Los Angeles to join Jérôme Savary's Le Grand Magic Circus in Paris (another such theatrical collective). Thus initiated as children of paradise, Rick married and absconded with the leading lady, Marie-Pascal, and teen prodigy Danny composed his first show. While Danny detoured through Africa to study exotic percussion Rick returned to L.A. pulling together an ensemble of talented, jazz-sharp musicians including Steve Bartek, Sluggo Phipps, Johnny Vatos — and promptly put them in gorilla suits. Because while Cab Calloway covers are fun, it's the height of spectacle to have a Chinese New Year dragon rampaging through a pile of mime-faced musicians in front of do-it-yourself backdrops of German Expressionism.
The younger Elfman was folded back into the mix, and soon they were all pounding out extended gamelan scores in Noh masks for Balinese dancers, or crooning along to the Fleischer Brothers' Bimbo's Initiation. The Mystic Knights finally broke through with a legendary Gong Show performance of unbridled mayhem culminating in a rocket-shaped cod piece ejaculating glitter. They won decisively. Their shows began to sell out and filmmakers put them in the movies for delicious dashes of pre-punk weirdness. Their sole recording during this era was the novelty exploitation single "I Want My Baby Back," a pretty doo-wop number about Patty Hearst.
The great artifact of the Mystic Knights is the cult film Forbidden Zone directed by Richard Elfman, scored by Danny Elfman, cowritten by Matthew Bright (who played Squeeze-It and went on to direct Freeway), starring Hervé Villechaize as King Fausto and the incomparable Susan Tyrell as Queen Doris of the Sixth Dimension. Imagine the scene as Tyrell and Villechaize became lovers, with the École des Beaux-Arts trained Hervé helping to paint the Caligarian sets designed by Marie-Pascal. With something to offend everybody, Forbidden Zone seemed to herald a new punkish cinematic sensibility, but really was the last great act of The Mystic Knights. Danny split off the musicians for the leaner, ska-inflected Oingo Boingo which arrived on the airwaves even as Forbidden Zone took up its rightful place on the Midnight Movie circuit. Though the evolution of Oingo Boingo from outré cabaret to New Wave icons is a singular transformation, it is that lost Dada Vaudeville era of the early Seventies which fascinates me.
***
#SQUADGOALS: Annie Nocenti on THE WILD BUNCH | Alice Boone on PRETTY LITTLE LIARS | Gordon Dahlquist on BOWIE'S BAND | Rob Wringham on THE HOME GUARD | Jennifer Krasinski on WATERSHIP DOWN RABBITS | Annalee Newitz on ROBIN HOOD'S MERRY PALS | Adrienne Crew on THE BLOOMSBURY GROUP | Mark Kingwell on THE HONG KONG CAVALIERS | Adam McGovern on KAMANDI'S FAMILY | John Overholt on THE CLUB | Greg Rowland on THE VULTURE SQUADRON | Sara Ryan on BETSY, TACY & TIB | Chelsey Johnson on VI ÄR BÄST! | Brian Berger on THE JOHN FORD STOCK COMPANY | Sherri Wasserman on THE WARRIORS | Jessamyn West on FAREYNIKTE PARTIZANER ORGANIZATSYE | Josh Glenn on DADA | Matthew De Abaitua on THE TIME | Mandy Keifetz on THE FOUNDING FATHERS | William Nericcio on ZOOT SUIT PACHUCOS | Deb Chachra on FIREFLY CREW | Matthew Battles on THE ANIMAL FAMILY | Ingrid Schorr on THE HARLEM GLOBETROTTERS | Joe Alterio on THE USUAL GANG OF IDIOTS | Dan Reines on THE BREAKFAST CLUB | Rob Walker on LES TROIS INSÉPARABLES | Devin McKinney on 1975 RED SOX | Steph Burt on DAMAGE CONTROL | Elina Shatkin on THE HOLOGRAMS | Chris Spurgeon on THE ALKALI METALS | Carl Wilson on NEW YORK SCHOOL POETS | Barbara Bogaev on THE MOD SQUAD | Franklin Bruno on THE AACM | Judith Zissman on THE FUTURIANS | Mimi Zeiger on ARCHIGRAM | Jacob Mikanowski on THE RATBASTARDS | Lynn Peril on THE DALY SISTERS | Anindita Basu Sempere on MEG MURRY'S FAMILY | Libi Rose on THE ENIAC TEAM | Gary Panter on THE TRIBE OF HIPPIES | Peter Doyle on CORNEL WILDE BOYS | Ken Layne on THE MONKEY WRENCH GANG | Molly Wright Steenson on BAUHAUS | Katie Hennessey on BEAT POETS | Mimi Lipson on THE RUNAWAYS | Jordan Ellenberg on BOURBAKI | Michael Campochiaro on THE SUICIDE SQUAD | Deborah Wassertzug on THE BLOODHOUND GANG | Colin Dickey on ACÉPHALE | Douglas Wolk on SEVEN SOLDIERS OF VICTORY | David Smay on THE MYSTIC KNIGHTS OF THE OINGO BOINGO | Karinne Keithley Syers on BLACKLIPS PERFORMANCE CULT.
MORE ENTHUSIASM at HILOBROW
NERD YOUR ENTHUSIASM (4Q2021): NERDING | ARDUIN | KLINGON CONFIDENTIAL | MAP INSERTS | TIME | & 20 other nerdy passions. SWERVE YOUR ENTHUSIASM (3Q2021): WARHOL'S WALT WHITMAN | 70, GIRLS, 70 | TYRAEL'S MIGHT | SHIRATO SANPEI | THE LEON SUITES | & 20 other never-realized cultural productions. FIVE-O YOUR ENTHUSIASM (2Q2021): DARK SHADOWS | MANNIX | GET SMART | THE ADDAMS FAMILY | I DREAM OF JEANNIE | & 20 other Sixties (1964–1973) TV shows. FERB YOUR ENTHUSIASM (1Q2021): STEVEN UNIVERSE | TOP CAT | REN & STIMPY | SHE-RA AND THE PRINCESSES OF POWER | DRAGON BALL Z | & 20 other animated series. CARBONA YOUR ENTHUSIASM (2020): "Sex Bomb" | "Going Underground" | "Soft South Africans" | "Typical Girls" | "Human Fly" | & 20 other Seventies (1974–1983) punk singles. KLAATU YOU (2020 weekly): ZARDOZ | METROPOLIS | DARK STAR | SINS OF THE FLESHAPOIDS | SOLARIS | & dozens of other pre-STAR WARS sci-fi movies. CONVOY YOUR ENTHUSIASM (2019): THE TAKING OF PELHAM ONE TWO THREE | ROLLERBALL | BLACK SUNDAY | SORCERER | STRAIGHT TIME | & 20 other Seventies (1974–1983) action movies. SERIOCOMIC (2019 weekly): LITTLE LULU | VIZ | MARSUPILAMI | ERNIE POOK'S COMEEK | HELLBOY | & dozens of other comics. TUBE YOUR ENTHUSIASM (2018): LOONEY TUNES | THREE STOOGES | THE AVENGERS | ROCKY & BULLWINKLE | THE TWILIGHT ZONE | & 20 other Fifties (1954–1963) TV shows. WOWEE ZOWEE (2018 weekly): UNISEX | UNDER THE PINK | DUMMY | AMOR PROHIBIDO | HIPS AND MAKERS | & dozens of other Nineties (1994–2003) albums. KLUTE YOUR ENTHUSIASM (2017): THE KILLERS | BANDE À PART (BAND OF OUTSIDERS) | ALPHAVILLE | HARPER | BLOW-UP | & 20 other Sixties (1964–1973) neo-noir movies. #SQUADGOALS (2017 weekly): THE WILD BUNCH | BOWIE'S BAND | THE BLOOMSBURY GROUP | THE HONG KONG CAVALIERS | VI ÄR BÄST! & dozens of other squads. GROK MY ENTHUSIASM (2016 weekly): THE THEORY AND PRACTICE OF LUNCH | WEEKEND | MILLION YEAR PICNIC | LA BARONNE EMILE D'ERLANGER | THE SURVIVAL SAMPLER | & dozens more one-off enthusiasms. QUIRK YOUR ENTHUSIASM (2016): "Tainted Love" | "Metal" | "Frankie Teardrop" | "Savoir Faire" | "Broken English" | & 20 other Seventies (1974–1983) new wave singles. CROM YOUR ENTHUSIASM (2015): DARKER THAN YOU THINK | THE SWORD IN THE STONE | OUT OF THE SILENT PLANET | THIEVES' HOUSE | QUEEN OF THE BLACK COAST | & 20 other Thirties (1934–1943) fantasy novels. KERN YOUR ENTHUSIASM (2014): ALDINE ITALIC | DATA 70 | TORONTO SUBWAY | JOHNSTON'S "HAMLET" | TODD KLONE | & 20 other typefaces. HERC YOUR ENTHUSIASM (2013): "Spoonin' Rap" | "Rapper's Delight" | "Rappin' Blow" | "The Incredible Fulk" | "The Adventures of Super Rhyme" | & 20 other Seventies (1974–1983) hip-hop songs. KIRK YOUR ENTHUSIASM (2012): Justice or vengeance? | Kirk teaches his drill thrall to kiss | "KHAAAAAN!" | "No kill I" | Kirk browbeats NOMAD | & 20 other Captain Kirk scenes. KIRB YOUR ENTHUSIASM (2011): THE ETERNALS | BLACK MAGIC | DEMON | OMAC | CAPTAIN AMERICA | & 20 other Jack Kirby panels.