Doug E. Fresh
By: Joshua Glenn
September 17, 2015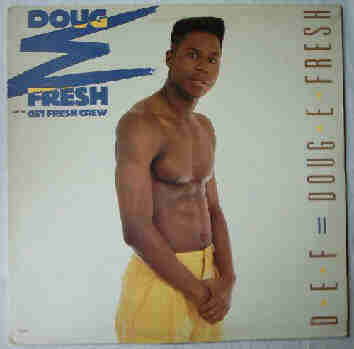 In 1984, the Harlem-based label Enjoy released "Just Having Fun (Do the Beatbox)," a hip-hop single on which a teenaged DOUG E. FRESH (Douglas E. Davis, born 1966) brilliantly mimicked the riff, vocals, and hi-hats of Kraftwerk's 1977 song "Trans Europe Express" (which Afrika Bambaataa had sampled on 1982's "Planet Rock"), not to mention the beat of The Art of Noise's 1983 dance-chart hit "Beat Box." The title of another Doug E. Fresh single from the same year staked the artist's claim as "The Original Human Beatbox." That single was a Martial-like response to the Fat Boys' "Human Beat Box"; the Fat Boys' beatboxer, Darren "Buffy" Robinson, had — Fresh claimed — plagiarized the style he'd invented in elementary school. (As with ancient Roman poetry, among early hip-hop acts performing, not recording, was supposed to guarantee ownership of one's work.) The two chart-topping tracks Fresh recorded next, with the Get Fresh Crew and guest rapper Slick Rick (then: M.C. Ricky D) are smart, funny, obscene, enthralling meta-commentaries on what it meant, then, to be young and black. On "The Show," and on that track's B-side, "La Di Da Di" (1985), Fresh gives a master class in imitation electronic effects, vocal percussion, non-lexical vocables, and I don't even know what else. Like a chance encounter of a sewing machine and an umbrella on a dissection table, Doug E. Fresh's music is ready-made entertainment: a sophisticated reimagining and brilliant misuse of materials found close to hand.
HIP HOP ON HILOBROW: HERC YOUR ENTHUSIASM series (25 posts about old-school hip hop) | DJ Kool Herc | Gil Scott-Heron | Slick Rick | Darryl "D.M.C." McDaniels | Afrika Bambaataa | Biz Markie | U-God | Slug | Adam Yauch | Ghostface Killah | DJ Run | Flavor Flav | Scott La Rock | GZA | Schoolly D | Aesop Rock | Terminator X | Notorious B.I.G. | Melle Mel | Doug E. Fresh | Kool Keith | Rick Rubin | Rakim | Ol' Dirty Bastard | Madlib | Talib Kweli | Danger Mouse | Kool Moe Dee | Chuck D | Dizzee Rascal | RZA | Cee-Lo Green | Best Ever Clean Hip Hop
***
On his or her birthday, HiLobrow irregularly pays tribute to one of our high-, low-, no-, or hilobrow heroes. Also born this date: Yuji Naka, Edgar Ulmer, William Carlos Williams, Ken Kesey, Hank Williams.
READ MORE about members of the Reconstructionist Generation (1964–1973).