Kool Moe Dee
By: Douglas Wolk
August 8, 2009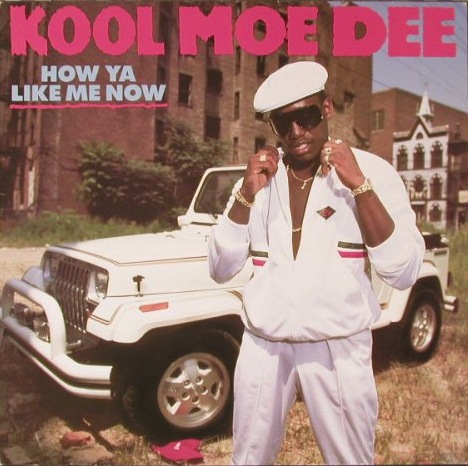 Pity Mohandas Dewese, d/b/a KOOL MOE DEE (born 1962): briefly one of the most popular rappers alive, he's now mostly remembered for a feud with LL Cool J that the market effectively decided in LL's favor. (The old-schooler with the wraparound shades got in the best blow, though: the pugnacious B-side "Let's Go," in which he subjects Mr. Smith to a torrent of alliterative abuse, ending "laborious louse on the loser's list/live in limbo, lyrical lapse/low-life with the loud raps." Whoa.) KMD was maybe the most technically impressive of the first wave of recorded MCs — check out his breath-defying verses on the Treacherous Three's "New Rap Language" — but his blunt, declamatory party-rocking started to sound like a throwback around the time his career peaked. His 2003 book, There's a God on the Mic, is a fascinatingly pedantic, wonky breakdown of his favorite MCs, evaluated in 17 categories and ranked. He lists himself as #5 — modestly, but not too modestly — and LL Cool J as #7.
***
HIP HOP ON HILOBROW: HERC YOUR ENTHUSIASM series (25 posts about old-school hip hop) | DJ Kool Herc | Gil Scott-Heron | Slick Rick | Darryl "D.M.C." McDaniels | Afrika Bambaataa | Biz Markie | U-God | Slug | Adam Yauch | Ghostface Killah | DJ Run | Flavor Flav | Scott La Rock | GZA | Schoolly D | Aesop Rock | Terminator X | Notorious B.I.G. | Melle Mel | Doug E. Fresh | Kool Keith | Rick Rubin | Rakim | Ol' Dirty Bastard | Madlib | Talib Kweli | Danger Mouse | Kool Moe Dee | Chuck D | Dizzee Rascal | RZA | Cee-Lo Green | Best Ever Clean Hip Hop
On his or her birthday, HiLobrow irregularly pays tribute to one of our high-, low-, no-, or hilobrow heroes. Also born this date: Ronnie Biggs
READ MORE about members of the Original Generation X (1954–1963).