DJ Kool Herc
By: Franklin Bruno
April 16, 2013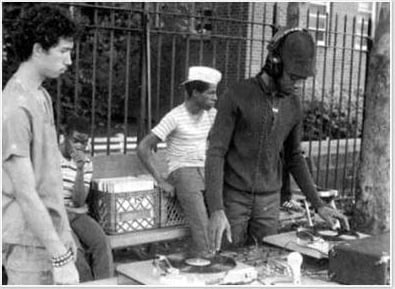 Find the hardest, funkiest record you can: The Isley Brothers' "If You Want to Get Into Something," say, or The Incredible Bongo Band's "Apache," which will one day become "the b-boy's national anthem." Isolate the record's break — the part where the "song" drops out, leaving the supremely danceable, percussive texture you've noticed party- and club-goers waiting for. Now, get another copy of the same record (and, on your father's advice, soak off the labels so other DJs can't bite your set). Play the break from one, and then the other (on a second turntable); manually backcue the first record to the start of the same section; repeat several times, creating a seamless rhythmic loop. It's the early 1970s, you're DJ KOOL HERC (Clive Campbell, born 1955) and you've just invented the breakbeat, a key element of hip-hop. A West Indian immigrant weaned on Trenchtown sound-systems before moving to the Bronx with his family at age 12, Herc's turntable technique scorched the dance floor, as intended — but it also facilitated the extension of DJs' traditional between-song exhortations into MC'ing — that is, rapping — as we know it. And there's the rub: though Herc dabbled in Jamaican-style "toasting," he was neither a rapper at heart nor a nascent producer, and he was eclipsed, as early as 1977, by such worthy contemporaries as Afrika Bambaataa and Grandmaster Flash, who took his innovations — and crews of vocalists — into the studio. Herc, however, never made a record of "his own," and while he remains an active live DJ, especially in Europe, he has never enjoyed the financial fruits of the seed he planted. Unfair? Yes. But then, Prometheus never managed to monetize his gift to humanity either.
***
HIP HOP ON HILOBROW: HERC YOUR ENTHUSIASM series (25 posts about old-school hip hop) | DJ Kool Herc | Gil Scott-Heron | Slick Rick | Darryl "D.M.C." McDaniels | Afrika Bambaataa | Biz Markie | U-God | Slug | Adam Yauch | Ghostface Killah | DJ Run | Flavor Flav | Scott La Rock | GZA | Schoolly D | Aesop Rock | Terminator X | Notorious B.I.G. | Melle Mel | Doug E. Fresh | Kool Keith | Rick Rubin | Rakim | Ol' Dirty Bastard | Madlib | Talib Kweli | Danger Mouse | Kool Moe Dee | Chuck D | Dizzee Rascal | RZA | Cee-Lo Green | Best Ever Clean Hip Hop
On his or her birthday, HiLobrow irregularly pays tribute to one of our high-, low-, no-, or hilobrow heroes. Also born this date: Tristan Tzara, Kingsley Amis.
READ MORE about members of the Original Generation X (1954–1963).