Schoolly D
By: Joshua Glenn
June 22, 2010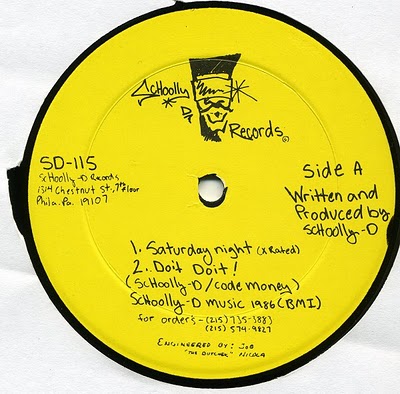 "Old-school" hip hop, as it was dubbed after the fact (the term hip hop was coined in 1974), was a competitive yet light-hearted New York fad which, by the time Jennifer Beals mashed up breakdancing with ballet in Flashdance (1983), looked like it was on its way out. That same year, however, Run-D.M.C.'s "It's Like That"/"Sucker MCs" cassette inaugurated hip hop's confrontational, socio-politically engaged "new-school" era. Too often neglected in this standard history is West Philly rapper SCHOOLLY D (Jesse B. Weaver Jr., born 1966), whose moniker suggests that he was neither old- nor new-school; instead, he was (in those days, anyway) fiercely independent, to the point of launching his own label in '84. Long before Paul Beatty's character DJ Darky announced that "Blackness is passé" — and unlike West Coast rappers, whom Spike Lee has accused of minstrelsy — Schoolly D lampooned urban black fake authenticity even as he inadvertantly pioneered gangsta rap. (His '85 song "P.S.K. What Does It Mean?" was a critical influence on LA's Ice T.) Nowhere are Schooly D's nobrow proclivities more in evidence than on the self-mocking, cowbell-driven title track of Saturday Night (1987): "We got into my room, bitch started to scream./Momma busted in — what a fucked-up scene./Shirt ripped off, drawers down to my knees:/'Wait, Momma! Wait, Momma! Wait, wait, please! Put back your gun, put down your broom.'/My mom fucked up the room." Now, that's gangsta.
***
HIP HOP ON HILOBROW: HERC YOUR ENTHUSIASM series (25 posts about old-school hip hop) | DJ Kool Herc | Gil Scott-Heron | Slick Rick | Darryl "D.M.C." McDaniels | Afrika Bambaataa | Biz Markie | U-God | Slug | Adam Yauch | Ghostface Killah | DJ Run | Flavor Flav | Scott La Rock | GZA | Schoolly D | Aesop Rock | Terminator X | Notorious B.I.G. | Melle Mel | Doug E. Fresh | Kool Keith | Rick Rubin | Rakim | Ol' Dirty Bastard | Madlib | Talib Kweli | Danger Mouse | Kool Moe Dee | Chuck D | Dizzee Rascal | RZA | Cee-Lo Green | Best Ever Clean Hip Hop
On his or her birthday, HiLobrow irregularly pays tribute to one of our high-, low-, no-, or hilobrow heroes. Also born this date: Félix Fénéon, Green Gartside, David Rees, Octavia Butler, Todd Rundgren.
READ MORE about the Reconstructionist Generation (1964-73).