CURVE YOUR ENTHUSIASM (5)
By: Bishakh Som
July 14, 2023
One in a series of 25 enthusiastic posts, contributed by 25 HILOBROW friends and regulars, on the topic of reconsidered passions, reassessed hates, and reversed feelings everywhere in-between. Series edited by Adam McGovern.
*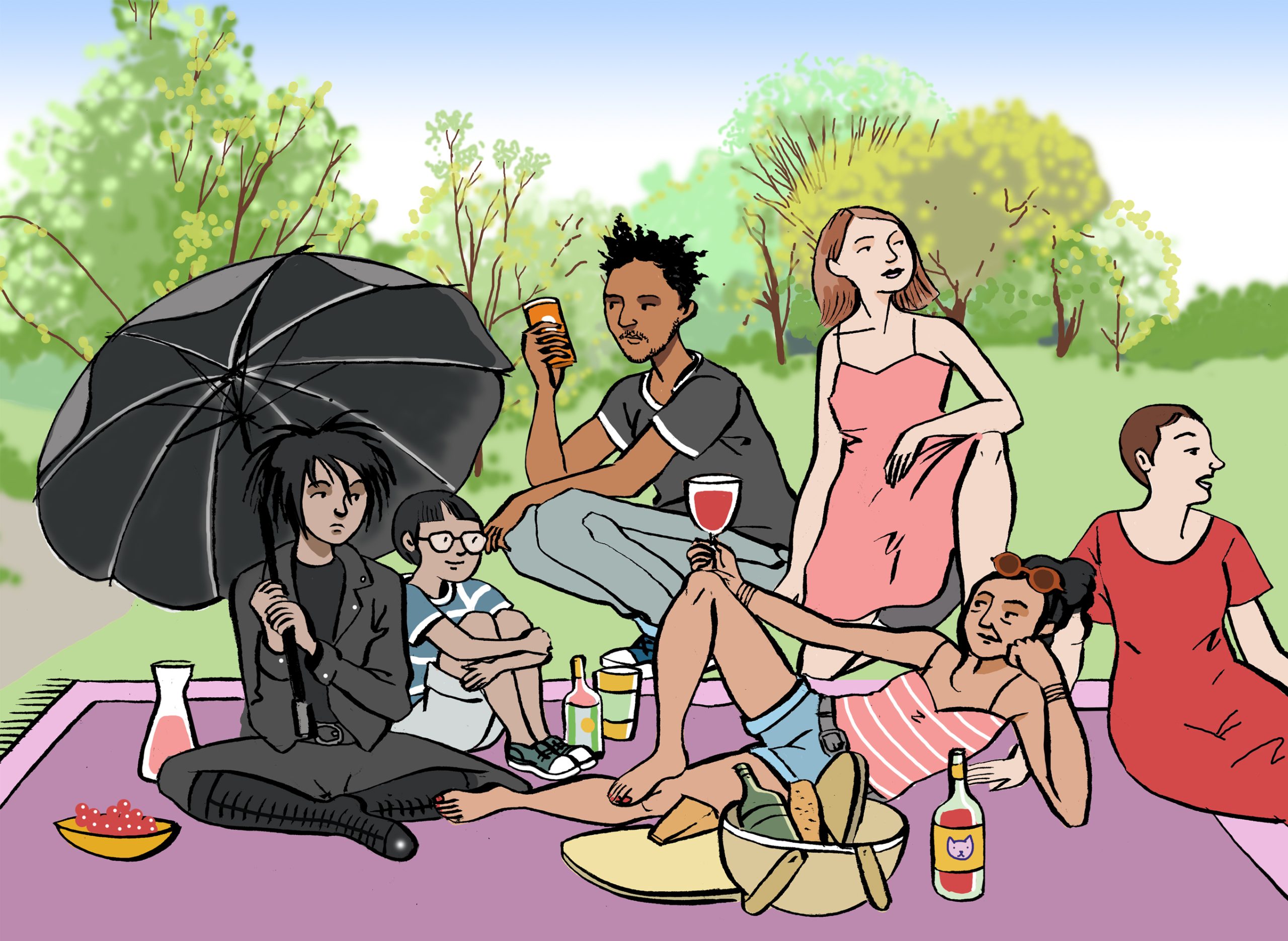 SUMMER
My skinny thighs, sticking to the leather seats of my aunt's Cadillac Sedan de Ville. B.J. Thomas and Gordon Lightfoot on her "Easy Listening Hits of the 1970s" 8-track. A landscape of exposed flesh. And oh, the excruciating tedium. This is what summertime meant to me as a child. And this was just in New York. If my family took me to India, as they did every two years, we'd inevitably go in July and August, when even the cooling effect of the monsoon season did little to alleviate the heavy heat. These were the years of "load-shedding," which meant the electricity would give out for hours at a time, every day: the ceiling fans all ground to a halt, and we were reduced to trying desperately to cool ourselves by hand with paper fans. I wanted more than anything to come back to NYC, if only for the air-conditioning.
Discovering goth in high school only inflated my antipathy. I longed for gray skies, windswept moors, the melancholy of autumn and the quiet of winter. I wanted to cocoon myself in mohair sweaters and boots, to cover up my gangly limbs and awkward body, which was obviously impossible after June. Instead, it was ill-fitting shorts and the dreaded rubber flip-flops. God, I hated the summer. And so it would be for most of my life.
Until my late 40s, when I came out as trans. When I started becoming a little more comfortable with my body. I grew my hair out, started experimenting with capri pants, camisole tops, Daisy Duke shorts. At the same time, I started wearing more South Asian gear: salwar kameez, kurtas, tunics — not only because they were femme, but because they felt good in the heat. And since I didn't think I could rock combat boots with this look, I gave in and bought sandals. (Oh, not flip-flops, mind you! Elegantly strappy barely-there shoes, rather.)
What was happening to me? 17-year old Bishakh would've had a full-on aesthetic conniption. Well, that is what trans will do to you, honey. You'll start epilating your legs and realizing they're not so hideous after all. Why, you'll even want to start showing them off! You'll discover that your shoulders, which you always covered up in three-quarter sleeve baseball tops, are actually quite shapely. And you'll want to uncover them, framed only in a Cocteau Twins tank top. You know how you did your best to insist on Converse low-tops in the Kolkata heat? Well, you'll be stoked to finally feel the sun on your feet, the squelch of wet grass between your toes, the thrill and reckoning of your first pedicure. You'll think: "Aw, we don't need a/c today, let's just go to the roof and drink our Malbec." You'll make plans to meet friends on a 90 degree afternoon, when the Prospect Park breezes and the sight of frolicking puppies will conjure sappy, sentimental and thoroughly ungothy thoughts. And maybe, just maybe, you'll finally learn to accept yourself.
***
CURVE YOUR ENTHUSIASM: INTRODUCTION by Adam McGovern | Tom Nealon on PIZZA PURISM | Holly Interlandi on BOY BANDS | Heather Quinlan on THE '86 METS | Whitney Matheson on THE SMITHS | Bishakh Som on SUMMER | Jeff Lewonczyk on WHOLE BELLY CLAMS | Kelly Jean Fitzsimmons on HOW I MET YOUR MOTHER | Nikhil Singh on LOVE ISLAND UK | Adrienne Crew on CILANTRO | Adam McGovern on MISSING PERSONS | Art Wallace on UFOs | Fran Pado on LIVERWURST | Lynn Peril on ELTON JOHN'S GREATEST HITS | Marlon Stern Lopez on ADOLESCENT REBELLION | Juan Gonzalez on STAN & JACK or JACK & STAN | Christopher-Rashee Stevenson on BALTIMORE | Josh Glenn on FOOTLOOSE | Annie Nocenti on SIDEVIEW MIRROR | Mandy Keifetz on BREATHLESS | Brian Berger on HARRY CREWS | Ronald Wimberly on GAMING AND DATING | Michele Carlo on HERITAGE FOODS | Gabriela Pedranti on MADONNA | Ingrid Schorr on MAXFIELD PARRISH AND SUE LEWIN | Mariane Cara on ORANGE.
MORE ENTHUSIASM at HILOBROW
MÖSH YOUR ENTHUSIASM (1Q2024): ENTER SANDMAN | MILQUETOAST | CHRISTBAIT RISING | GOING BLIND | HERE COME THE COPS | & 20 other Eighties (1984–1993) Metal songs. STOOGE YOUR ENTHUSIASM (4Q2023): MOVE ON FAST | 96 TEARS | SHE CRACKED | WHAT A WAY TO DIE | PSYCHOTIC REACTION | & 20 other Sixties (1964–1973) proto-punk songs. CURVE YOUR ENTHUSIASM (3Q2023): PIZZA PURISM | BOY BANDS | THE '86 METS | LOVE ISLAND UK | ELTON JOHN | & 20 other reconsidered enthusiasms. TEEN YOUR ENTHUSIASM (2Q2023): ANDY GIBB | VALERIE BERTINELLI | KIM WILDE | ARLO GUTHRIE | MIKE PATTON | & 20 other heartthrobs from our adolescences. DOLLY YOUR ENTHUSIASM (1Q2023): WE FOUND IT | TOGETHER AGAIN | SUNDAY MORNIN' COMIN' DOWN | BAD CASE OF THE BLUES | FANCY | & 20 other Sixties (1964–1973) Country records. KILL YOUR ENTHUSIASM (4Q2022): LT. TASHA YAR | JOYCE SUMMERS | COL. HENRY BLAKE | MRS. LANDINGHAM | ALEX KAMAL | & 20 other TV deaths. BLURB YOUR ENTHUSIASM (3Q2022): LEFT-CORNER BRICK | JOY IS RESISTANCE | THE FUTURE IS PASSÉ | EVERY MINUTE AN OCEAN | SHUT UP, HE EXPLAINED | & 20 other apothegms to live by. KOJAK YOUR ENTHUSIASM (2Q2022): ARK II | WKRP IN CINCINNATI | BUCK ROGERS | THE WHITE SHADOW | POLICE WOMAN | & 20 other Seventies (1974–1983) TV shows. KICK YOUR ENTHUSIASM (1Q2022): KUILL | CATO | COSMO | TRIXIE | VOLSTAGG | & 20 other sidekicks. NERD YOUR ENTHUSIASM (4Q2021): TIME | THE POST OFFICE | ARDUIN | DOUBT | SUMMATIONS | & 20 other nerdy passions. SWERVE YOUR ENTHUSIASM (3Q2021): WARHOL'S WALT WHITMAN | 70, GIRLS, 70 | TYRAEL'S MIGHT | SHIRATO SANPEI | THE LEON SUITES | & 20 other never-realized cultural productions. FIVE-O YOUR ENTHUSIASM (2Q2021): DARK SHADOWS | MANNIX | GET SMART | THE ADDAMS FAMILY | I DREAM OF JEANNIE | & 20 other Sixties (1964–1973) TV shows. FERB YOUR ENTHUSIASM (1Q2021): STEVEN UNIVERSE | TOP CAT | REN & STIMPY | SHE-RA AND THE PRINCESSES OF POWER | DRAGON BALL Z | & 20 other animated series. CARBONA YOUR ENTHUSIASM (2020): "Sex Bomb" | "Going Underground" | "Soft South Africans" | "Typical Girls" | "Human Fly" | & 20 other Seventies (1974–1983) punk singles. KLAATU YOU (2020 weekly): ZARDOZ | METROPOLIS | DARK STAR | SINS OF THE FLESHAPOIDS | SOLARIS | & dozens of other pre-STAR WARS sci-fi movies. CONVOY YOUR ENTHUSIASM (2019): THE TAKING OF PELHAM ONE TWO THREE | ROLLERBALL | BLACK SUNDAY | SORCERER | STRAIGHT TIME | & 20 other Seventies (1974–1983) action movies. SERIOCOMIC (2019 weekly): LITTLE LULU | VIZ | MARSUPILAMI | ERNIE POOK'S COMEEK | HELLBOY | & dozens of other comics. TUBE YOUR ENTHUSIASM (2018): LOONEY TUNES | THREE STOOGES | THE AVENGERS | ROCKY & BULLWINKLE | THE TWILIGHT ZONE | & 20 other Fifties (1954–1963) TV shows. WOWEE ZOWEE (2018 weekly): UNISEX | UNDER THE PINK | DUMMY | AMOR PROHIBIDO | HIPS AND MAKERS | & dozens of other Nineties (1994–2003) albums. KLUTE YOUR ENTHUSIASM (2017): THE KILLERS | BANDE À PART (BAND OF OUTSIDERS) | ALPHAVILLE | HARPER | BLOW-UP | & 20 other Sixties (1964–1973) neo-noir movies. #SQUADGOALS (2017 weekly): THE WILD BUNCH | BOWIE'S BAND | THE BLOOMSBURY GROUP | THE HONG KONG CAVALIERS | VI ÄR BÄST! & dozens of other squads. GROK MY ENTHUSIASM (2016 weekly): THE THEORY AND PRACTICE OF LUNCH | WEEKEND | MILLION YEAR PICNIC | LA BARONNE EMILE D'ERLANGER | THE SURVIVAL SAMPLER | & dozens more one-off enthusiasms. QUIRK YOUR ENTHUSIASM (2016): "Tainted Love" | "Metal" | "Frankie Teardrop" | "Savoir Faire" | "Broken English" | & 20 other Seventies (1974–1983) new wave singles. CROM YOUR ENTHUSIASM (2015): DARKER THAN YOU THINK | THE SWORD IN THE STONE | OUT OF THE SILENT PLANET | THIEVES' HOUSE | QUEEN OF THE BLACK COAST | & 20 other Thirties (1934–1943) fantasy novels. KERN YOUR ENTHUSIASM (2014): ALDINE ITALIC | DATA 70 | TORONTO SUBWAY | JOHNSTON'S "HAMLET" | TODD KLONE | & 20 other typefaces. HERC YOUR ENTHUSIASM (2013): "Spoonin' Rap" | "Rapper's Delight" | "Rappin' Blow" | "The Incredible Fulk" | "The Adventures of Super Rhyme" | & 20 other Seventies (1974–1983) hip-hop songs. KIRK YOUR ENTHUSIASM (2012): Justice or vengeance? | Kirk teaches his drill thrall to kiss | "KHAAAAAN!" | "No kill I" | Kirk browbeats NOMAD | & 20 other Captain Kirk scenes. KIRB YOUR ENTHUSIASM (2011): THE ETERNALS | BLACK MAGIC | DEMON | OMAC | CAPTAIN AMERICA | & 20 other Jack Kirby panels.