FLAIR (25)
By: Bishakh Som
July 13, 2018
The fifth PROJECT:OBJECT volume is a 25-part series of true stories about significant accoutrements, appurtenances, and regalia.
*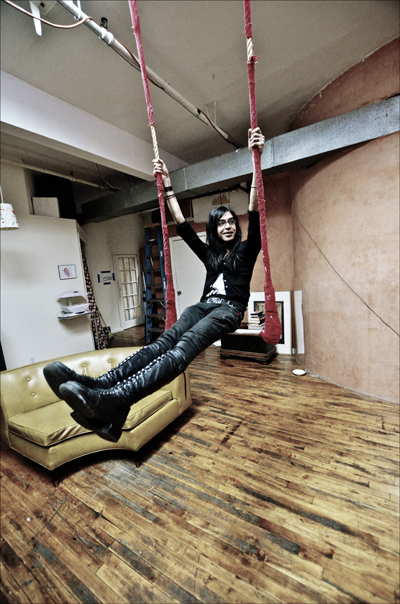 I've lost count of how long these boots have been in my life, but when I first saw them I felt like I'd levelled up. I was, and still am, a goth. I used to wear Doctor Martens — starting with oxblood 12-eyelets and graduating to black 20-eyelet shin huggers. They were all quite clunky, with their rounded, swollen toes, aggressive yellow stitching and bouncing soles. I also dabbled in pointy elfin ankle boots with silver buckles that made me look like a refugee from Ren Faire. But at some point, neither these nor the DMs seemed to suit me anymore.
When I found this pair, my goodness, it was a moment of alignment. These lovelies were simultaneously soft and badass. The toes are softly rounded but not balloon-like. Seven grommets that you thread the laces through and 13 catches above that for speed lacing. 1-½" heels, neither too flat nor too ostentatious. And a soft structure that ensured that they wrapped snugly around my skinny calves. Combat boots for amazon warriors.
But these boots also played a part in making me realise something about myself that transcended fashion or subculture, something that reached into the depths of gender: being goth, for me, was a gateway to becoming trans. Under the protection of subcultural codes, I was defying accepted gender presentation and exploring femininity without being fully aware of what I was doing. Unlocking my transness felt organic — my appearance and presentation never shifted radically — but my identity coalesced and became focused, sharper.
Being trans requires a certain level of defiance. Some days just going out, being in public, feels like a battle. And some days you need armor for that. You need long black hair, now threaded with gray, that drives the stockbroker on the F train to think that maybe you are a witch. You need a strong spine, posture that gives you instant gravitas. And, honey-child, you need boots that will bequeath to you, despite your 110-pound frame, the power to make everyone just a little bit afraid.
*
FLAIR: INTRODUCTION | Cliff Kuang on ROLEX DATEJUST | Ethan Zuckerman on LAPTOP STICKERS | Ann Shoket on LEATHER JACKET | Kembrew McLeod on KEMBREW MERCH | Paola Antonelli on MERMAID TEARS | Kanishka Raja on HANDMADE JACKET | Lynn Peril on BASEBALL RING | Rob Horning on NOTE PAD | Alexandra Lange on BEAD NECKLACE | Stephanie Burt on D&D EARRINGS | Michael Bierut on FEDORA | Debbie Millman on CHARM | Abram Himelstein on LUCKY 7 RING | Deb Chachra on HANDWRAPS | Jennifer Howze on HOLD-UP STOCKINGS | Mark Frauenfelder on CLARK KENT GLASSES | Adam McGovern on PLASTIC ALLIGATOR SHOES | Nicola Twilley on GOLD BRACES | Anne Quito on MUSEUM EARRINGS | Kristin Parker on STEEL BRACELET | Hillary Chute on POCKET KNIFE | James Gaddy on RESTAURANT PEN | Davy Rothbart on SHOELACE BELT | David Hajdu on PINCE-NEZ | Bishakh Som on KNEE-HIGH BOOTS.
LOST OBJECTS (vol. 1): INTRODUCTION | Kate Bernheimer on MULLET WIG (ill. Amy Evans) | Dan Piepenbring on COLOGNE (ill. Josh Neufeld) | Doug Dorst on STRATOCASTER (ill. John Holbo) | Paul Lukas on VANILLA BEAN (ill. Allison Bamcat) | Mimi Lipson on DODGE DART (ill. Mister Reusch) | & 20 MORE.
ILLICIT OBJECTS: INTRODUCTION | Kio Stark on PEEPSHOW TOKEN | Sari Wilson on TOMBSTONE PARTS | Annalee Newitz on CAR-BOMB REMNANT | Tito Bottitta on MOONINITE DEVICE | Eric Bennett on DIRTY MAGAZINE | & 20 MORE.
TALISMANIC OBJECTS: INTRODUCTION | Veda Hille on CROCHET SHEEP | Gary Panter on DINOSAUR BONES | Jami Attenberg on SELENITE CRYSTAL | Annie Nocenti on MINIATURE DICE | Wayne Curtis on CLOCK WINDING KEY | & 20 MORE.
POLITICAL OBJECTS: INTRODUCTION | Luc Sante on CAMPAIGN PAMPHLETS | Lydia Millet on PVC POLAR BEAR | Ben Greenman on MATCHBOX CAR | Rob Baedeker on PRESIDENTS PLACEMAT | L.A. Kauffman on WHEATPASTE POSTER | & 20 MORE.
ALSO SEE: PROJECT:OBJECT homepage | POLITICAL OBJECTS (1Q2017) | TALISMANIC OBJECTS (2Q2017) | ILLICIT OBJECTS (3Q2017) | LOST OBJECTS vol. 1 (4Q2017) | FLAIR (2Q2018) | FOSSILS (4Q2018) | FETISHES (2Q2019) | LOST OBJECTS vol. 2 (4Q2019) | MOVIE OBJECTS (2Q2020) | SEMIO OBJECTS (2Q2021) | SIGNIFICANT OBJECTS (cross-posted from Significant Objects website). ALSO SEE: SIGNIFICANT OBJECTS website | LOST OBJECTS (Hat & Beard Press, 2022) | SIGNIFICANT OBJECTS collection, ed. Rob Walker and Josh Glenn (Fantagraphics, 2012) | TAKING THINGS SERIOUSLY, ed. Josh Glenn (Princeton Architectural Press, 2007) | TAKING THINGS SERIOUSLY excerpts.