WE ARE MERMAIDS (4)
By: Stephanie Burt
October 16, 2022
We are pleased to excerpt four poems from HILOBROW friend Stephanie Burt's new collection, We Are Mermaids (published this month by Graywolf Press). Lavendar Arseny has illustrated each poem in our series with an original photograph.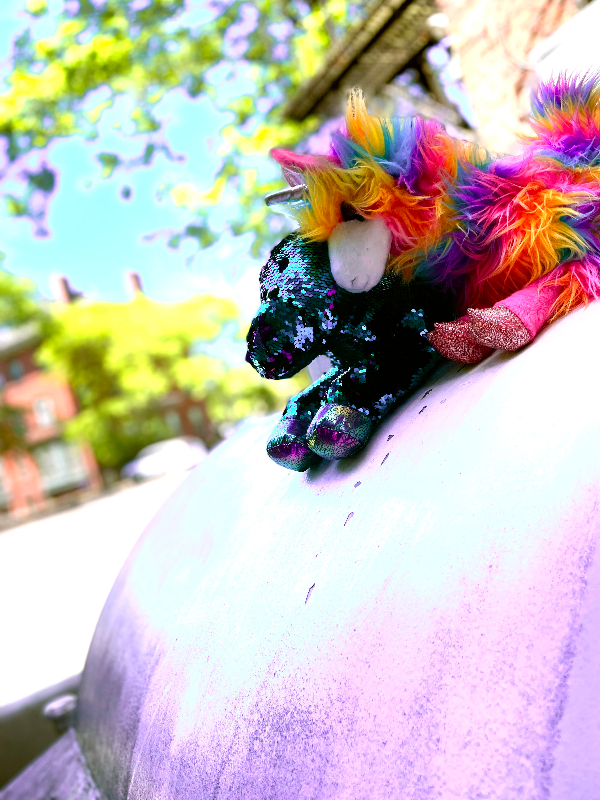 LOVE POEM WITH COMIC BOOKS ON SATURDAYS
(Greek Anthology 5:219)
It's better when you blush
before you kiss me, better
if they don't find out.
Let's tie each other's shoes.
Let's run a race we mean to lose.
Let's have a crush
that violates the spirit, but never the letter
of the Comics Code,
where what you almost
see is more important than what you
can.
Let's run together like melted butter
under our shared cotton coverlet
tonight, and never let
anyone tell us we're brave, or foolish, or
bold,
nor give each other reason to doubt.
Let's make each other toast
tomorrow morning. Get out your pocket
calendar. Let's make our sleepover plan.
***
"Love Poem with Comic Books on Saturdays" from We Are Mermaids. Copyright © 2022 by Stephanie Burt. Reprinted with the permission of Graywolf Press, Minneapolis, Minnesota.
WE ARE MERMAIDS: "Miami" | "Boeing 757s, Airbus 320s, an Embraer 190" | "Hymn to Youth" | "Love Poem with Comic Books on Saturdays".
Lavendar Arseny is a creative photographer. They are autistic and nonbinary, and they collect stuffed animals. Find them here.
STEPHANIE BURT at HILOBROW: KEEPERS (10 poems) | GENO (EPIC WINS series) | NO KILL I (KIRK YOUR ENTHUSIASM series) | ENTANGLEMENT (HERMENAUTIC TAROT series) | HAPPY BIRTHDAY (QUIRK YOUR ENTHUSIASM series) | FEIJOA (GROK MY ENTHUSIASM) | DAMAGE CONTROL (#SQUADGOALS) | UNISEX (WOWEE ZOWEE) | D&D EARRINGS (FLAIR) | KITTY PRYDE RETURNS (SERIOCOMIC) | IMAGINARY FRIEND (CARBONA YOUR ENTHUSIASM) | X-MEN (FERB YOUR ENTHUSAISM) | SEA ANEMONE (BESTIARY) | SAMUEL TAYLOR COLERIDGE (KICK YOUR ENTHUSIASM).
CURATED SERIES at HILOBROW: LINOCUT 2022 by Lawry Hutcheson | PULP WAVE by Charles Leech | DRAWING TABLE WORLD by Theo Ellsworth | PARAMAX by Max Glenn | YUKO ODA by Yuko Oda | PLAGUE YEAR by Rick Pinchera | NOOSFERA by Charles Glaubitz | A SILENT HALLUCINATION by Alex Gerasev | BUNNY CITY by Gary Panter | HOP UP by Lucy Sante | HERE BE MONSTERS by Mister Reusch | DOWNTOWNE by Bradley Peterson | OUTBOUND TO MONTEVIDEO by Mimi Lipson | STERANKOISMS by Douglas Wolk | COOLING OFF THE COMMOTION by Chenjerai Kumanyika | UNFLOWN by Jacob Covey | ADEQUATED by Franklin Bruno | PINAKOTHEK by Lucy Sante | BIGFOOT ISLAND by Michael Lewy | DAILY DRUMPF by Rick Pinchera | WINDS OF MAGIC by James Parker | MUSEUM OF FEMORIBILIA by Lynn Peril | ROBOTS + MONSTERS by Joe Alterio | ANNOTATED GIF by Kerry Callen | NOMADBROW by Erik Davis | & many others.