FERB YOUR ENTHUSIASM (16)
By: Stephanie Burt
February 22, 2021
One in a series of 25 enthusiastic posts, contributed by 25 HILOBROW friends and regulars, on the topic of our favorite animated TV series.
*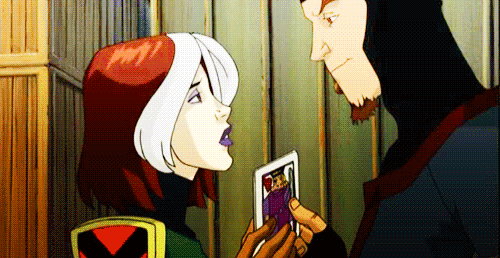 X-MEN THE ANIMATED SERIES | ERIC LEWALD, SIDNEY IWANTER, MARK EDENS | 1992–1997 and X-MEN: EVOLUTION | MARTY ISENBERG, ROBERT N. SKIR, DAVID WISE | 2000–2003
The X-Men were the biggest deal, by far, in mainstream comics during the 1980s and early 1990s; some of us showed up for all the queer subtexts, some for the soap-operatic intricacies, and some because this short Canadian dude with claws was really cool. X-Men no. 1 (the 1991 relaunch) remains the best-selling comic book of all time. And yet when it comes to bringing in new audiences, comics have never had a patch on televised animation. X-fans who were young enough in the 1990s mostly came on board through X-Men: The Animated Series. Adapting signature plots, heroes and baddies from the first 30 years of the comics, the colorful five-season hit let viewers admire an animalistic Wolverine, wonder at the paternalistic telepathic Professor X, identify with the mall teen and viewer-surrgoate Jubilee, resent the drippy, lawful good teacher's pet version of Scott Summers, and fall for the best het ship in all of comics as the dashing red-eyed Cajun klepto Gambit flirted with the untouchable Southern-belle Rogue. There's a big new book about the series, interviewing writers and producers: it's hard to imagine a better point of entry, at least for kids.
If you're already an X-fan, there's more. Much more. More comics, several thousand. A couple of films if you must (they're all bad except Logan, and none are queer enough). There's also a terrific second animated series, X-Men: Evolution, not a condensed version of the comics so much as what fans would call an alternate universe (AU), preserving the diversity, the queerness and the soapy throughlines of '80s X-comics while returning to the book's '60s roots as a story about a school.
Most of the mutants of Evo are teens attending a public school, Bayville High; the good guys live and train at a boarding school run by Professor X, whose other adult teachers (the ones who wouldn't make sense as teens) are Storm and Wolverine (Beast later joins them). The mature couple with leadership qualities, Scott and Jean, are high school seniors; she's a popular soccer player, and he's… trying. Other mutants are underclasspeople: a flighty, slightly Valley Girl-ish version of Kitty Pryde; her best friend, the good-hearted, prank-inclined Nightcrawler; Rogue, a traumatized Goth teen with stunning purple lipstick; and more — many more. As the series grew and introduced new mutants, including the ones from the 1980s New Mutants comics, some comedic (the goofy tween Jamie Madrox, who splits into separate bodies whenever he's hit), some sympathetic (the Brazilian immigrant Magma, who doesn't trust her powers), some pure agents of chaos (Boom-Boom, who makes things go boom).
The difference between 14 and 17 has rarely been so depicted; Kitty and Jean live in different emotional worlds, whether or not they're using their mutant powers. Nor has the closet often been so well portrayed: the first two seasons of Evo show mutants trying to help one another without showing the normal world their powers. Then they get outed. (The problematic Brotherhood of Evil Mutants, a boardinghouse of amoral dirtbag teens, are out all along.) When our friend A. showed me and my kids The Animated Series, we understood why she (a queer adult) fell hard for the Rogue-Gambit ship. When I showed slices of Evo to our friend, M., she exclaimed in delight, "THIS IS REALLY GAY!" (We were watching season 2, episode 13.)
***
FERB YOUR ENTHUSIASM: SERIES INTRODUCTION by Josh Glenn | Miranda Mellis on STEVEN UNIVERSE | Luc Sante on TOP CAT | Peggy Nelson on PINK PANTHER | Charlie Mitchell on COWBOY BEBOP | Mimi Lipson on THE FLINTSTONES | Sam Glenn on BIG MOUTH | Mandy Keifetz on ROAD RUNNER | Ramona Lyons on SHE-RA | Holly Interlandi on DRAGON BALL Z | Max Glenn on ADVENTURE TIME | Joe Alterio on REN & STIMPY | Josh Glenn on SPEED RACER | Adam McGovern on KIMBA THE WHITE LION | Jonathan Pinchera on SAMURAI JACK | Lynn Peril on JONNY QUEST | Stephanie Burt on X-MEN THE ANIMATED SERIES and X-MEN: EVOLUTION | Elizabeth Foy Larsen on THE JETSONS | Adam Netburn on NARUTO | Madeline Ashby on AVATAR: THE LAST AIRBENDER | Tom Nealon on TRANSFORMERS | Sara Ryan on BOJACK HORSEMAN | Michael Grasso on COSMIC CLOCK | Erin M. Routson on BEAVIS & BUTTHEAD | Deborah Wassertzug on DARIA | Lydia Millet on BOB'S BURGERS.
MORE ENTHUSIASM at HILOBROW
NERD YOUR ENTHUSIASM (4Q2021): NERDING | ARDUIN | KLINGON CONFIDENTIAL | MAP INSERTS | TIME | & 20 other nerdy passions. SWERVE YOUR ENTHUSIASM (3Q2021): WARHOL'S WALT WHITMAN | 70, GIRLS, 70 | TYRAEL'S MIGHT | SHIRATO SANPEI | THE LEON SUITES | & 20 other never-realized cultural productions. FIVE-O YOUR ENTHUSIASM (2Q2021): DARK SHADOWS | MANNIX | GET SMART | THE ADDAMS FAMILY | I DREAM OF JEANNIE | & 20 other Sixties (1964–1973) TV shows. FERB YOUR ENTHUSIASM (1Q2021): STEVEN UNIVERSE | TOP CAT | REN & STIMPY | SHE-RA AND THE PRINCESSES OF POWER | DRAGON BALL Z | & 20 other animated series. CARBONA YOUR ENTHUSIASM (2020): "Sex Bomb" | "Going Underground" | "Soft South Africans" | "Typical Girls" | "Human Fly" | & 20 other Seventies (1974–1983) punk singles. KLAATU YOU (2020 weekly): ZARDOZ | METROPOLIS | DARK STAR | SINS OF THE FLESHAPOIDS | SOLARIS | & dozens of other pre-STAR WARS sci-fi movies. CONVOY YOUR ENTHUSIASM (2019): THE TAKING OF PELHAM ONE TWO THREE | ROLLERBALL | BLACK SUNDAY | SORCERER | STRAIGHT TIME | & 20 other Seventies (1974–1983) action movies. SERIOCOMIC (2019 weekly): LITTLE LULU | VIZ | MARSUPILAMI | ERNIE POOK'S COMEEK | HELLBOY | & dozens of other comics. TUBE YOUR ENTHUSIASM (2018): LOONEY TUNES | THREE STOOGES | THE AVENGERS | ROCKY & BULLWINKLE | THE TWILIGHT ZONE | & 20 other Fifties (1954–1963) TV shows. WOWEE ZOWEE (2018 weekly): UNISEX | UNDER THE PINK | DUMMY | AMOR PROHIBIDO | HIPS AND MAKERS | & dozens of other Nineties (1994–2003) albums. KLUTE YOUR ENTHUSIASM (2017): THE KILLERS | BANDE À PART (BAND OF OUTSIDERS) | ALPHAVILLE | HARPER | BLOW-UP | & 20 other Sixties (1964–1973) neo-noir movies. #SQUADGOALS (2017 weekly): THE WILD BUNCH | BOWIE'S BAND | THE BLOOMSBURY GROUP | THE HONG KONG CAVALIERS | VI ÄR BÄST! & dozens of other squads. GROK MY ENTHUSIASM (2016 weekly): THE THEORY AND PRACTICE OF LUNCH | WEEKEND | MILLION YEAR PICNIC | LA BARONNE EMILE D'ERLANGER | THE SURVIVAL SAMPLER | & dozens more one-off enthusiasms. QUIRK YOUR ENTHUSIASM (2016): "Tainted Love" | "Metal" | "Frankie Teardrop" | "Savoir Faire" | "Broken English" | & 20 other Seventies (1974–1983) new wave singles. CROM YOUR ENTHUSIASM (2015): DARKER THAN YOU THINK | THE SWORD IN THE STONE | OUT OF THE SILENT PLANET | THIEVES' HOUSE | QUEEN OF THE BLACK COAST | & 20 other Thirties (1934–1943) fantasy novels. KERN YOUR ENTHUSIASM (2014): ALDINE ITALIC | DATA 70 | TORONTO SUBWAY | JOHNSTON'S "HAMLET" | TODD KLONE | & 20 other typefaces. HERC YOUR ENTHUSIASM (2013): "Spoonin' Rap" | "Rapper's Delight" | "Rappin' Blow" | "The Incredible Fulk" | "The Adventures of Super Rhyme" | & 20 other Seventies (1974–1983) hip-hop songs. KIRK YOUR ENTHUSIASM (2012): Justice or vengeance? | Kirk teaches his drill thrall to kiss | "KHAAAAAN!" | "No kill I" | Kirk browbeats NOMAD | & 20 other Captain Kirk scenes. KIRB YOUR ENTHUSIASM (2011): THE ETERNALS | BLACK MAGIC | DEMON | OMAC | CAPTAIN AMERICA | & 20 other Jack Kirby panels.