FLAIR (10)
By: Stephanie Burt
May 29, 2018
The fifth PROJECT:OBJECT volume is a 25-part series of true stories about significant accoutrements, appurtenances, and regalia.
*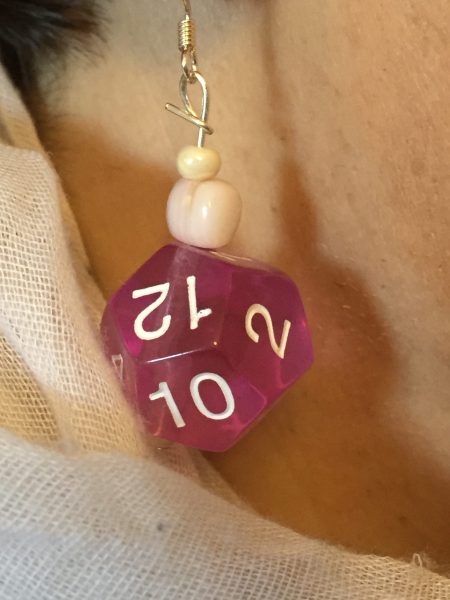 It wouldn't be strictly true to say that Dungeons & Dragons, or any other tabletop, dice-and-rule-book-based role-playing game saved my life, but it would feel true in spirit: trans kids now can be and say and appear to be exactly who they are — if they're in the right households, and schools, and ZIP codes — but in the early 1980s, saying that you were a girl when you appeared to be a boy was just a few squares away from saying that you could walk through walls, or cast spells.
And, in a tabletop role-playing game, you could. If you are looking for a community in which you can pretend to do the impossible, and there is no such thing as the Internet yet, you will not do much better than tabletop roleplay, in which any transformation, any hairsbreath escape or monster's revenge, could depend not on the political climate, or on your parents' state of mind, but on what you could get other fantasy or space opera or superhero enthusiasts to believe — and then on favorable dice.
Of course they weren't, and aren't, just any dice. D&D (and all later tabletop roleplay) evolved out of math-heavy combat simulations: earlier wargamers had used printed tables, and sometimes 20-sided dice (d20), to avoid the "goofy bell curve" created by paired six-sided dice, where 6 and 7 come up much more often than 12. The other polyhedral solids — tetrahedrons, octahedrons, dodecahedrons— showed up in D&D partly because they tended to come in sets with d20, sold for math teachers' use. Now they are signatures, symbols of tabletop games, and you can buy d4, d8, d12 and d20 in packs at specialty stores, in black and white, matte pastels, or gemlike translucencies: burgundy, amethyst, citrine.
And then, if you're not going to use them for actual gaming, you can drill holes in them, run wires through the holes, link beads and hooks to the wires, and make earrings for yourself and your earring-wearing friends. I didn't get my ears pierced until I was 45, because it took me forever to come out as trans, and even longer to transition, but now I wear earrings every day; my friends, and the love of my life, and one of our kids, have helped me learn to make them, out of beads and tiny plastic cats and anything else that can dangle from a hatpin; my favorites come from the now widely recognized symbols for the first thing that let me pretend to be who I wanted to be.
*
FLAIR: INTRODUCTION | Cliff Kuang on ROLEX DATEJUST | Ethan Zuckerman on LAPTOP STICKERS | Ann Shoket on LEATHER JACKET | Kembrew McLeod on KEMBREW MERCH | Paola Antonelli on MERMAID TEARS | Kanishka Raja on HANDMADE JACKET | Lynn Peril on BASEBALL RING | Rob Horning on NOTE PAD | Alexandra Lange on BEAD NECKLACE | Stephanie Burt on D&D EARRINGS | Michael Bierut on FEDORA | Debbie Millman on CHARM | Abram Himelstein on LUCKY 7 RING | Deb Chachra on HANDWRAPS | Jennifer Howze on HOLD-UP STOCKINGS | Mark Frauenfelder on CLARK KENT GLASSES | Adam McGovern on PLASTIC ALLIGATOR SHOES | Nicola Twilley on GOLD BRACES | Anne Quito on MUSEUM EARRINGS | Kristin Parker on STEEL BRACELET | Hillary Chute on POCKET KNIFE | James Gaddy on RESTAURANT PEN | Davy Rothbart on SHOELACE BELT | David Hajdu on PINCE-NEZ | Bishakh Som on KNEE-HIGH BOOTS.
LOST OBJECTS (vol. 1): INTRODUCTION | Kate Bernheimer on MULLET WIG (ill. Amy Evans) | Dan Piepenbring on COLOGNE (ill. Josh Neufeld) | Doug Dorst on STRATOCASTER (ill. John Holbo) | Paul Lukas on VANILLA BEAN (ill. Allison Bamcat) | Mimi Lipson on DODGE DART (ill. Mister Reusch) | & 20 MORE.
ILLICIT OBJECTS: INTRODUCTION | Kio Stark on PEEPSHOW TOKEN | Sari Wilson on TOMBSTONE PARTS | Annalee Newitz on CAR-BOMB REMNANT | Tito Bottitta on MOONINITE DEVICE | Eric Bennett on DIRTY MAGAZINE | & 20 MORE.
TALISMANIC OBJECTS: INTRODUCTION | Veda Hille on CROCHET SHEEP | Gary Panter on DINOSAUR BONES | Jami Attenberg on SELENITE CRYSTAL | Annie Nocenti on MINIATURE DICE | Wayne Curtis on CLOCK WINDING KEY | & 20 MORE.
POLITICAL OBJECTS: INTRODUCTION | Luc Sante on CAMPAIGN PAMPHLETS | Lydia Millet on PVC POLAR BEAR | Ben Greenman on MATCHBOX CAR | Rob Baedeker on PRESIDENTS PLACEMAT | L.A. Kauffman on WHEATPASTE POSTER | & 20 MORE.
SIGNIFICANT OBJECTS at HILOBROW: PROJECT:OBJECT homepage | PROJECT:OBJECT newsletter | PROJECT:OBJECT objects (Threadless shop — all profits donated to the ACLU) | POLITICAL OBJECTS series (1Q2017) | TALISMANIC OBJECTS series (2Q2017) | ILLICIT OBJECTS series (3Q2017) | LOST OBJECTS vol. 1 series (4Q2017) | FLAIR series (2Q2018) | FOSSIL series (4Q2018) | FETISHES series (2Q2019) | LOST OBJECTS vol. 2 series (4Q2019) | MOVIE OBJECTS series (2Q2020). ALSO SEE: SIGNIFICANT OBJECTS website | SIGNIFICANT OBJECTS collection, ed. Rob Walker and Josh Glenn (Fantagraphics, 2012) | TAKING THINGS SERIOUSLY, ed. Josh Glenn (Princeton Architectural Press, 2007) | TAKING THINGS SERIOUSLY excerpts.