BESTIARY (3)
By: Stephanie Burt
March 19, 2021
One in a series of posts — curated by Matthew Battles — the ultimate goal of which is a high-lowbrow bestiary.
---
SEA ANEMONE
---
after Laura Kasischke
Stable but poisonous
except to particular fish who know how to live
in it, how to draw nourishment from it,
what look like its purposeful movements are
truly wild,
stochastic, even frantic, however slow.
The anemone cannot let go.
Her way of life, her subsistence, her hunger,
demands—
My neck does hurt. Thanks for asking. I've been
seated in this one place for so long.
I chew on my hair. I stare. I sit on my hands.
I am like someone who has to remain in place,
on hold, in line,
on a bench in a bureaucrat's office, while
continuing to hear
the highest notes in a triumphant song.
This anemone will feed herself first.
The tips of her limbs are the color of highlighter
markers,
yellow and pink and mint-chocolate-chip-ice-
cream green.
She has no eyes, or else
she is all eyes. She can detect bits of sun, and
salinity,
and currents, and sound, and pH,
a kind of chemical sixth sense.
She wants to be seen
as a host, which isn't wrong.
The pressure where she lives must be intense.
How did you grow, far mentor, seen
in a dream, unable
to settle down more
than once? How did you eat,
with your appetite so much like mine,
sated in drifting youth, and never since?
Dress underwater, pinned back with your
bellflower sleeves,
I wanted to be like you for so long.
You can never leave.
You know
when only toxicity keeps us alive;
the tragic condition of the deepest waters
has persuaded you to adapt.
Your rock, like most rocks,
is nothing but hardened sand.
There are pillows in the room, and a pillowcase,
wet at the slip
from when I chewed it, asleep.
What am I doing on land?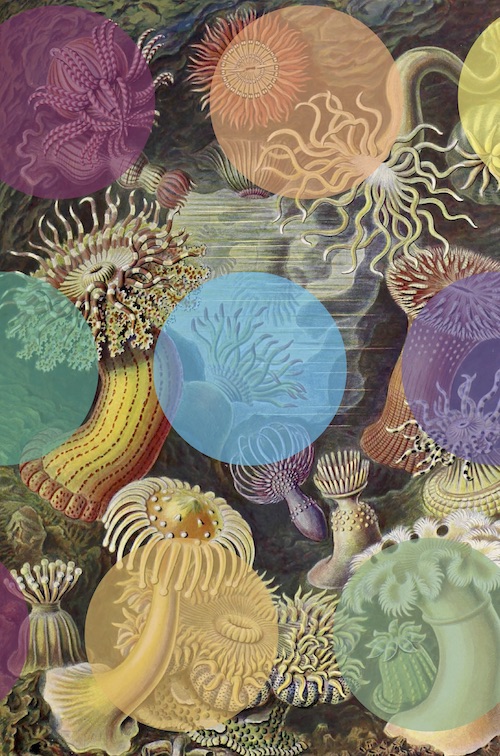 Remix of Ernst Haeckel, "Actinaria,"
from Kunstformen der Natur (1904).
University of North Carolina at Chapel Hill,
via Biodiversity Heritage Library.
*
INTRODUCTION by Matthew Battles: Animals come to us "as messengers and promises." Of what? | Matthew Battles on RHINO: Today's map of the rhinoceros is broken. | Josh Glenn on OWL: Why are we overawed by the owl? | Stephanie Burt on SEA ANEMONE: Unable to settle down more than once. | James Hannaham on CINDER WORM: They're prey; that puts them on our side. | Matthew Battles on PENGUIN: They come from over the horizon. | Mandy Keifetz on FLEA: Nobler than highest of angels. | Adrienne Crew on GOAT: Is it any wonder that they're G.O.A.T. ? | Lucy Sante on CAPYBARA: Let us gather under their banner. | Annie Nocenti on CROW: Mostly, they give me the side-eye. | Alix Lambert on ANIMAL: Spirit animal of a generation. | Jessamyn West on HYRAX: The original shoegaze mammal. | Josh Glenn on BEAVER: Busy as a beaver ~ Eager beaver ~ Beaver patrol. | Adam McGovern on FIREFLY: I would know it was my birthday / when…. | Heather Kapplow on SHREW: You cannot tame us. | Chris Spurgeon on ALBATROSS: No such thing as a lesser one. | Charlie Mitchell on JACKALOPE: This is no coney. | Vanessa Berry on PLATYPUS: Leathery bills leading the plunge. | Tom Nealon on PANDA: An icon's inner carnivore reawakens. | Josh Glenn on FROG: Bumptious ~ Rapscallion ~ Free spirit ~ Palimpsest. | Josh Glenn on MOUSE.
***
ALSO SEE: John Hilgart (ed.)'s HERMENAUTIC TAROT series | Josh Glenn's VIRUS VIGILANTE series | & old-school HILOBROW series like BICYCLE KICK | CECI EST UNE PIPE | CHESS MATCH | EGGHEAD | FILE X | HILOBROW COVERS | LATF HIPSTER | HI-LO AMERICANA | PHRENOLOGY | PLUPERFECT PDA | SKRULLICISM.