LOST OBJECTS (21)
By: Dan Fox
December 11, 2017
One in a 25-part series of nonfiction stories about lost objects. We asked 25 writers to tell us about a significant object they'd lost (or thrown away, or destroyed), then assigned these stories to 25 illustrators. We're thrilled with the results. This is the fourth volume in the PROJECT:OBJECT series.
UPDATE: The Lost Objects book was published in September 2022 by Hat & Beard Press. Check it out!
*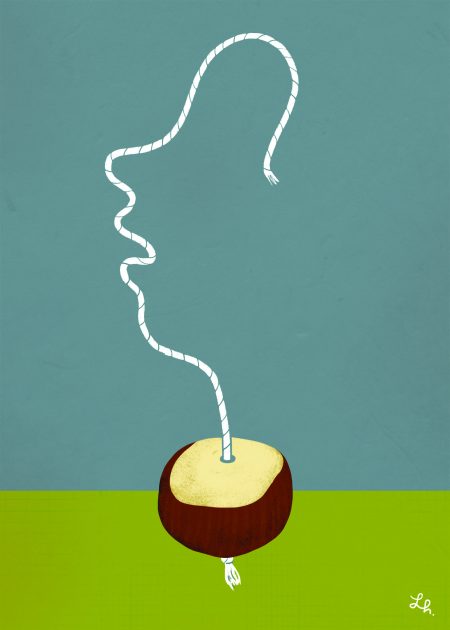 On my desk at home in New York I used to keep a small conker. This talisman vanished recently after a house party. Did someone take it? Was it thrown out of the window? All I know is that it's gone.
I picked it up a couple of years ago; a fragment of the Oxfordshire countryside to remind me of where I grew up. To be honest, I can't recall exactly where I found it. Most likely on an afternoon walk with Mum and Dad. It would have caught my eye because you don't see horse-chestnut trees in New York, nor the sharp-spiked casings in which the conkers grow and fall to the ground, scattered like hundreds of small, crash-landed Sputniks. When you break the husks open, their conker pilots look like wooden pebbles, each with a pale eye in the middle. Even before it gets kicked around in the dirt by little kids and hungry birds, a conker appears to be simultaneously new and ancient, as if seeded by ancient Celtic gods.
It is possible that I picked this conker off the ground beneath the old horse chestnut tree that sits on the site of my old primary school. That's always the first horse-chestnut tree that springs to mind when I think of conkers — I saw it every day between the ages of five and eight, before the school site was sold to property developers and turned into commuter belt homes. But it's unlikely I would have wanted anything from branches that just hung there and blithely watched whilst, below, I got pushed around by other kids every day. The irony of being bullied under a horse-chestnut tree is that for British children, the September conker season triggers an arms race; conker fights are one of the first armed combat situations that a child growing up in the countryside might find him or herself in. The tree is a veritable armoury.
Traditionally, to weaponise a conker, you bore a hole through its centre and thread it with a piece of string, tying off a thick knot at one end. Some schools of warfare advise then soaking the conker in vinegar to strengthen it. Other strategists prefer to bake them in the oven before battle. The object of a conker fight is simple: destroy your enemy's weapon. One person dangles their conker by the string, whilst the other attempts to smash it with theirs. (Guerrilla fighters bang a short nail through their projectile; this is the nuclear option, since one blow from the sharp end of nail will cause instant obliteration.)
There were days when I looked at that conker on my desk and was reminded of being bullied at school. But this conker, despite being a little dusty and scratched, was whole. This one escaped its small town, and now lived in New York. The last time I saw it, nobody had broken it.
*
ABOUT THE AUTHOR: See sidebar.
ABOUT THE ARTIST: Linzie Hunter is a freelance illustrator and hand-lettering artist based in London, UK.
LOST OBJECTS series: INTRODUCTION | Kate Bernheimer on MULLET WIG (ill. Amy Evans) | Dan Piepenbring on COLOGNE (ill. Josh Neufeld) | Doug Dorst on STRATOCASTER (ill. John Holbo) | Paul Lukas on VANILLA BEAN (ill. Allison Bamcat) | Mimi Lipson on DODGE DART (ill. Mister Reusch) | Luc Sante on CLUB CHAIR (ill. Kate Bingaman-Burt) | Nina Katchadourian on FOUNTAIN PENS (ill. Lisa Congdon) | Matthew Sharpe on BAUBLE (ill. Glenn Jones) | Claire Lehmann on PEANUT-BUTTER CRACKERS (ill. Karen Kurycki) | Jessamyn West on ENGINEER RING (ill. Amanda Clarke) | Mandy Keifetz on ORGONE ACCUMULATOR (ill. Emory Allen) | Molly Sauter on DESKTOP DOG (ill. Shayna Piascik) | Amy Thielen on DOG-FUR SCARF (ill. Heather Kasunick) | Stephen O'Connor on HUNTING HAT (ill. Oliver Munday) | Alice Boone on COLLEGE NEWSPAPERS (ill. Rick Pinchera) | Dante Ramos on ROAD ATLAS (ill. Joe Alterio) | Alex Balk on SHOOTING GALLERY (ill. John Lowe) | Chelsey Johnson on NOTEBOOK (ill. Rubi McGrory) | Susannah Breslin on SILICONE VAGINA (ill. Jennifer Heuer) | Seth Mnookin on .22 REVOLVER (ill. Alex Eben Meyer) | Dan Fox on CONKER (ill. Linzie Hunter) | Lisa Takeuchi Cullen on GLASS CLOCK (ill. Rose Wong) | Michael Tisserand on WALKING SHOES (ill. Jackie Roche) | Jeff Turrentine on BASEBALL MITT (ill. Andrew DeGraff) | Randy Kennedy on SNAKE RATTLES (ill. Max Temescu).
ILLICIT OBJECTS series: INTRODUCTION | Kio Stark on PEEPSHOW TOKEN | Sari Wilson on TOMBSTONE PARTS | Annalee Newitz on CAR-BOMB REMNANT | Tito Bottitta on MOONINITE DEVICE | Eric Bennett on DIRTY MAGAZINE | & 20 MORE.
TALISMANIC OBJECTS series: INTRODUCTION | Veda Hille on CROCHET SHEEP | Gary Panter on DINOSAUR BONES | Jami Attenberg on SELENITE CRYSTAL | Annie Nocenti on MINIATURE DICE | Wayne Curtis on CLOCK WINDING KEY | & 20 MORE.
POLITICAL OBJECTS series: INTRODUCTION | Luc Sante on CAMPAIGN PAMPHLETS | Lydia Millet on PVC POLAR BEAR | Ben Greenman on MATCHBOX CAR | Rob Baedeker on PRESIDENTS PLACEMAT | L.A. Kauffman on WHEATPASTE POSTER | & 20 MORE.
SIGNIFICANT OBJECTS at HILOBROW: PROJECT:OBJECT homepage | PROJECT:OBJECT newsletter | PROJECT:OBJECT objects (Threadless shop — all profits donated to the ACLU) | POLITICAL OBJECTS series (1Q2017) | TALISMANIC OBJECTS series (2Q2017) | ILLICIT OBJECTS series (3Q2017) | LOST OBJECTS vol. 1 series (4Q2017) | FLAIR series (2Q2018) | FOSSIL series (4Q2018). 12 DAYS OF SIGNIFICANCE | 12 MORE DAYS OF SIGNIFICANCE | 12 DAYS OF SIGNIFICANCE (AGAIN) | ANOTHER 12 DAYS OF SIGNIFICANCE . ALSO SEE: SIGNIFICANT OBJECTS website | SIGNIFICANT OBJECTS collection, ed. Rob Walker and Josh Glenn (Fantagraphics, 2012) | TAKING THINGS SERIOUSLY, ed. Josh Glenn (Princeton Architectural Press, 2007) | TAKING THINGS SERIOUSLY excerpts.