Quirk Your Enthusiasm (25)
By: Dan Fox
August 25, 2016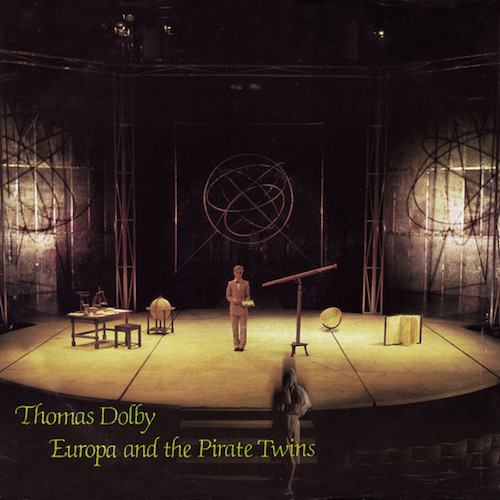 One of 25 installments in a series of posts analyzing and celebrating a few of our favorite New Wave songs from c. 1977–1982. Josh Glenn's series introduction is here, and you can listen to the QUIRK YOUR ENTHUSIASM playlist here. Enjoy!
"EUROPA & THE PIRATE TWINS" | THOMAS DOLBY | 1981
"We'll be the Pirate Twins again, Europa, Oh my country." It's not hard to understand why it is a bittersweet experience listening to Thomas Dolby's propulsive, yearning anthem of electro-pop, 'Europa & The Pirate Twins', mere weeks after my country, Britain, voted on a referendum to leave the European Union. The narrative subject of Dolby's track is Europa, a childhood sweetheart whom the singer has lost to the world of fame and fortune. As kids, family life took them around the world. "Father travelled, Hers as well." They called themselves The Pirate Twins, "then war took her away." Now, "Nine years after, Who'd I see, On the cover of a magazine? Europa." He follows her career, but she has moved on. In the song's dramatic middle eight section, Dolby describes how Europa "Blew in from the hoverport, She was back in London." (Oh for the days when hoverports were a symbol of glamour!) As she arrives in town he "Pushed past the paper men, Calling her name." A bodyguard stopped him, "Then her eyes were gone forever, As they drove her away." You might call it unrequited love, I can't help but call it Brexit. Dolby ends each chorus with the phrase "Ta Republique." He sings it in an affected, Bowie-esque style, a London-accented French that conjures an atmosphere of British cosmopolitanism. An attitude that today feels like it comes from a lost country.
The song was originally released on Dolby's Venice in Peril label. Its logo depicts an old map of Venice, over which the name of the label is rendered in a typeface that looks lifted straight from a 1930s travel poster. The cover of the seven-inch single version depicts Dolby stood on a circular dias, dressed in a cream-coloured suit. He is a Renaissance man surrounded by antique scientific instruments; a telescope, a globe, a set of scales and a large gyroscope. In front of the dias is a ghostly figure — presumably Europa. The cover is contrasted by the music; 'Europa & The Pirate Twins' is optimistically future-facing, a song built from electric drums and synths. The chorus melody is tracked closely by metallic sounding strings, accented with machine-gun handclaps, and the occasional burst of wistful harmonica. In combination, the world conjured by Dolby's lyrics and cover design is one of futuristic nostalgia. The time period it references is not specific — it's a collage of the Edwardian, the 1940s, and the near future — almost the blueprint for New Romanticism. (You can see this aesthetic also in Terry Gilliam's sci-fi masterpiece Brazil, and the videos to Dolby's song 'Airwaves', and Kate Bush's 'Hounds of Love', all released within a few years of each other.) It romances the listener by appealing to both technological sophistication and sensitive intellectualism; a song for the jukebox "down in some bar room on the Seine, Europa." Oh my country.
***
QUIRK YOUR ENTHUSIASM: Mark Kingwell on Soft Cell's TAINTED LOVE | Joanne McNeil on Gary Numan's METAL | Devin McKinney on Suicide's FRANKIE TEARDROP | Douglas Wolk on Family Fodder's SAVOIR FAIRE | Elina Shatkin on Marianne Faithfull's BROKEN ENGLISH | Steph Burt on Altered Images' HAPPY BIRTHDAY | Greg Rowland on Jilted John's JILTED JOHN | Gordon Dahlquist on XTC's RESPECTABLE STREET | Adrienne Crew on D-Day's TOO YOUNG TO DATE | Jonathan Lethem on The Blue Nile's I LOVE THIS LIFE | Josh Glenn on Tim Curry's I DO THE ROCK | Molly Wright Steenson on Missing Persons' WORDS | Anthony Miller on The Nails' 88 LINES ABOUT 44 WOMEN | Luc Sante on The Normal's WARM LEATHERETTE | Mimi Lipson on Dolly Mixture's HOW COME YOU'RE SUCH A HIT WITH THE BOYS, JANE? | Tim Carmody on Talking Heads' LIFE DURING WARTIME | Ingrid Schorr on Ian Dury's CLEVOR TREVER | Adam McGovern on Lene Lovich's LUCKY NUMBER | Deb Chachra on Rough Trade's HIGH SCHOOL CONFIDENTIAL | Tor Aarestad on Oingo Boingo's LITTLE GIRLS | David Smay on The B-52's' DANCE THIS MESS AROUND | Jessamyn West on Blondie's HANGING ON THE TELEPHONE | Drew Daniel on The Human League's MARIANNE | Erik Davis on Tuxedomoon's TIME TO LOSE | Dan Fox on Thomas Dolby's EUROPA & THE PIRATE TWINS.
NEW WAVE HILO HEROES: Debbie Harry | Marianne Faithfull | Grace Jones | Ian Dury | Mark Mothersbaugh | Plastic Bertrand | Tim Curry | Kate Pierson | Green Gartside | David Byrne.
MORE ENTHUSIASM SERIES at HILOBROW
NERD YOUR ENTHUSIASM (4Q2021): NERDING | ARDUIN | KLINGON CONFIDENTIAL | MAP INSERTS | TIME | & 20 other nerdy passions. SWERVE YOUR ENTHUSIASM (3Q2021): WARHOL'S WALT WHITMAN | 70, GIRLS, 70 | TYRAEL'S MIGHT | SHIRATO SANPEI | THE LEON SUITES | & 20 other never-realized cultural productions. FIVE-O YOUR ENTHUSIASM (2Q2021): DARK SHADOWS | MANNIX | GET SMART | THE ADDAMS FAMILY | I DREAM OF JEANNIE | & 20 other Sixties (1964–1973) TV shows. FERB YOUR ENTHUSIASM (1Q2021): STEVEN UNIVERSE | TOP CAT | REN & STIMPY | SHE-RA AND THE PRINCESSES OF POWER | DRAGON BALL Z | & 20 other animated series. CARBONA YOUR ENTHUSIASM (2020): "Sex Bomb" | "Going Underground" | "Soft South Africans" | "Typical Girls" | "Human Fly" | & 20 other Seventies (1974–1983) punk singles. KLAATU YOU (2020 weekly): ZARDOZ | METROPOLIS | DARK STAR | SINS OF THE FLESHAPOIDS | SOLARIS | & dozens of other pre-STAR WARS sci-fi movies. CONVOY YOUR ENTHUSIASM (2019): THE TAKING OF PELHAM ONE TWO THREE | ROLLERBALL | BLACK SUNDAY | SORCERER | STRAIGHT TIME | & 20 other Seventies (1974–1983) action movies. SERIOCOMIC (2019 weekly): LITTLE LULU | VIZ | MARSUPILAMI | ERNIE POOK'S COMEEK | HELLBOY | & dozens of other comics. TUBE YOUR ENTHUSIASM (2018): LOONEY TUNES | THREE STOOGES | THE AVENGERS | ROCKY & BULLWINKLE | THE TWILIGHT ZONE | & 20 other Fifties (1954–1963) TV shows. WOWEE ZOWEE (2018 weekly): UNISEX | UNDER THE PINK | DUMMY | AMOR PROHIBIDO | HIPS AND MAKERS | & dozens of other Nineties (1994–2003) albums. KLUTE YOUR ENTHUSIASM (2017): THE KILLERS | BANDE À PART (BAND OF OUTSIDERS) | ALPHAVILLE | HARPER | BLOW-UP | & 20 other Sixties (1964–1973) neo-noir movies. #SQUADGOALS (2017 weekly): THE WILD BUNCH | BOWIE'S BAND | THE BLOOMSBURY GROUP | THE HONG KONG CAVALIERS | VI ÄR BÄST! & dozens of other squads. GROK MY ENTHUSIASM (2016 weekly): THE THEORY AND PRACTICE OF LUNCH | WEEKEND | MILLION YEAR PICNIC | LA BARONNE EMILE D'ERLANGER | THE SURVIVAL SAMPLER | & dozens more one-off enthusiasms. QUIRK YOUR ENTHUSIASM (2016): "Tainted Love" | "Metal" | "Frankie Teardrop" | "Savoir Faire" | "Broken English" | & 20 other Seventies (1974–1983) new wave singles. CROM YOUR ENTHUSIASM (2015): DARKER THAN YOU THINK | THE SWORD IN THE STONE | OUT OF THE SILENT PLANET | THIEVES' HOUSE | QUEEN OF THE BLACK COAST | & 20 other Thirties (1934–1943) fantasy novels. KERN YOUR ENTHUSIASM (2014): ALDINE ITALIC | DATA 70 | TORONTO SUBWAY | JOHNSTON'S "HAMLET" | TODD KLONE | & 20 other typefaces. HERC YOUR ENTHUSIASM (2013): "Spoonin' Rap" | "Rapper's Delight" | "Rappin' Blow" | "The Incredible Fulk" | "The Adventures of Super Rhyme" | & 20 other Seventies (1974–1983) hip-hop songs. KIRK YOUR ENTHUSIASM (2012): Justice or vengeance? | Kirk teaches his drill thrall to kiss | "KHAAAAAN!" | "No kill I" | Kirk browbeats NOMAD | & 20 other Captain Kirk scenes. KIRB YOUR ENTHUSIASM (2011): THE ETERNALS | BLACK MAGIC | DEMON | OMAC | CAPTAIN AMERICA | & 20 other Jack Kirby panels.